iOS for ASO in 2023 - news and trends
The closer we get to the end of 2023, the more precise the trends of changes in iOS for ASO optimization become. Today, we will make a short review of news for the current year and look at the prospects for ASO in the App Store.
Summer and WWDC 2023
Apple's annual conference this year did not bring any critical updates for the industry, but it did add some positivity - I was especially pleased with the news about PPO, iOS17, and new features of App Store Connect (including Vision Pro). But first things first:
App Store Connect update - the console has an improved interface. The updated design and improved navigation make working with the platform even more convenient. Plus more analytics: Developers now have access to much more data, which helps them better understand users and optimize applications.
PPO or Product Page Optimization. This is a way of A/B testing of an application page on the App Store. We have already discussed the features and basic concepts of optimization in our blog. Here is the most significant update for ASO specialists - now application updates do not stop the test! Previously, many people refused to experiment with the page because, during the update, the test stopped, and everything had to be started again. But it is worth mentioning that any changes we make during the testing process will affect its result. So, we act wisely and carefully.
Apple's Vision Pro is a mixed-reality headset. How does this affect the app market? And the fact that it is another xrOS Vision Pro platform where we can distribute our applications. The excellent news for ASO professionals is that App Store Connect will provide comprehensive analytics for Vision Pro, as well as for other devices like iPhone, iPad, and Mac.
Privacy and Vision Pro. This has always been at the forefront, and in light of mixed reality headsets, which can allow too much personal information about the user, it has become even more relevant (data associated with Vision Pro, including environmental scanning, hand and head movements, eye tracking and much more). In this regard, "Privacy Nutrition Labels" appeared; these labels allow users to more accurately understand what information they are sharing and allow developers to analyze it.
Pricing. The App Store pricing change now includes 800 price tiers and another 100 on demand. The price of an application is an essential factor influencing the user's decision to install it. Now, developers have access to 44 currencies in 175 regions. The exciting thing is that the concept of a base price appears when we can select a default country, and all other prices will be adjusted depending on fluctuations in exchange rates and tax regimes. Thus, the App Store has dramatically simplified the work of developers; they have the opportunity to plan changes in base prices in the future, set temporary prices, etc., which makes the monetization strategy as flexible as possible.
Availability of apps. Now, developers publish apps in one region and offer pre-orders in another - at the same time. The Availability page on the App Store lets you see information about app availability, pre-orders, and regions where the app is unavailable.
PPO, CPP, and pre-orders. In addition to improving the functioning of the PPO, it became possible to implement CPP and experiments for applications that have placed a pre-order. Thus, there was room for experimentation with application pages before their official launch. What is the difference, and how to optimize it? Read our article; here, we will leave only a short infographic on this matter.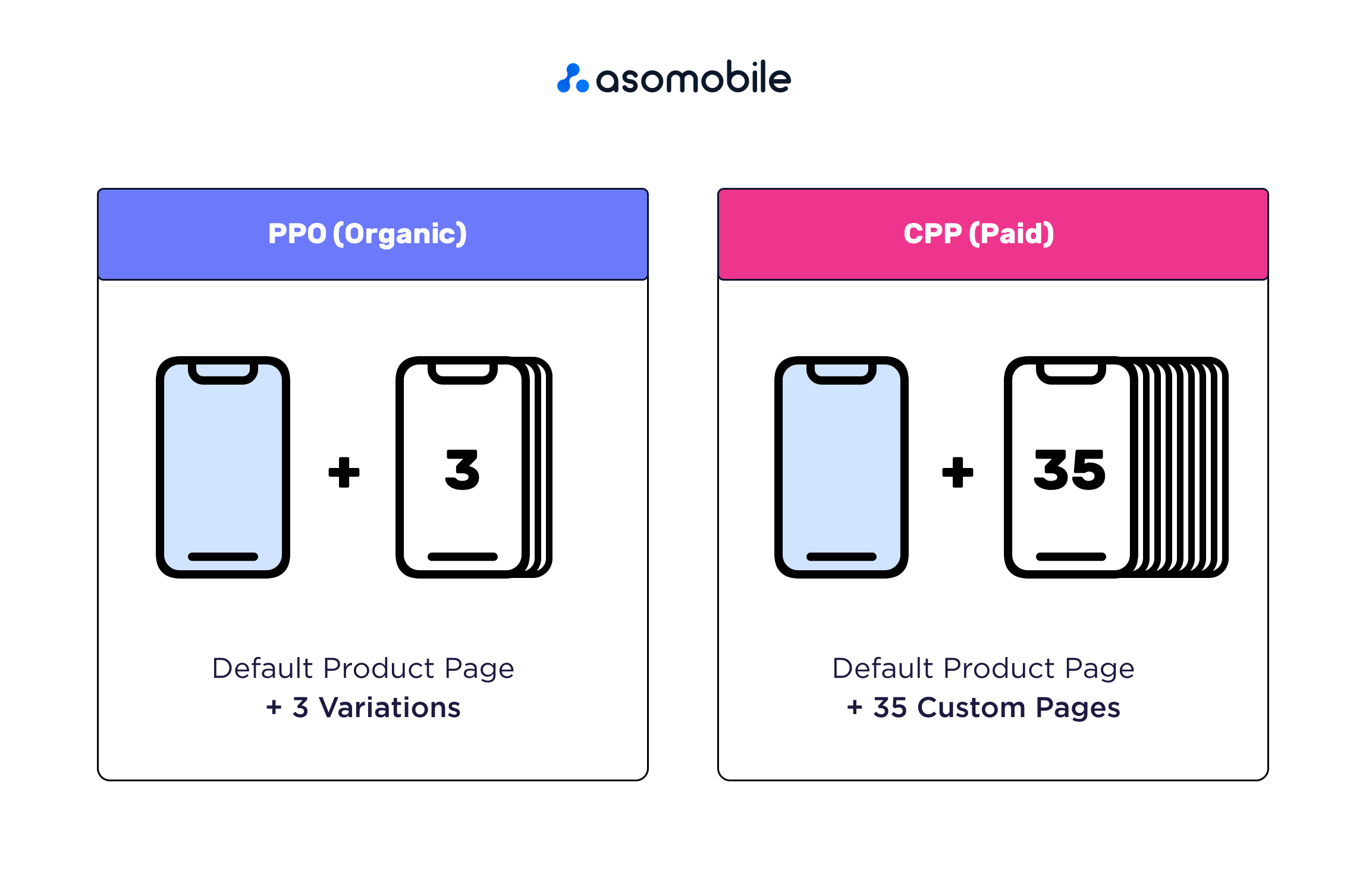 Additional user protection. And again about confidentiality, new changes in security approaches were announced, of which the most significant are worth noting:
access to specific photos rather than the entire gallery.
greater security of the calendar, separate access is offered only for posting an entry or notification from applications without access to the contents of the calendar.
ASO for iOS applications 2023
What has changed in the approach to optimizing iOS applications at the moment:
A/B testing has become more effective thanks to updates. Now, the experiment continues, and our PPOs work despite product updates. This made it possible to evaluate experiments more accurately since the duration now does not depend on the updates necessary for the high-quality functioning of applications. We can test the base page and three variations at the same time.
Something that is not related to WWDC 2023 but made a significant contribution to ASO optimization for the App Store. Additional locales for the USA; now, in addition to Spanish (Mexico), more than 8 languages are indexed there, which allows the application to get indexed for a wider pool of search queries.
The ability to launch CPP and PPO before the release of applications makes adjustments to the optimization strategy, allowing you to find an application page format that is more effective and relevant to user expectations. ASO optimization iterations can enter the phase before the application is released.
ASA, we can now analyze competitors' advertising using not only analytical tools but also native tools from Apple - Ad Repository; the tool currently only works for EU countries. By studying competing calls to action, color themes, creative design, video length, and region-specific tactics, we can understand what creatives our competitors are using, thus helping us rework our ASO strategy.
ASO analytics tools do not lose ground on the importance of optimization; they are at the core of it. We keep our nose to the wind, following platform updates and trends in mobile marketing, but the foundation of working with keywords, semantics, and metadata is unbreakable.
The updates introduced by Apple recently are opening up new horizons for both application developers and ASO specialists. With improved tools and features, we have more opportunities to optimize and promote our products, which will have a positive impact on the success of our apps in the App Store.
Optimize with success 💙