Custom Product Pages and ASO optimization
Custom Product Pages and their impact on ASO optimization - it's time to figure out where to use them, how to fill them in, and not to confuse them with Product Page Optimizations (PPO).
Since iOS 15, all ASO specialists have included custom product page (CPP) optimization in their professional field of activity. With this feature, we have the ability to create and test multiple versions of app pages for different audiences within paid campaigns. Let's divide this proposal into several and see what we can and should work with here.
CPP - custom product pages from the App Store
We have the ability to create up to 35 CPPs per application.
Elements that can be customized for each CPP - screenshots, advertising text, and preview video.
Each CPP has its own unique URL, making tracking your marketing efforts simple and effective.
Paid campaigns interact with CPP so that the latter can be used as a personalized approach in advertising.
All CPP analytics will be at our fingertips in App Store Connect.
The most important information is contained in these five points, but how do we use it?
The most important thing is the personalization of paid promotion, which we can use as a basis and inspiration for subsequent A/B testing. After all, this is precisely what will happen; based on the results of the CPP, you can accurately determine the target audience's reaction to a particular approach on the app page. Now let's figure out how to create a CPP and what to pay attention to.
CPP creation (Custom Product Page)
We start by creating a custom product page in App Store Connect.
When creating, we will assign a reference name to the CPP for easier identification. So, for example, to target a specific locale or target audience, we can use this in the name so that our results will be easily read later.
We can create a CPP from scratch or use an existing app page in the following steps.
We customize the CPP by adding screenshots, text, and previews, creating a great deal we will offer our users.
When saved, we will receive a ready-made CPP with a unique URL, which will find its place in our paid campaigns. And then, we move on to the process of sending for verification.
Items on the CPP cannot be changed while it is under review. But we can unsubmit, which will make our page editable again. And then we can resend it.
Advertising and CPP.
Using a unique URL, we now include CPP in our promotion strategy, indicating the address of interest to the user page (we now have up to 35 links) in advertising campaigns, email newsletters, content, etc.
Thus, we receive clearly structured traffic to our CPPs and see how well our creatives work in the context of a particular user audience.
ASO optimization of CPP
Since we are determined to find the ideal balance between creatives and the needs of our target audience, ASO efforts will be aimed specifically at optimizing custom elements - screenshots and previews.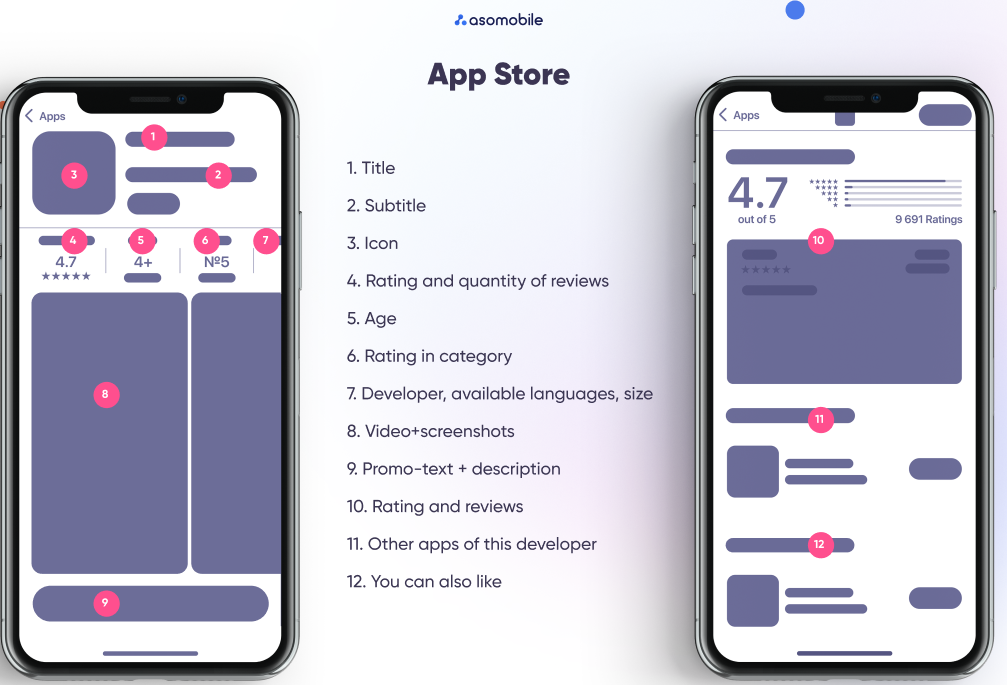 It is these two elements that are available for experiments with CPP, and when working with them, you need to remember:
App Preview is the name of the video preview on the App Store. It is a great way to introduce users to the application's functionality or gameplay without installation. Using various previews for CPP, we can convey the necessary information to target users. Draw the attention of each audience segment to the functions that interest them.
Screenshots. By analogy with app previews, they will serve our purpose of appealing to users with our product's various focal inscriptions and capabilities.
Advertising text. 170 characters that are visible to the user on the app page. It may contain a call, announcement of upcoming events, essential functions, etc.
A good example would be a photo editor working with CPP depending on geography. For the Asian market, we will highlight the product's capabilities for working with selfies, introducing users to all the functions in previews and screenshots. For the target user of the middle age category of the European market, the target appeal could be functionality for working with landscape photography.
Pros and cons of CPP
Custom pages can bring many benefits to our work:
opportunities for testing visual elements, with precise segmentation of target users.
the ability to determine the portrait of the target users with a more precise approach and understanding of their needs.
improving the relevance of page content with a subsequent increase in conversion.
seasonal ASO capabilities - creating unique pages for holidays or other events.
But this process also has certain disadvantages:
time and funds for testing, which must be considered when planning project resources.
the completeness of the data obtained may be inaccurate due to lack of resources.
you need to follow the testing rules if this is the purpose of creating a CPP, namely one element - one test.
Evaluating the effectiveness of CPP
Our efforts are measured in App Store Connect, where we can compare the base page optimization and the CPP performance.
In addition to viewing data, we can obtain install and conversion data. This will also allow you to find the answer to the question - from which pages do users install, interact, and spend more on the application?
What should you not count on? That CPP can be used as a testing tool in its original sense. We will customize the display for a specific user, but our responsibility is to correlate the creative and its needs correctly.
But what will definitely benefit us is the ability to harmonize the channel (how the user got to the CPP) with the target message - which can lead to conversion more accurately than the primary app page. Indeed, amid the All-Stars game, a basketball fan accessing the CPP sports analytics application is more likely to respond to visual creatives dedicated to his favorite sport.
This way, merging creatives and CTAs with your app's custom pages can increase downloads without confusing users from other traffic sources.
Differences between CPP and PPO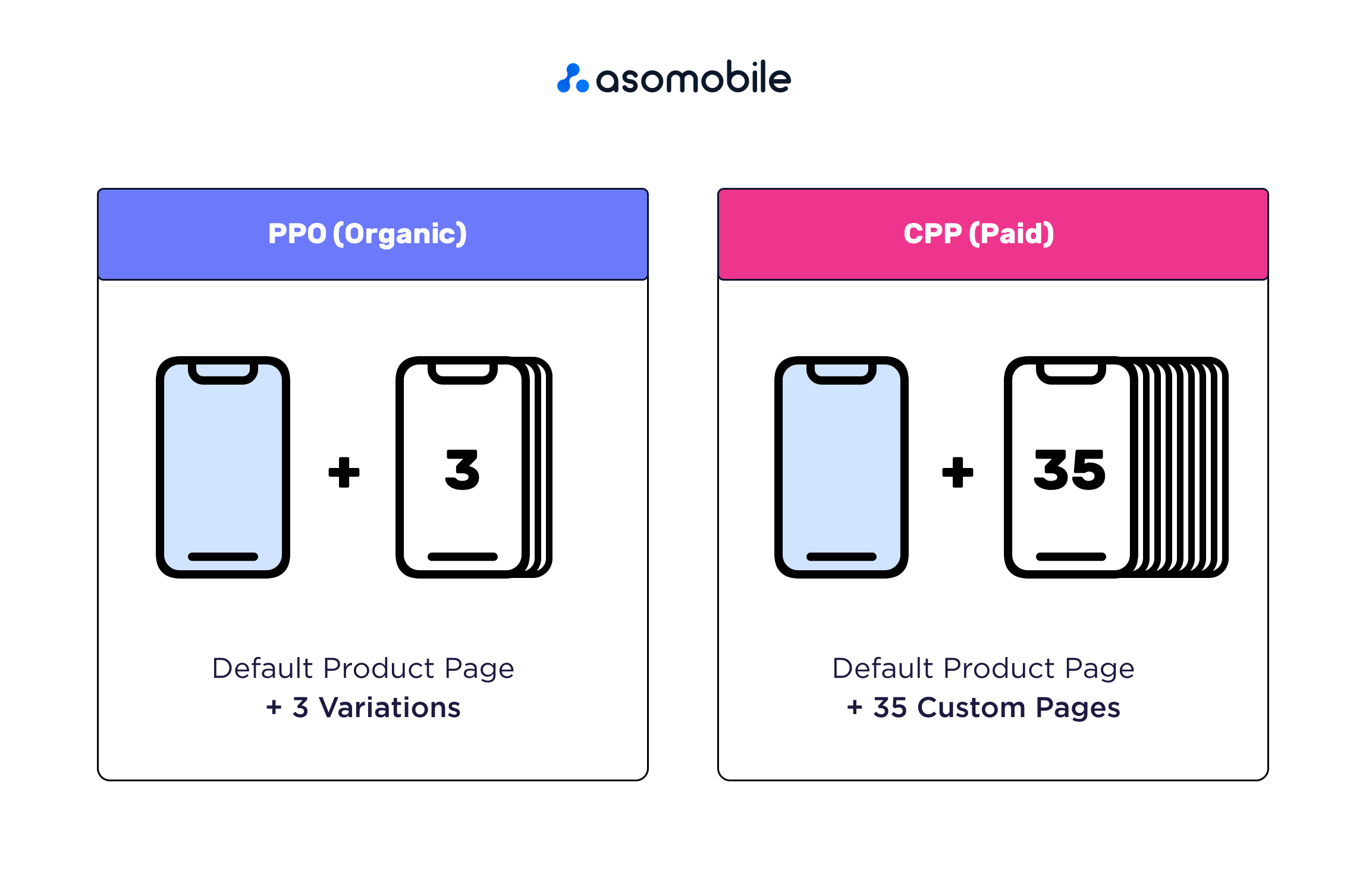 These two features were launched simultaneously, and more information about Product Page Optimization can be found in our article. Here we will briefly highlight the main differences:
CPPs are customized versions of our basic page with different visual elements. They have different URLs for use in various campaigns to promote the app. Therefore, there is no organic access to a specialized page - only through a link.
Product Page Optimization is an optimized product page that most closely correlates with the concept of A/B tests. The goal is to determine the best application page option. It can be a search result for any user, as it has various traffic sources.
CPP aims to identify the best interaction channels with the user, i.e., to improve the efficiency of traffic sources. PPO is a search for the best version of the application page
You can use CPP to test ASO updates, but you need to be clear that you will need funds to pay for installations, which can be expensive sometimes. Therefore, we will not call CPP a tool for testing on the App Store.
CPP as a way to improve user interaction
The Customer Product Page allows us to make our communications to users as effective as possible. By choosing the right promotion channel, like social networks, video streams, and content, we clearly see the portrait of our user and prepare the app page in accordance with everything mentioned. Apple Search Ads and CPP will help us increase organic traffic, search results visibility, and conversions. In addition, we will definitely use the information obtained due to the CPP. Use the best-performing keywords from the ASA to improve your ASO performance - by including them in your metadata. If specific keywords are relevant to our app and could lead to more downloads, why not include them in the metadata and descriptions?
When using CPP as an ASO tool, we should not forget that this is only a tiny part of the traffic, and screenshots and focus captions are essential but not decisive in the success of our application.
Optimize and achieve your goals💙