Top Free ASO Optimization Tools
Make ASO free of charge. Is it possible? - Let's take a look at our Top Free Tools from ASOMobile and answer this question. Text optimization, as the foundation of our application on the store, is a well-known and popular method for obtaining indexing and visibility. Competitor analysis is the basis of our vision for the future development of the application; an assessment of the market situation allows us to choose the right strategy and develop the main steps for the growth of our product. All this requires a lot of effort, time, and sources of information, not all of which can be obtained in the public domain. Today we will try to do text optimization of the app using tools with free access based on ASOMobile analytics for Google Play and App Store.
Collecting the semantic core
Any text optimization originates in selecting semantics - you need to decide on relevant keywords and phrases. We take app functionality, search user experience, logic, and common sense into our arsenal and start our work on collecting the semantic core of the app using analytics tools.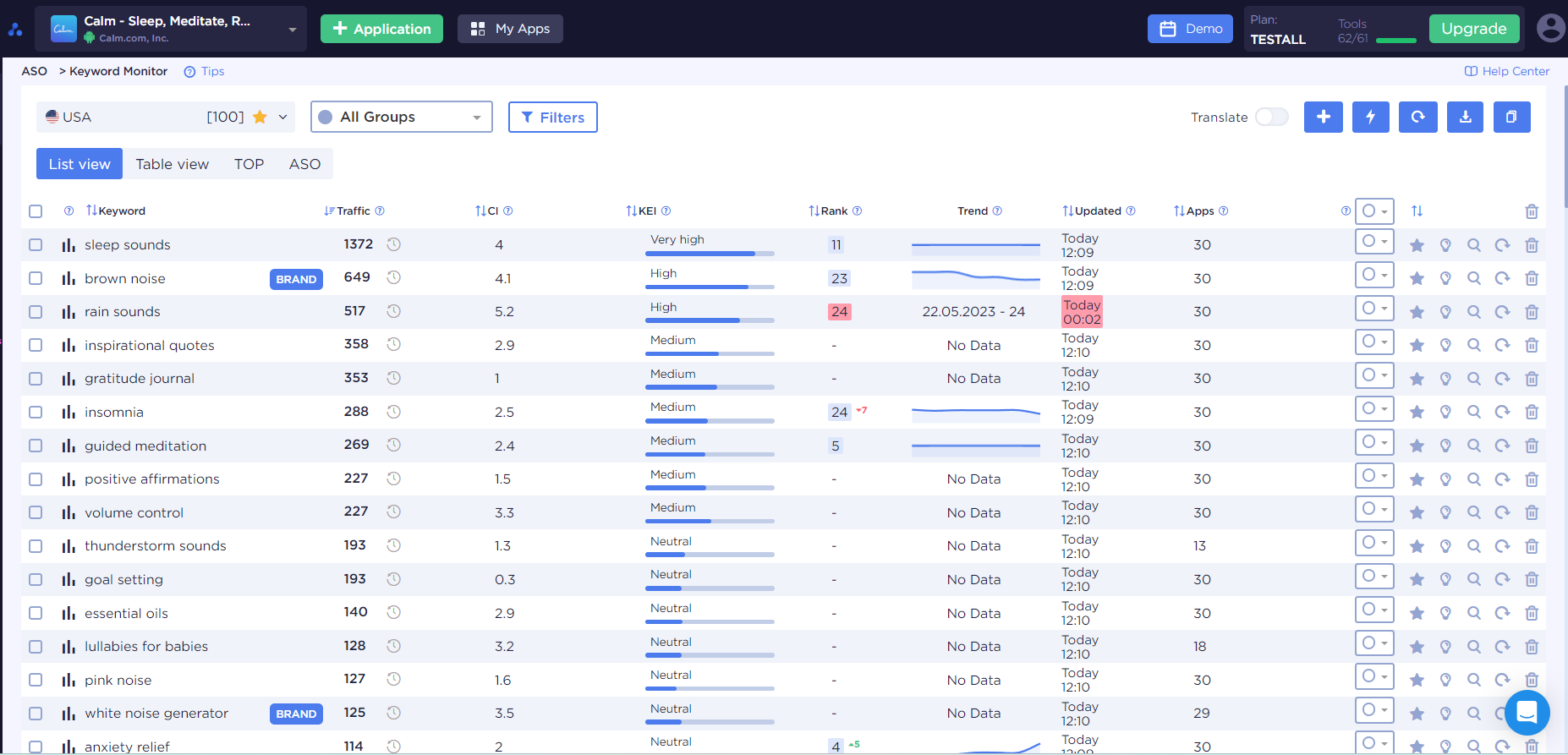 We would be glad to write that this is all we need for text optimization, but this would be an exaggeration. However, the main work with the semantic core will take place here. Even if you have no idea where to start, it is Keyword Monitor that will give you ideas or at least a dozen auto analytics tips. All key phrases that we can generate with you when working with other tools will fall here, and our semantics will take on their final form here.
Keyword analysis will be done according to the rule - relevance, and traffic, in that order. We will check the first one with the help of search results (without leaving the analytics), and ASOMobile will calculate the second one. By and large, in addition to process automation, analytics gives us the most important indicators - the competitiveness of search queries, their popularity with users, and their effectiveness; it is these queries that will bring indexing and visibility to our app.
Checking the search results looks like this and helps us evaluate the keyword's relevance in one click, namely, if the search results consist of our competitors, then we hit the target (although sometimes it is difficult to assume the existence of such search queries).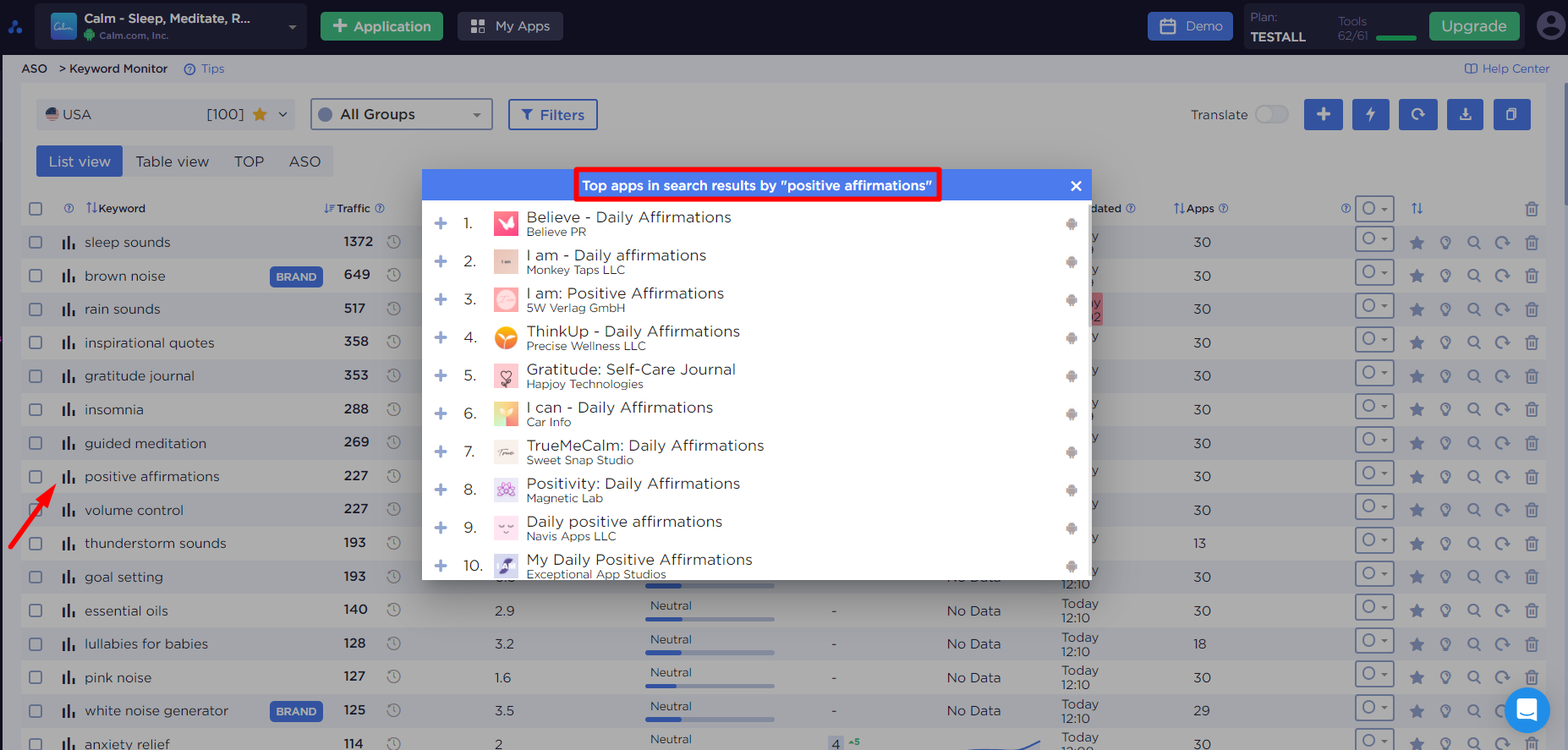 Another feature of Keyword Monitor should be used, namely, suggestions for a key query; they are available for almost all queries. They can significantly replenish our semantics, and we can immediately see their traffic indicator.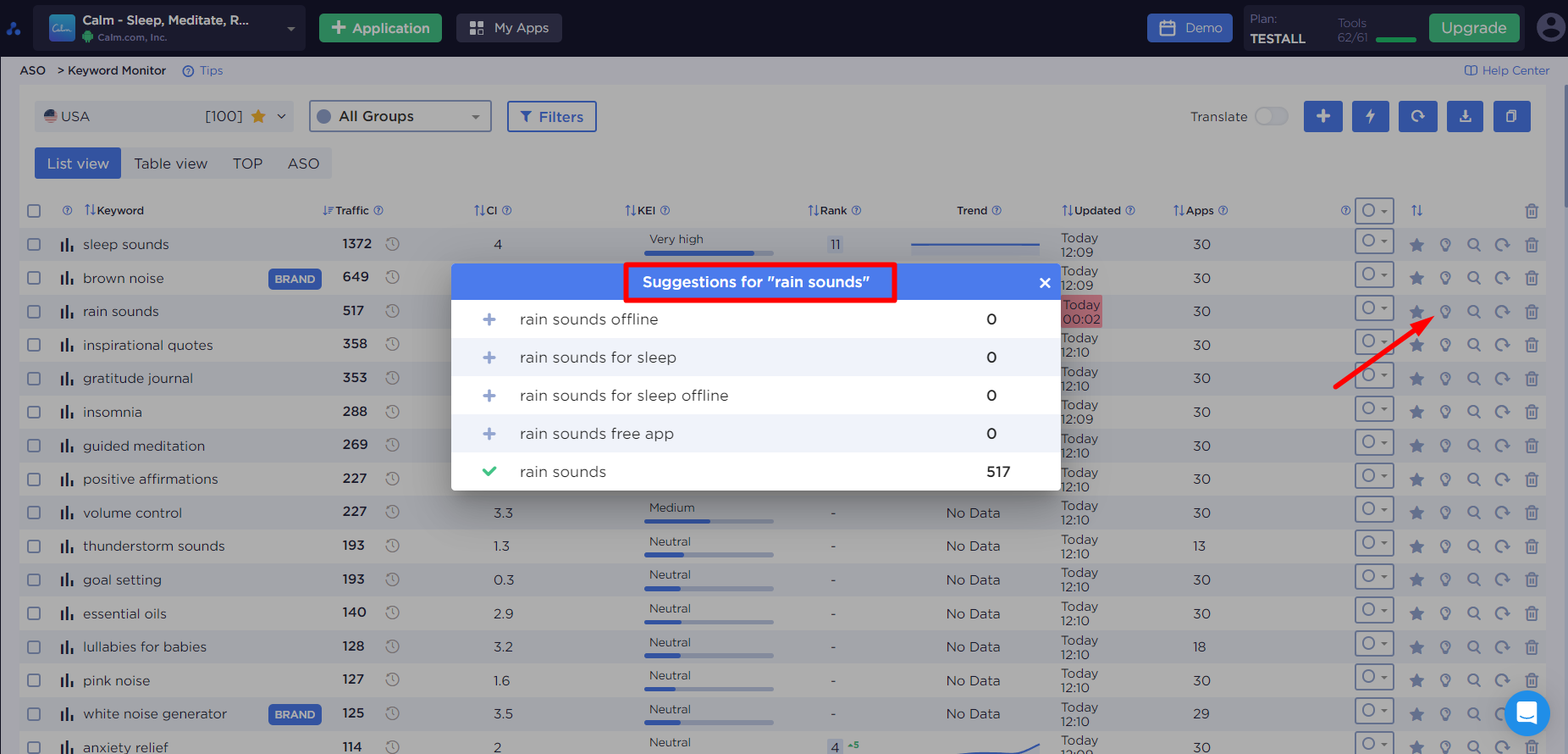 We include one more function of this tool in our work, namely, the ability to create color filters and thereby get our semantics in the form of high-frequency, mid-frequency, and low-frequency search queries. A trifle that makes our further work on the formation of metadata a little faster and more convenient.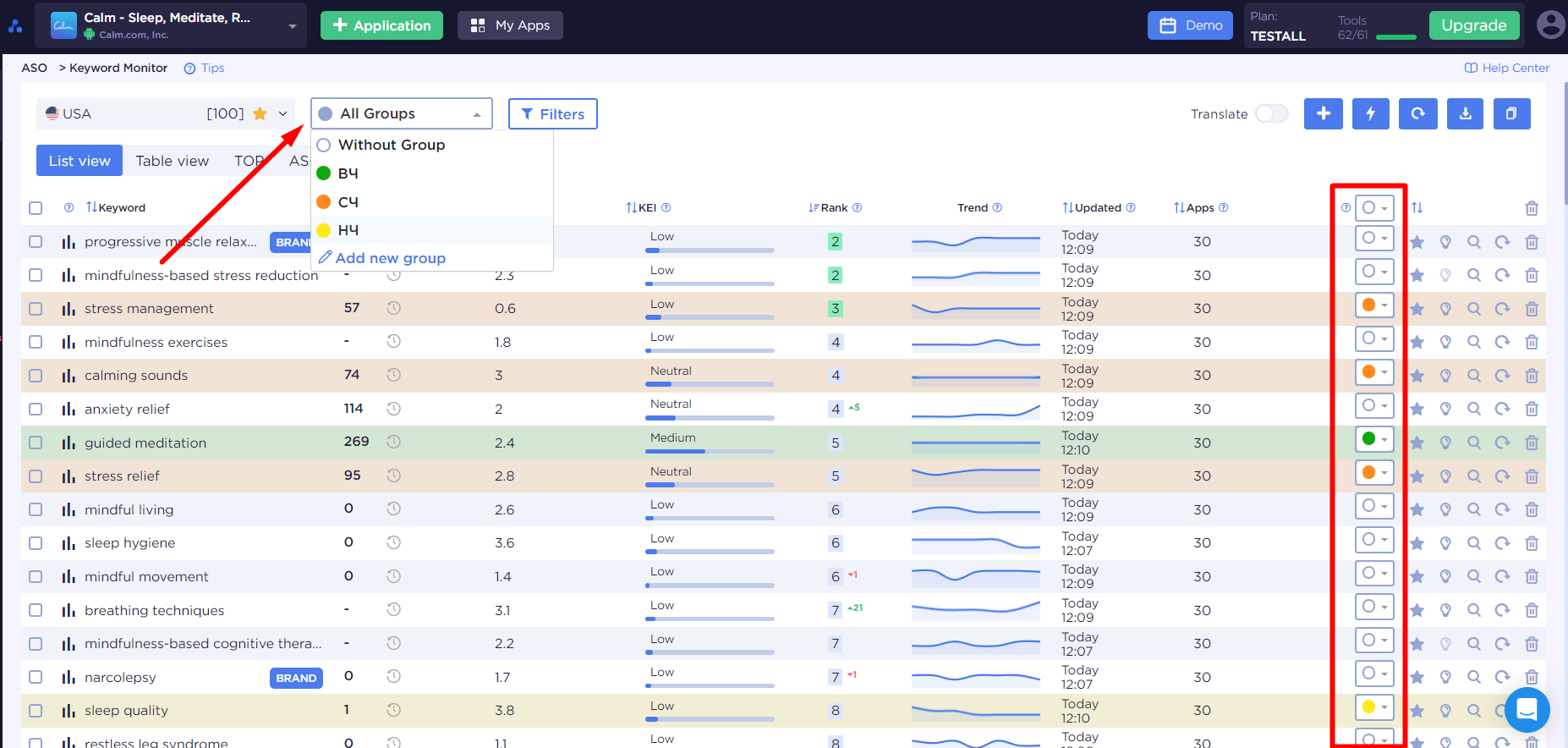 Store search suggestions are the basis of this tool, and that is why we should not miss the opportunity to meet the necessary and, most importantly, relevant search queries for our application in Keyword Suggest. It works on a principle similar to the search bar on the app store. Open your App Store and enter the first word of the search query you are interested in there, and you will see a drop-down list with photo suggestions. Keyword Suggest will show you more - all possible phrases with the query you are interested in arranged alphabetically and with a traffic indicator.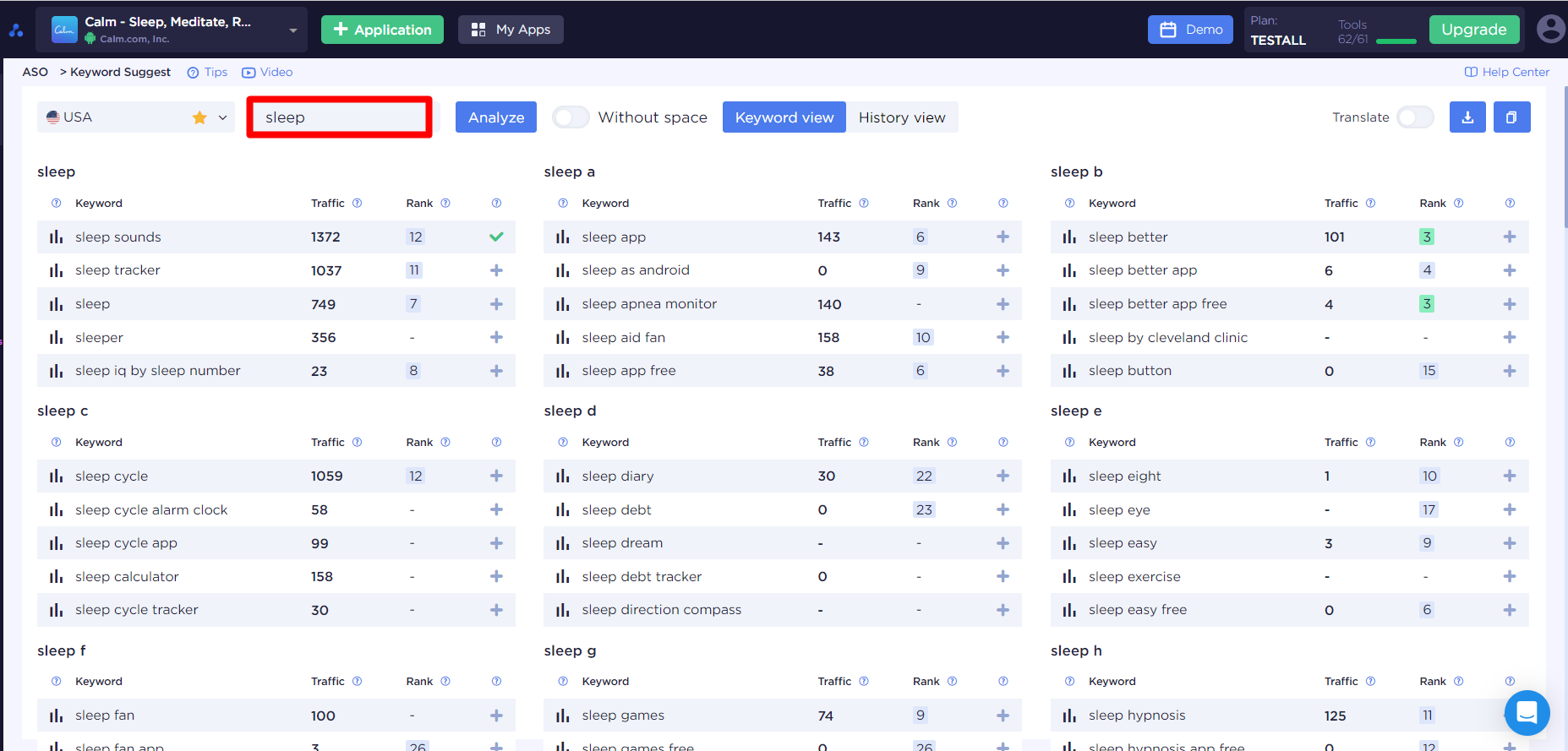 Thus, you can check any search query for its presence on store search suggestions and focus on traffic and relevance.
Free tools for keyword Analysis
In addition to forming the semantic core, we have the opportunity to analyze individual key queries, depending on the country, platform, and period.
This tool will help us evaluate traffic volumes, the level of competition, and the top search results for the researched key request. So, for example, you can evaluate the quality level of the keywords that we will use in the metadata.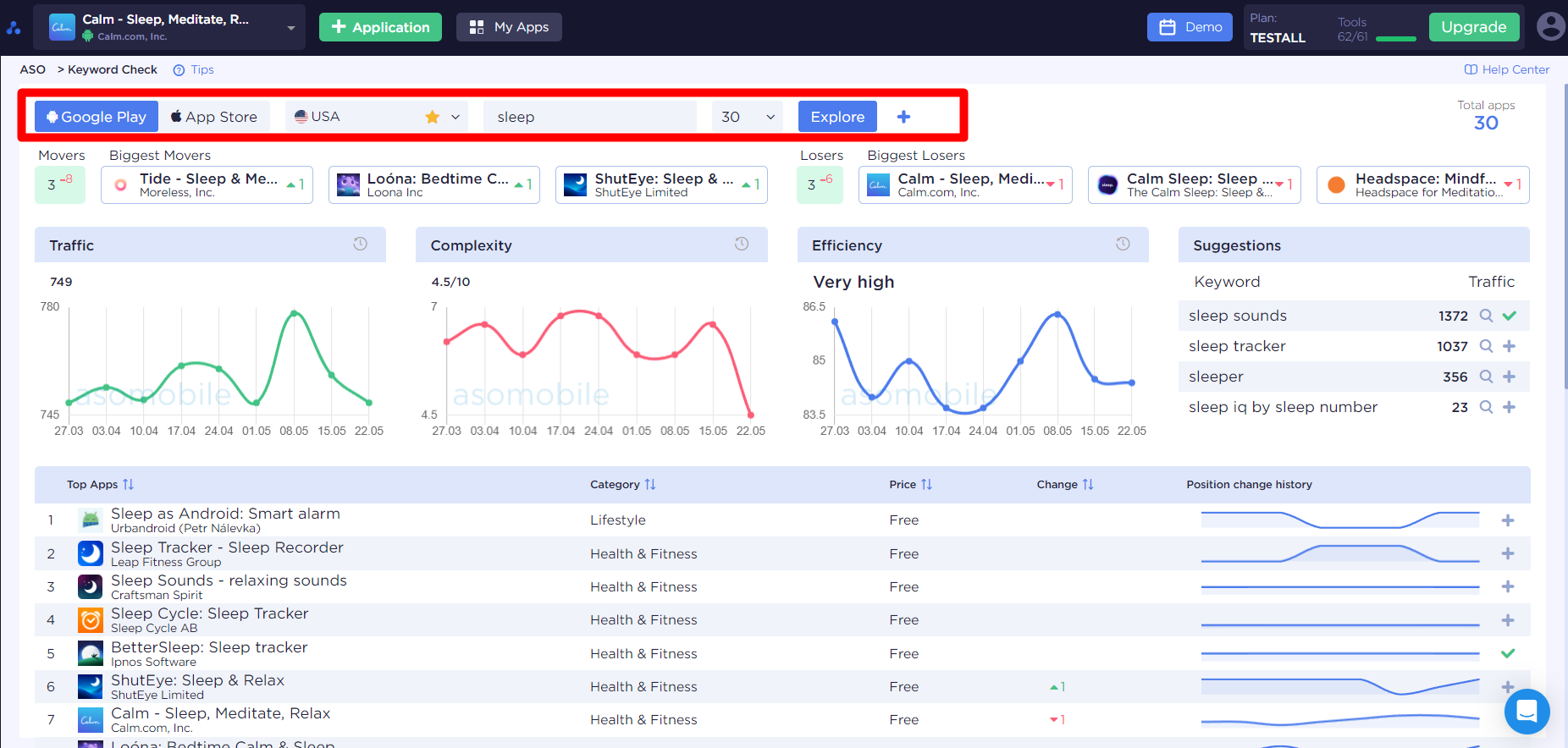 We can look at the picture of the market as a whole using the Top Keywords tool, in which we can observe the Top 200 search queries by country and store. This can be especially useful for understanding app niche selection and user interest analysis; you don't even need to understand which apps are at the Top when seeing such a picture of popular keywords.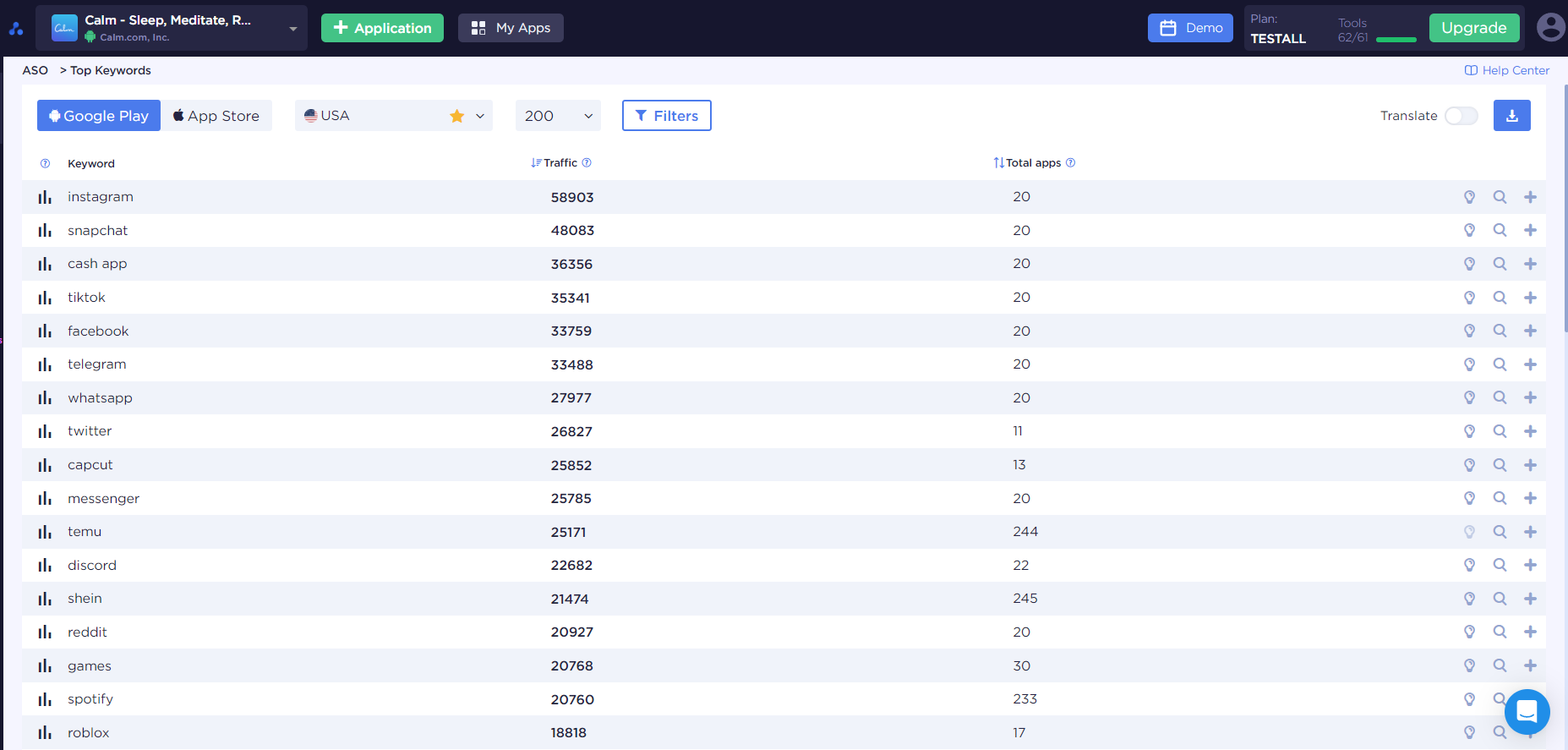 Free tools for formation of metadata
To work with metadata, we can use three free tools - App Store localization, Text Analyzer and the new Keyword Builder tool.
This is not so much a tool as a guide to additional App Store locales. If we have already mentioned additional locales, we will also remind you that this is a great way to expand the indexing of our iOS app. You can read a little more about the rules and life hacks here, and we'll remind you what these additional locales look like.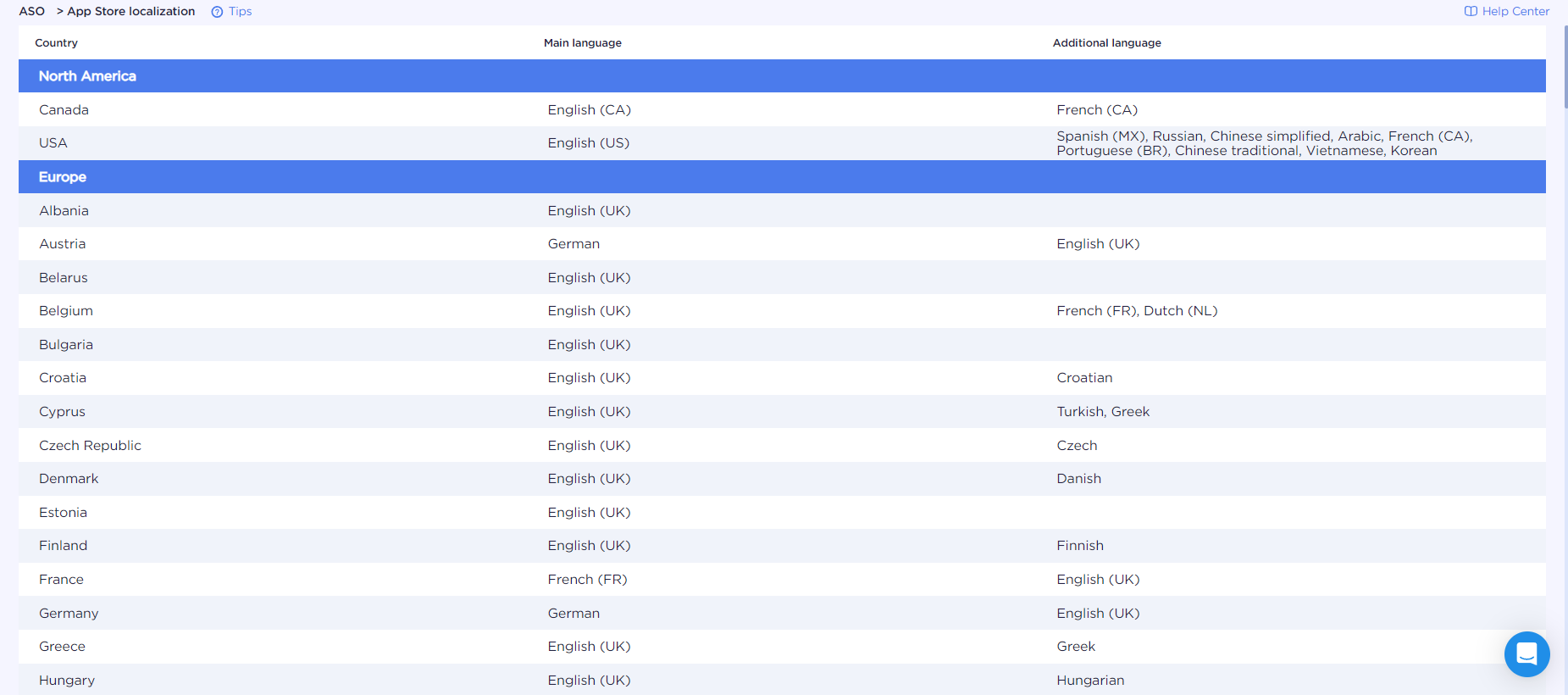 Favorite ASO tool and know why? Because Text Analyzer is an excellent help at the moment of collecting semantics and at the same time solves SEO tasks for analyzing texts (we will immediately make a reservation that its main use falls on apps for Google Play).
Suppose we are talking about collecting a semantic core. In that case, Text Analyzer can become a lifesaver with very poor semantics or when you do text optimization in a completely unfamiliar language and do not know what other relevant phrases to add to the core. Using this tool, you can easily analyze many descriptions of competitors and replenish the semantic core with the necessary key queries.
Step one is to analyze competitor descriptions:

Step two is to analyze the found semantics. Namely, to evaluate search queries for the question of relevance (look into the search results by key) and traffic.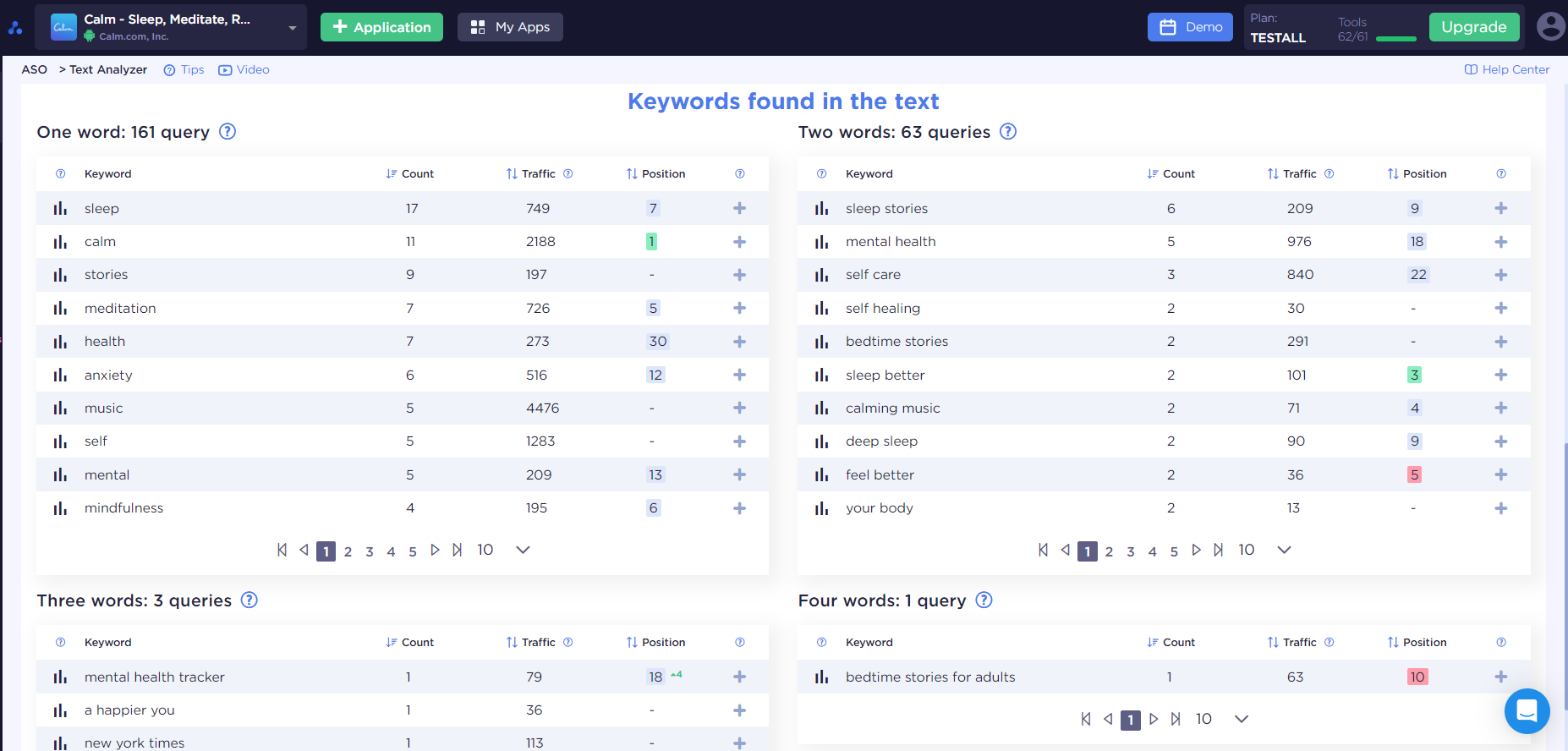 As for Text Analyzer for SEO text analysis, it is simply an indispensable tool. The full description text is an essential factor for app indexing on Google Play. Since this particular app store has more vague indexing rules (it is not always possible to guess which search queries and which position Android apps will appear in), the importance of correctly written text cannot be underestimated.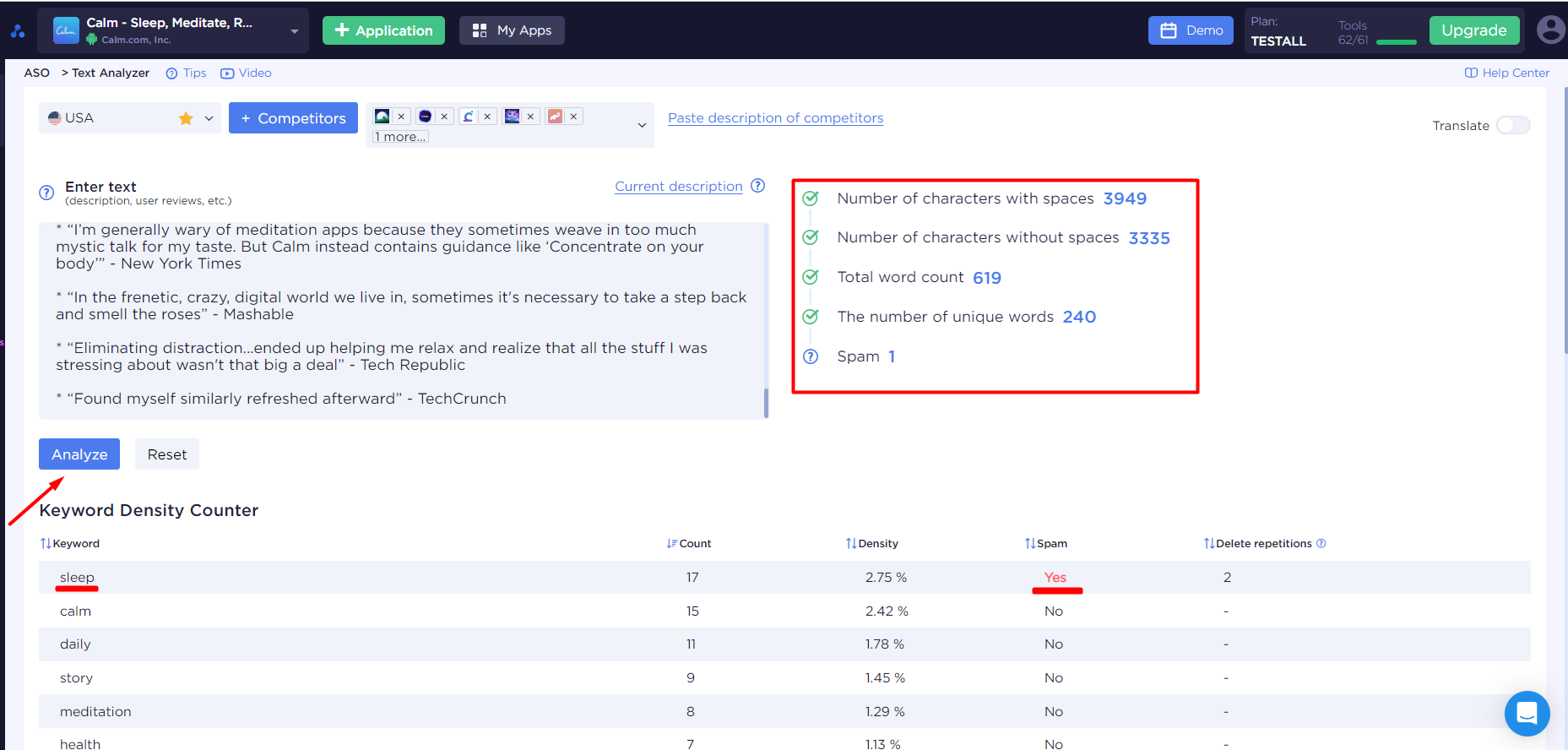 Text Analyzer will help you highlight the used search queries in the text, show their frequency and assess the presence of keyword stuffing:
A new, free keyword tool for iOS apps. Keyword Builder will help us precisely in working with such a metadata field as keywords. You can read the features and filling rules here, but we will focus on the functionality: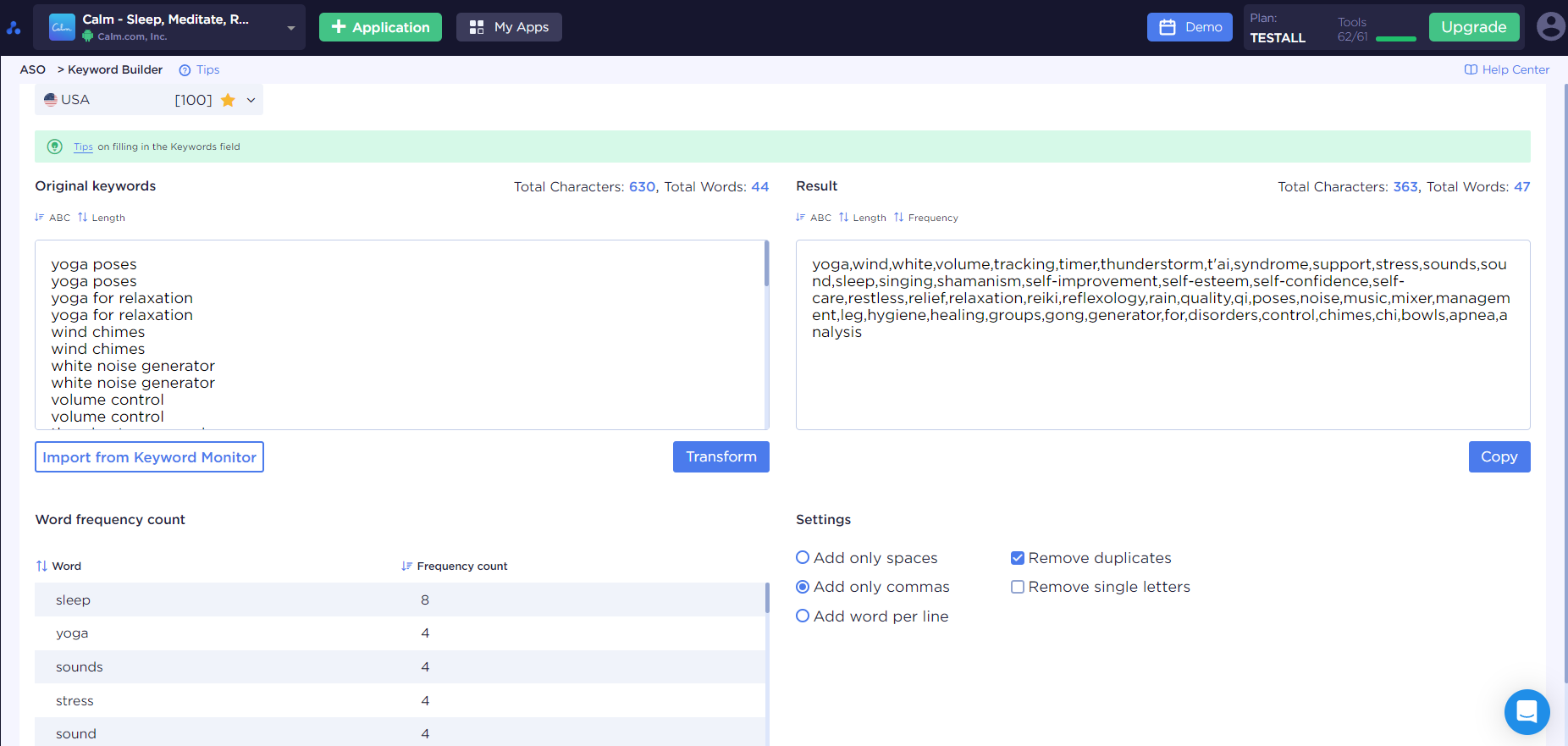 We import keywords from the semantic core that are in the Keyword Monitor into the Keyword Builder. And we get at the output search queries prescribed according to all the rules of the App Store - separated by commas, in separate words, and without spaces. We can easily estimate the number of characters and the number of words, as well as see the number of repetitions of words in our semantic core.
Thus, this tool will help us form metadata for App Store apps.
Market and competitor analysis
For the market analysis, we also have several free features from ASOMobile, thanks to which you can see the popularity of search queries and top applications.
If you need to understand what is happening with the trends in the market, then feel free to go to Trending Searches and see which search queries are gaining popularity and which are the longest-running in the market. This will help you understand where you are aiming to optimize your application - to shine brightly or to burn for a long time?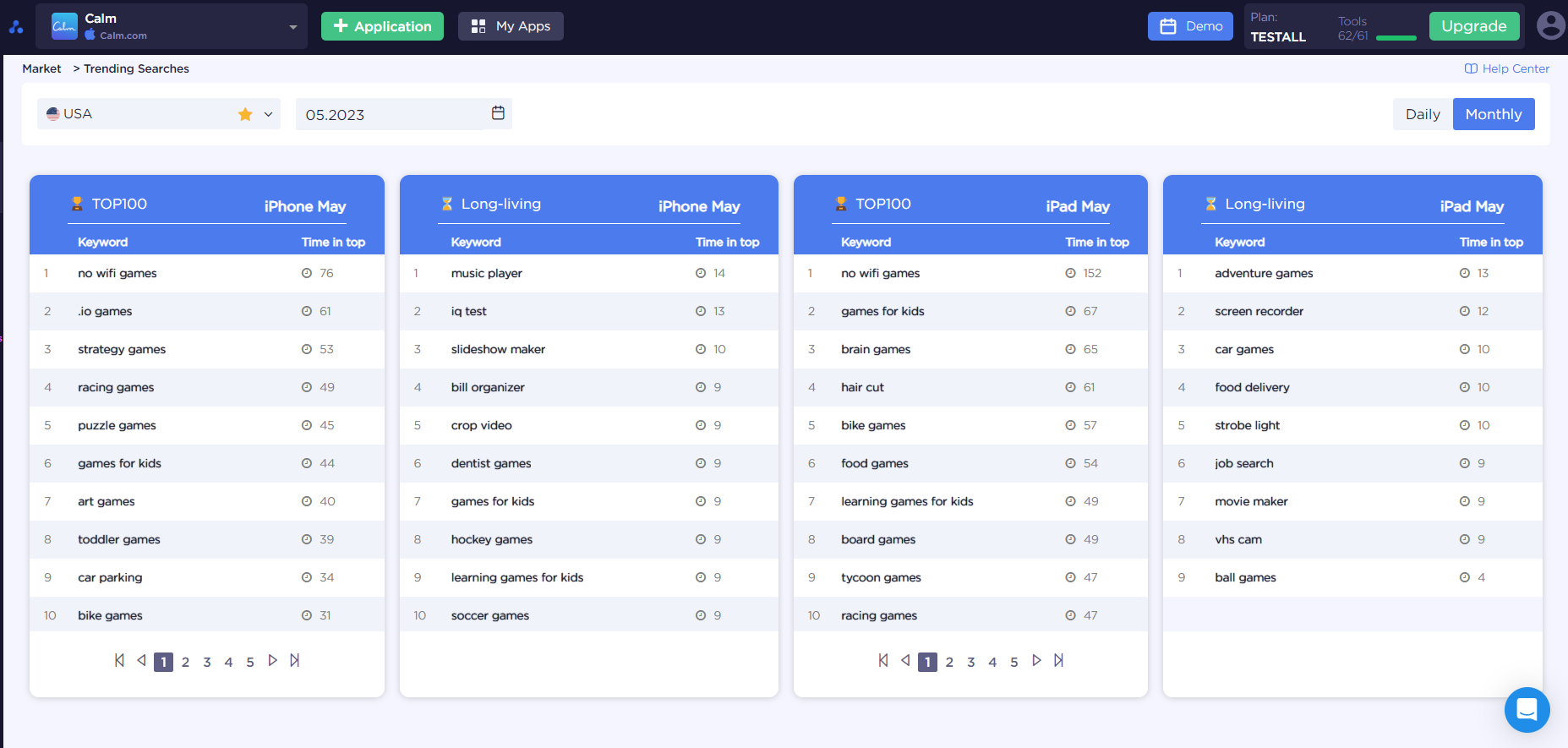 N.B. Analytics is available only for iOS applications
*it is possible to get information by hours, days, or by the end of the month in each selected geo.
Suppose we have already decided on a category. In that case, you can quickly look at the Top Categories and see the Top 10,20,100 in the selected niche, which means it is easy to outline the circle of main competitors or choose a top base for optimizing an application that has not yet been created.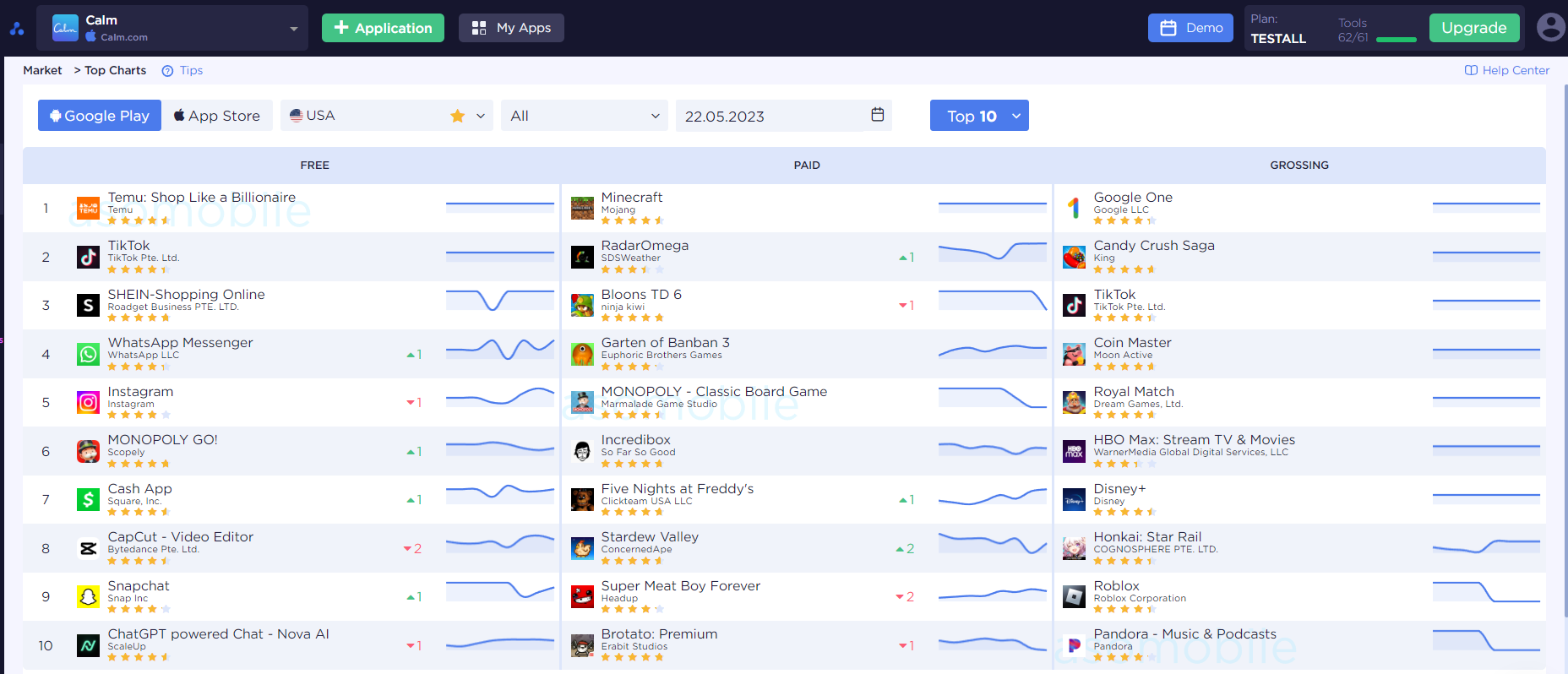 *information is available both for a separate category and for everyone (Google Play and App Store)
If we are interested in historical data, namely, what happened to our application in retrospective dynamics - Category History can understand the background and analyze it for us: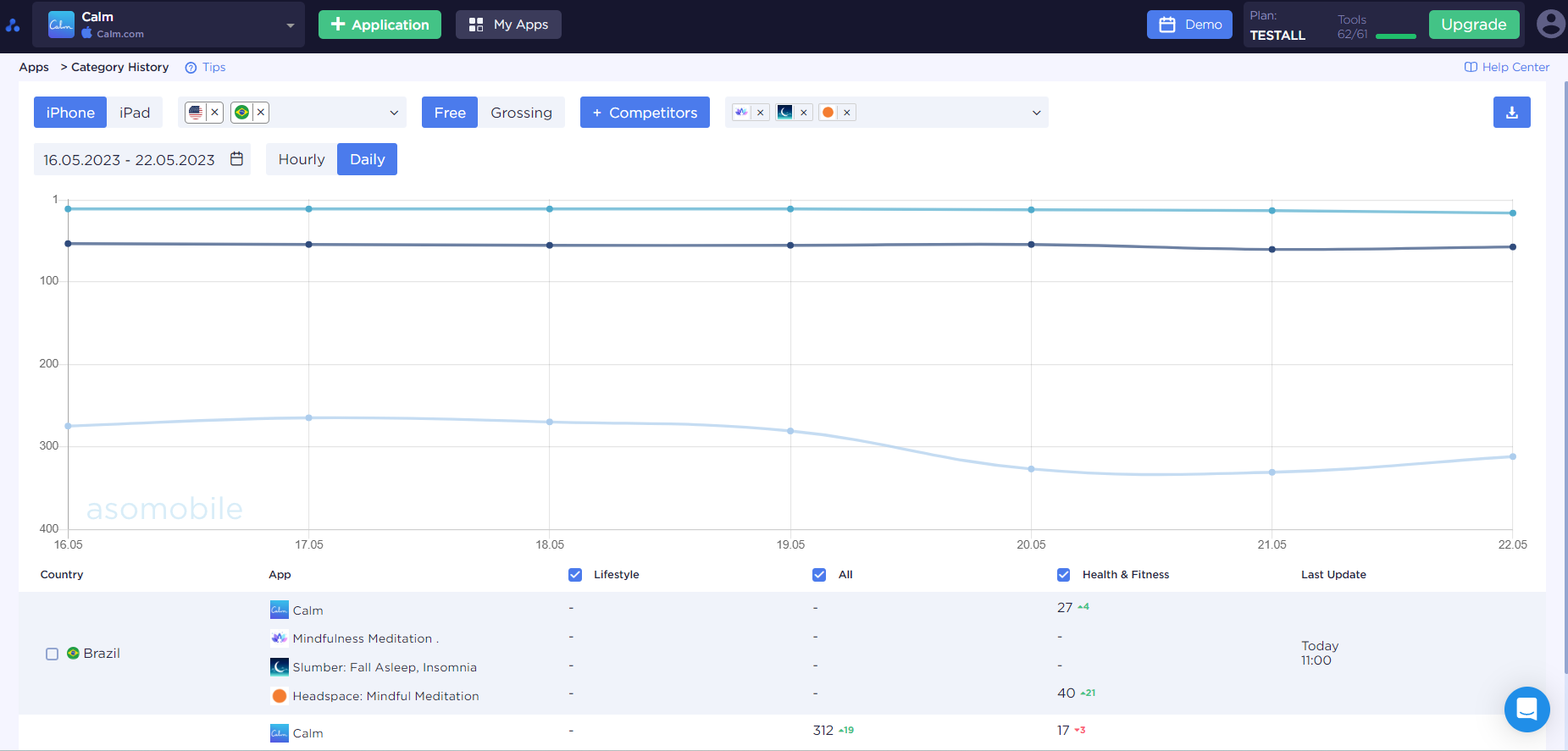 To check which position our app is in and in which category, you can use Category Ranking.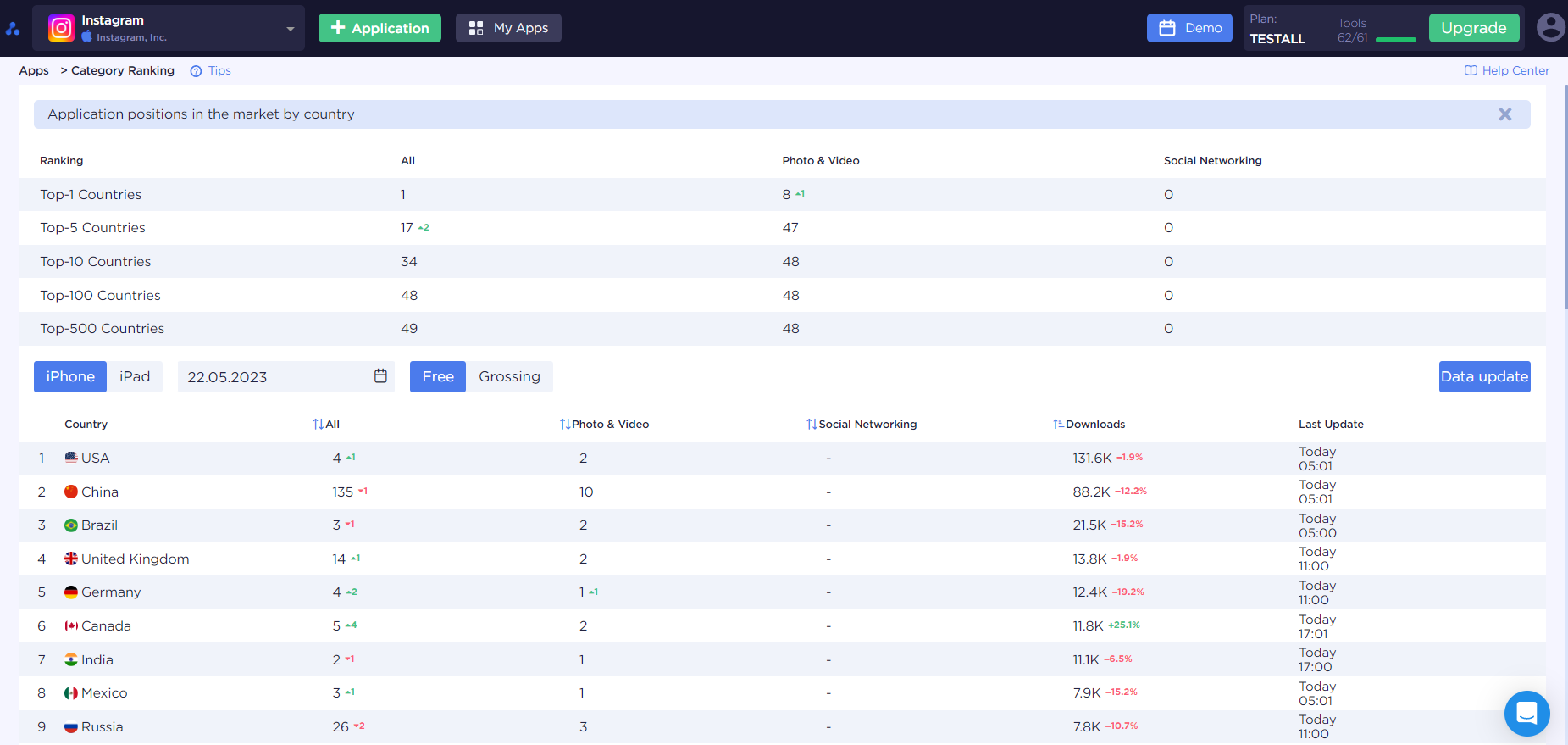 Free tools for ASO optimization?
Of course, the presented toolkit is far from complete for the needs of an ASO specialist, but it is there, and you need to use it!
And the most critical thing we left to the end - Keyword Monitor will help you a lot to track the indexing of our application based on the results of text optimization. At what position in the search results and for what relevant search queries did our application appear - is this not the main result of text optimization?
😎 Use the "ASOTIPS40" coupon to get a 40% Off on your first purchase at ASOMobile (the promo code is valid for any plan and any period).
Optimize for free with ASOMobile💙