Top 10 tips on how to increase app installs
We all chase how to increase installs when we release a new app. After all, it is one of the parameters that measure the success of an app. The number of installs is even displayed on the app's page on Google Play. This parameter shows how successful or not ASO optimization has been done. But we will start from the very beginning.
By the very beginning, we mean when the application is ready. Next comes the release, after which we need to analyze how our app promotion strategy works and adjust it. Naturally, the basis for increasing visibility will be keywords. Of course, you can and should use social networks to promote your application, but it is far from optimizing the search position for Google Play or App Store. Without social media, an app can be successful and even more than just successful, but without trivial search visibility, an app is almost doomed to oblivion.
We have realized that we need text ASO to achieve visibility and success. Text ASO optimization is the first thing that comes to mind when we want to increase the number of app installs. However, we should remember that there are many other ways to do this. These are what we're going to talk about today, highlighting the most prioritized ones.
How people find new apps is a vital channel for us in this article, as it's the one we'll be working with.
1. Basics and Planning
Before launching an app and starting ASO, you need to understand what our app will be like, who it will target, and how we plan to develop it.
There are better ways to go than making an app and not understanding who our audience will be. Same with not having a vision of what the app will be. Planning reduces for us the number of unknown things we may encounter.
Understanding the target audience sets the app's style, tone, and functionality. For example, if we're building an app to help people do their taxes, a pink candy theme and diminutive words are more likely to scare off people interested in functionality.
It's a good idea to see what users like about your competitors, what they're doing right, and their missteps. Memorize and implement; don't do a one-size-fits-all. The main reason to avoid completely copying a unique idea is users' dissatisfaction with what we chose to do. If there is already a successful app on the market that is similar to ours, the users of the successful app can and most likely will notice our trickery. After that, bad reviews and ratings are guaranteed.
Working with the target audience is essential to show we understand who we are making the app for. This understanding can be demonstrated by text in the description or notifications in the app that are personalized for the user.
2. Icons
When text-based ASO optimization has done its job, and our app has appeared in the first rows of search rankings, we need it to stand out. Logically, the icon will be the factor that should attract attention. The user sees it first, analyzes it, and often based on the impression of the icon.
What is essential in the icon? The icon should attract attention but, at the same time, be simple. The user should understand or begin to guess what the application does by looking at the icon. Right now, minimalism dominates the styles of icons. After all, the more objects on the icon, the more likely the user's eye will glide past.
3. Screenshots and videos
The following are essential elements in the user journey. You should always use screenshots and videos from your app, but more than just screenshots and videos will be needed. They should be eye-catching, showing our app's essential features, interfaces, and functions so the user will want to use them themselves. 

Also, remember that Google Play and Apple Store have promos and preview videos, respectively. This allows us to show videos before the user visits the app page. 
4. Description
Though description is a part of text ASO optimization that needs to be tailored for search queries, it is still an element on the app page. So the user can and will interact with it. Write the description so that it is interesting to read, divide the text into parts, and highlight important points to make it easier to perceive. Remember that ASO is made for the user and the store; the main thing is finding a balance.
5. Localization
When developing an application, don't limit yourself to only one language. This inherently limits your number of users, even if that language is English. And don't think that localization is only the translation of words in the app; localization is much more than that. It should be noted that a quality translation will bring us more installs, but the entire process can have multiple effects. We must show users an understanding of their culture and what surrounds them. Well, and of course, localization of keywords increases the number of installs.
Just remember that localization is different for Google Play and App Store.
6. Attention
A user uses our app, and everything seems fine, but then he realizes there have been no updates for a long time or we have yet to respond to his feedback. This kind of thing is memorable and stays, more often than not, in the evaluations.
We need to update the app, preferably in a way our user notices. Seasonal or holiday updates with a change of theme, launch of events, or some discounts are perfect for this. This is also a plus for the app's page in the store. Activity adds confidence to users that the product is of high quality.
It is constantly necessary to monitor reviews and respond to them if a question is addressed to us. This is especially true for bad reviews with one star. By responding to them, we show that we understand and are addressing or knowing about the problem. Making sure that we, as developers, continue to monitor the app is a good investment of time in the app. This is the kind of app that users recommend to their friends and family, leading to the same desired result.
7. Reviews and ratings
To respond to reviews, they must first be awaited or instigated. The number of reviews and ratings is an essential part of the app. We may have everything looking perfect, from the icon to the video, but if our score is a 3, an impressive number of users will not want to install our product. The same thing will happen when our app lacks reviews.
To solve the problem with ratings, we need to ask users to rate them. Yes, it's that simple. But! A user should be asked for a rating when they enter the application 3–5 times; by this moment, we can say with certainty that the user is at least interested. So, the probability of a high rating increases, and we're trying to achieve that. A high rating means a higher rating in Google Play and Apple Store algorithms, which means more installs.
The same principle works with reviews. Just remember that it is almost mandatory to interact with bad reviews.
8. Expand your online presence
Even though we wrote that an app can exist without social networks, it doesn't mean it should. A presence on social works, just as well as reviews with ratings, increases user trust in you, but it also works just as much more actively as an audience extension. You need help finding a critique or review on a search engine.
Social media is a great alternative platform to engage with our users. In them, it is easier to communicate; we can pay more attention to the different subtleties of the application and show our interest in the process.
There is an important point that should be noticed. A different social network is suitable for each audience. Instagram, X (Twitter), and Facebook target audiences are different; most of our target audience will likely be on one of them. This doesn't mean you should only start one social network and stop there. It means that each network will need to be handled differently.
9. SEO
What is meant by SEO is that we need a website. We decided to put SEO as a separate topic from social media, as working with networks and SEO is different. A website as an engine to increase your downloads can be beneficial. According to Google stats, 21 percent find new apps thanks to search engines. We may get only part of the 21 percent, but we are working to increase downloads. If our site is found, it should be optimized so that at least half of them will want to install our app. This is not to mention that the site itself can be our cover to support interest and entice new users through blogging and beyond.
10. High-quality ASO
It's the highest priority we can have when thinking about increasing downloads. Why is it last, then? Because it incorporates almost every element we have described, from keyword research to textual and visual optimization. We can quickly check our ASO by ASO Dashboard.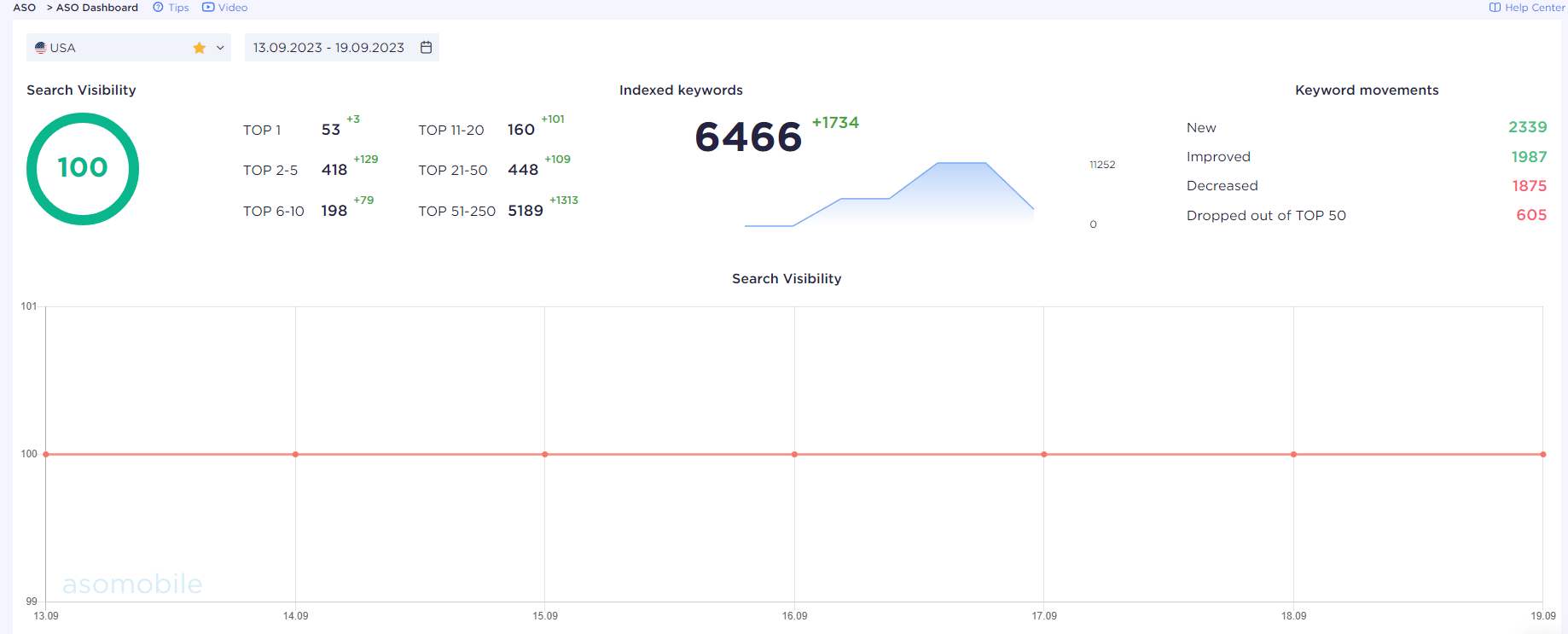 Conclusion
Yes, we must have a high-quality application in the first place, but no matter how impossible it may be, it will only reach its full potential with promotion. And it is rarely possible to limit ourselves to a single method. We need to combine different ways of rising as much as we can. The more we use it, the more successful our app will be.
Optimize and achieve your goals💙