Seasonal ASO Optimization Strategies
New Year and Christmas, Valentine's Day, Halloween, and Women's Day. The list of holidays can go on and on. Also add world sporting events like the NFL, NBL, and NHL. Don't forget traditional discount periods like Black Friday and Cyber ​​Monday.
All these familiar and understandable things can be combined under a collective definition - seasonality. By the way, various holidays make up the lion's share of seasonal events.
A season is not necessarily a time of the year. There is a season for television shows, and in big sports, and in the film industry. Yes, almost anywhere. And it's just a sin not to use such a wonderful magic wand as seasonality.
In this article, we have prepared useful information for you about seasonality and its impact on the ASO strategy of any, absolutely any application. Go!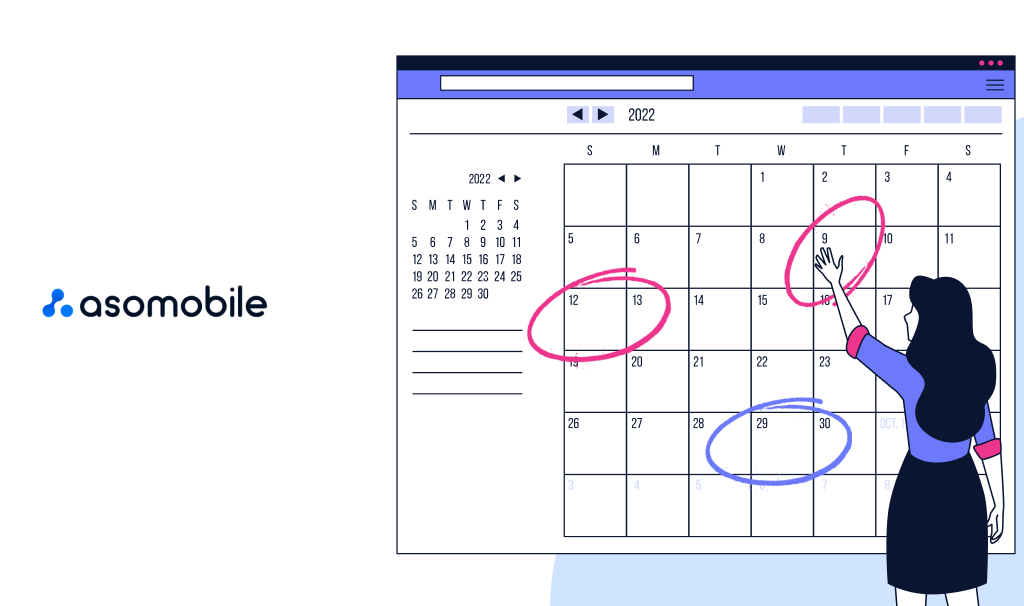 So what is "seasonality" and why is it important for mobile app marketing?
Seasonality is a period of time dedicated to an event or the event itself, which, in turn, also has a certain duration. Sounds confusing. Let's look at examples.
Look around you, all life is made up of seasons. Seasons of the year, holiday seasons, releases of new seasons of your favorite TV shows, seasonal games of the national football and basketball leagues (NFL and NBA), and a whole host of different seasons.
And it would be very strange if the principle of seasonality did not work for the App Store and Google Play. It works, and well enough! Let's say more, a successful ASO strategy is simply obliged to take seasonality into account. Because it is effective and covers two purposes at once:
Increases app awareness. Why?
Because competent visual and text optimization allows you to issue an application for search queries of users higher and more often in the ratings of stores. For example, we add a pumpkin to the icon and correctly enter "Halloween" into the keywords, and in the season of the holiday of the same name, the visibility of the application rises up. Because users are usually looking for something themed during the holiday periods. By the way, in graphical optimization, don't forget about screenshots and videos.
NB: graphical and textual optimization should be complemented by the internal stuffing of the application dedicated specifically to the event, some special thematic functions, or options. Otherwise, pure swindle comes out, trust in the brand falls, and no one wants this. You don't have to do that. If you have already announced a seasonal novelty, please, and add something thematic to the application.
Increases the conversion rate per install. Why?
Because if you read the NB from the previous point carefully and brought something fresh and thematic into the application, then, usually, the application needs to be updated for the correct operation of the application. It takes a genius to make something simple. By the way, on average, such reinstalls give an increase in conversion of about 15-30%. Which is always nice.
The importance of seasonality for ASO cannot be overestimated. Because there are things that are ingrained in human life and expected from year to year - holidays, special days like Black Friday and Cyber ​​Monday, and the release of new seasons of Netflix. All these things are cyclical and always repeat. And along with this, the behavior of users is also cyclical from season to season. Someone is waiting for the start of sports seasons, someone is waiting for themed game levels and storylines for the holidays, and someone is waiting for discounts and sales. It's a sin not to use ASO optimization in the context of seasonality. If users are expecting seasonal changes, just give it to them!
🖤 And we remind you that ASOMobile`s Black Friday starts on November 21st. Don't miss your 50% discount on any plan and period 🖤
Seasonality and ASO optimization of applications and mobile games
Above, we found out that seasonality can be:
External.
holidays and large-scale world events - New Year, Valentine's Day, Halloween, Christmas, and hundreds of other holidays
promotions the most famous of which are Black Friday and Cyber Week
events - the start of a new school year, holidays, NFL and NBL games
NB: be sure to study the national, religious, and generally accepted holidays and events in each specific country where the app is located. Even Christmas is Catholic and Orthodox, not to mention Purim among the Jews, the Day of the Dead in Mexico, and many other national and religious events and celebrations.
Internal.
Here we have new game levels, content updates, events within the application, and others like it.
If the ASO strategy does not take into account seasonality, then this strategy will not be 100% successful! Do not miss the unique opportunity to raise the app in the App Store and Google Play ratings.
Seasonality is not just time periods of holidays, discounts, and events. Seasonality is also a change in user behavior. In the New Year, everyone is looking for gifts, with the start of the NFL, football fans become more active, and millions of people are waiting for Black Friday.
The event and the reaction of users to it are two complementary components of seasonality.
Therefore, here are some useful seasonal tips for a really successful ASO strategy:
In order not to get lost in the seasonal avalanche, it is worth creating a calendar of significant holidays and events. Relevant to a particular app or mobile game. And not only create, but stick to it.
Feel free to look at competitors. Pay special attention to those events that competitors ignored or missed last season - optimize the application for this event, and turn this opportunity to your advantage!
for each seasonal event, it is worth building a number of hypotheses and testing them. Perhaps a bet was made on one event, and another "fired". In parallel, take an interest in competitor research and user opinions.
Important! Remove seasonal attributes in time - creatives, keywords, changes inside applications (storylines, characters, events). Because it's sad to see snowdrifts and Santa's reindeer on app icons in the spring. Season, festive, sports, or discount season for that and the season to exist in a strictly allotted time. Otherwise, farewell to the uniqueness of the holiday or event.
Realizing that ASO and seasonality go hand in hand, the next question is how to use seasonality in our optimization strategy.
Let's start answering the question with a general idea of ​​seasonal ASO. In general, the picture looks like this:
Visual optimization: all kinds of creatives (icons, screenshots, videos)
Text: season-relevant keywords
Appropriate changes inside the application (for games, these are mainly storylines and characters; in the field of trade, these are discounts and promotions; in the film industry, these are new series of shows and films; etc)
Timely cleaning of the previous three points. Easter bunnies, Halloween pumpkins, Black Friday discounts, and sports betting on the outcome of the world championships must be strictly within the seasonal event. The snowflake on the app icon for Mother's Day is not about uniqueness, it's about forgetfulness and negligence toward the application, and therefore towards its users. Respect yourself, your app, and its fans.
What and how to optimize within the seasonality?
Visual optimization is an important part of seasonal ASO optimization
It's about creativity. Icons, screenshots, and videos with seasonal attributes are a message to users that the application is in the news flow, relevant, and focused on people.
icons - everything is clear here. Let's just pay attention that there are users who have automatic updates enabled. Due to this they will see a new icon for an already-used application and want to see what's new for the holiday.
so the next point is the "What's new?" section, which existing users see on the main page of the application on the stores.
the advantage of "What's new?" is that the button is located just below the title and is clearly visible. It takes the user to the text at the bottom of the page on the App Store or to the extended description in Google Play. Developers use this field for text about specific updates, while ASO specialists describe seasonal new items that await the user inside the application. This move increases the reopen and reinstall conversion rate.
there is also a disadvantage, not all users read the "What's new?" section. This is where screenshots come in handy.
So, it is appropriate to use screenshots for a clear example of the "What's new?" section. Special screenshots with seasonal attributes will clearly demonstrate to users the exclusive content inside the application.
NB: and once again about the main thing. All visual creatives must be "validated" by thematic changes within the application. Otherwise, it is a scam and dishonest advertising. Professionals don't behave like that.
video is not available for all applications. And that is why it is worth overtaking competitors and still creating video content. The video provides extended, against the background of static icons and screenshots, the possibility of demonstrating the internal functions of the application.
NB: The App Store and Google Play are more active and more targeted looking for apps with appropriate seasonal attributes on the eve of holidays and expected events.
Pros for creative skills:
use urgency and time constraints. Focus your creatives on the end of the seasonal event. Encourage users to appreciate the holiday content inside the app right here and now, because tomorrow it may not be there anymore.
be consistent and make the most of seasonal creatives. Launch them in UA paid traffic, don't forget to add them to the app gallery, and of course, create a unique seasonal atmosphere inside the app itself.
Text optimization for seasonal changes in the user market
To make a long story short, let's go straight to the main points:
Relevant keywords increase App Store and Google Play app rankings. Consider what searches users might be entering in a given season.
application text data for the event period must include seasonal keywords. To make it easier for users to find the app in every season.
don't be mean. Use paid seasonal text content along with graphics.
NB: the uniqueness of each seasonal event entails the difficulty in selecting keys that are relevant to such an event. Only rigorous analysis and careful selection. You must know your user and their needs. You need to predict what text query it will use to search for a seasonal update. We'll have to try.
How can you understand the seasonality of a keyword? The mobile analytics platform will quickly give you a complete picture of how the popularity of a particular query changes depending on the season. We suggest you use ASOMobile's tools to assess the impact of seasonality on your text metadata, such as Trending Search, to summarize the top searches in the App Store every hour and month.
You can use the ASO Dashboard to evaluate the optimization results - whether the visibility in the search has improved, what keywords your application is being installed on, and which search queries have improved or worsened their positions in the search results.
Relevant keywords only live for a season, they can't be used all the time. But even if they are relevant for only one season, they can potentially lead the application to success.
Instead of conclusions, let's go through the main points of the seasonal ASO.
Main mistakes:
Do not remove seasonal paraphernalia from creatives and texts in time. It creates a feeling of abandonment and negligence.
optimize graphics and text, but do not include seasonal content in the application itself - a sign of bad taste and a desire to deceive users. If a job is once begun, never leave it till it's done.
Potential Features:
user re-engagement
the attraction of new clients
funnel growth of reopening and reinstalling conversions
The success of any ASO strategy is impossible without seasonality. May the creativity be with you!
🖤 And we remind you that ASOMobile`s Black Friday starts on November 21st. Don't miss your 50% discount on any plan and period 🖤
Optimize and achieve your goals💙