Keyword research. Worldwide Check.
Keyword research is a common practice of ASO specialists, which involves the process of collecting, analyzing, and optimizing keywords for mobile games or applications.
The study of relevant keywords can occur at several stages of ASO optimization:
At the time of initial text optimization, before releasing in app stores (Google Play, App Store, and many others).
As a part of a round-robin update of your metadata following your ASO optimization strategy.
At the end of the article, you can find a 40% discount coupon for the first month of using ASOMobile - a tool for creating ASO and researching competitors in the mobile app market.
At whatever stage the research of key queries takes place, the process itself consists of the following steps:
Step 1: Collecting keywords: you create lists of all possible relevant keywords and their combinations in the context of an app or mobile game.
Step 2: Prioritize: analyze and prioritize keywords according to their relevance, difficulty, popularity, SAP (for App Store), and traffic volume.
Step 3: Goal: use Prioritized Keywords in App Metadata
Step 4: Measuring Performance: track the indexing and trend of your app keywords, with possible edits or metadata adjustments to meet your goals.
We considered in detail the stages and tools for the fastest and most efficient collection of semantics, its analysis, and tracking of the results,  in a series of publications:
Now we want to draw your attention to a new tool from ASOMobile for working with keywords - Worldwide Check and take the time to research keywords in the context of geography and the characteristics of a particular country - how users search for applications, what is the popularity of keywords, as well as tracking brand queries.
Worldwide Check - 60+ countries for keyword analysis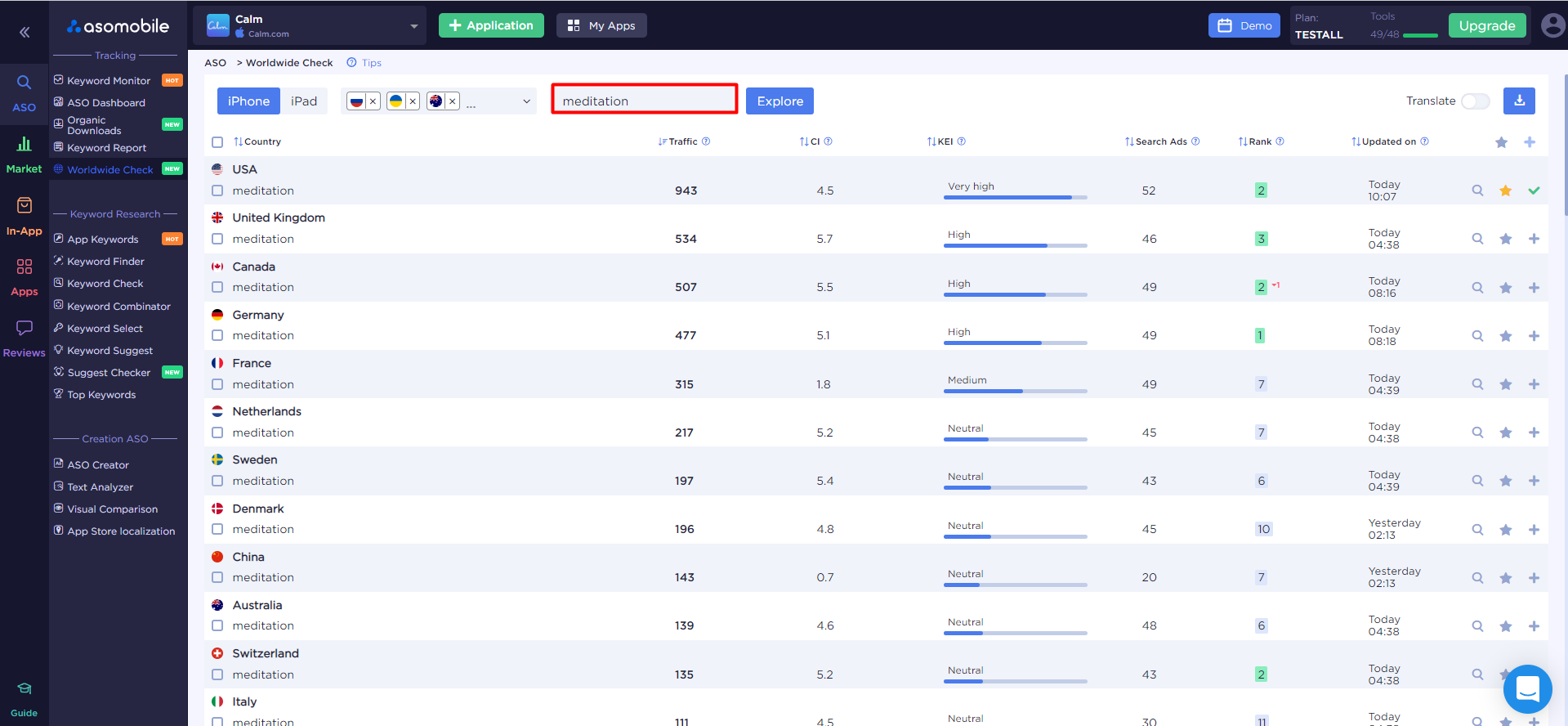 Worldwide Check is located in the ASO section and will show us the position, traffic, difficulty, and performance of a keyword in 60+ countries simultaneously. And you can immediately add keywords to track in Keyword Monitor or Dashboard - directly in the tool itself, and not by adding manually and separately in each country.
Please note that for the Calm application, we observe not only the statistics of the selected key - meditation, but also see the position of the application for this key query in each country. And by clicking add a keyword to track in Keyword Monitor, you will then find it in the desired country.
The next feature that Worldwide Check will give you is tracking brand queries. You can see the popularity of a brand key for all available geo on one screen and get a complete picture of the behavior of users regarding a particular brand query. For example, the brand word Instagram in the context of the geo looks like this: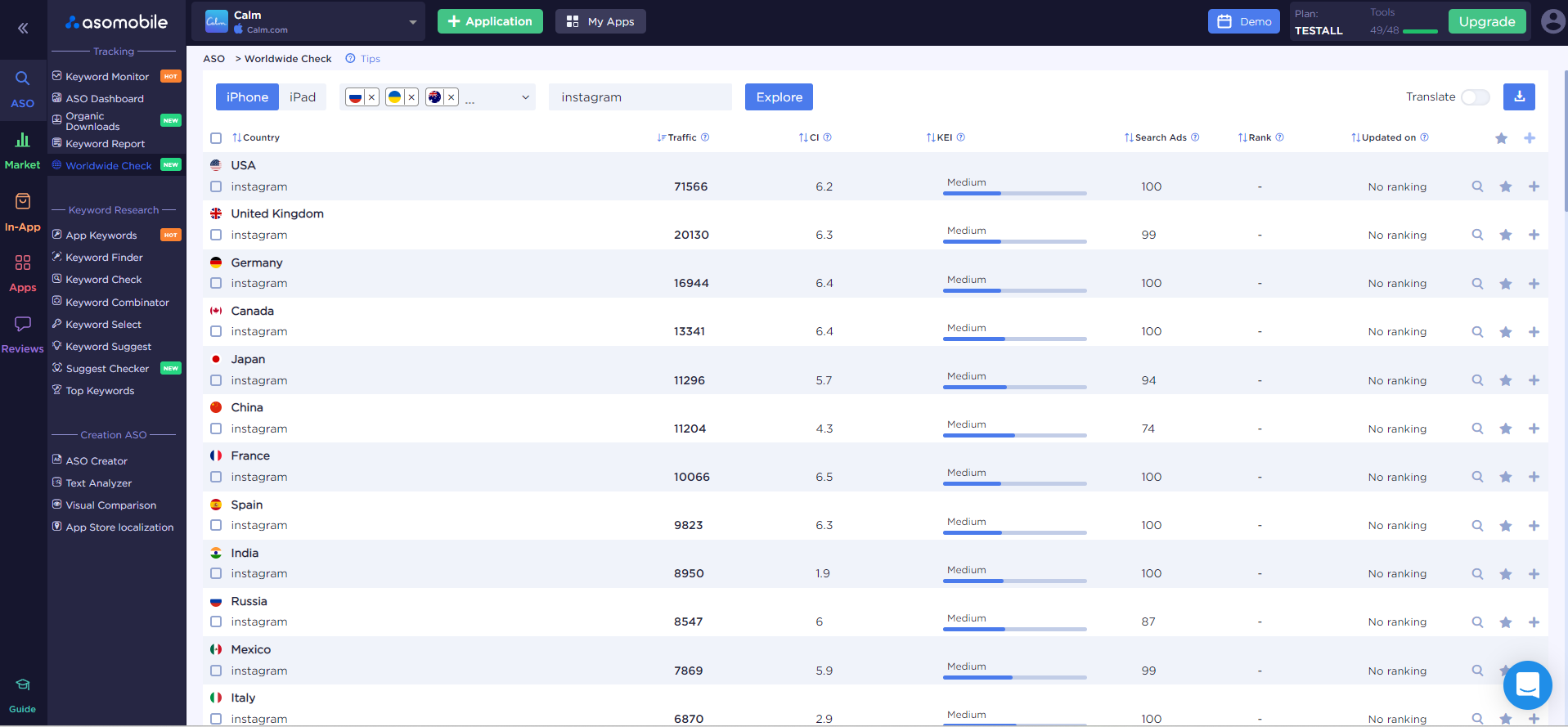 Sorting by traffic will show us the number of search requests per day by country, as can be seen from the analytics Top belongs to the US, UK, and Germany.
And another interesting feature of Worldwide Check is to check traffic, position, and other keyword metrics in countries with the same language. This is very important if you want to apply test optimization, for example, in English for all English-speaking countries, or ASO in Russian for Russian-speaking countries. We demonstrate to you that such a linear approach has many pitfalls and your high-frequency keyword in one country can end up in the middle-frequency queries in another, solely due to language features and popularity.
A great example of the keyword "taxi" in English-speaking countries:

But using the word "cab" in addition, which is popular in Britain and the USA, you will get additional indexing and, accordingly, users.

A popular key for children's educational apps  "abc" will show different traffic indicators in English-speaking countries:

Let's summarize:
Thanks to the new tools, it became possible to track brand queries in the context of 60+ countries around the world with indicators of traffic, complexity, effectiveness, and Search Ads Popularity for iOS.
It is easy to clarify the difference in the performance of the same keywords for countries that speak the same language.
It is convenient to use Worldwide Check as an additional ASO application optimization tool by adding key queries for tracking in Keyword Monitor and Dashboard.
This tool can be productively combined with Top Keywords from ASOMobile, where you can easily find lists of the most popular search queries by country and market.
Affordable keyword analytics for more than 60 countries with a visual display, in one click.
Use the "ASOTIPS40" coupon to get a 40% Off on your first purchase at ASOMobile (the promo code is valid for any plan and any period).
Analyze and achieve your goals💙