Custom Store Listing on Google Play
Custom Store Listing on Google Play lets us personalize our app page for a specific target audience. After all, in addition to visibility on the store, we try to please users and stand out from competitors. Competition and many games and applications make this task challenging for ASO specialists. But it's good that we and Google Play are interested in the same thing - users search, find, and install. So, the app store offers various tools for promoting and personalizing products to suit the interests and needs of users. Custom Pages (CSL from Google Play) is such a tool.
What is Custom Store Listing?
The Custom Store Listing tool allows us to create individual pages for our app that can be targeted to a specific target audience. This will enable us to communicate our product more clearly to the end user, positively impact install rates, and increase the visibility of our app. But first things first.
The ability to create custom pages was introduced in 2020, but then, the number of pages was limited to five. And from the second half of 2022, the capabilities have expanded to 50 special pages, significantly expanding this tool's use.
Our app store page is the source of our traffic; the elements we place on the page - a combination of visual design and textual metadata - work for both the store and the user. This is our main asset, and now we can make it unique for each group of potential users. After all, the main goal of Custom Store Listing is to show alternative versions of the app page to as many users as possible.
What can you configure in Custom Store Listing?
Localization.
Particular pages are a great way to localize our page to specific geographies and languages of our potential users. What if we are talking about countries that speak the same language, but we want to offer something localized for specific users, a particular region? For example, personalizing the app page to honor Bastille Day may only interest part of our French audience, but French-speaking Swiss will still have our primary page.
User state.
We can specify the country and the user's state in the targeting section. We may target pre-registered users, i.e., those from countries where our application is unavailable. Still, users can register to install it as soon as it is available. Another group of users are legacy or inactive users. They were mentioned in May 2023, but the definition of inactive users is unclear.
Integration with Google Ads.
Now, consolidating our efforts to promote the application using advertising will result in more effective use of Google tools. By creating a particular page for advertising, we link its URL to the advertising campaign, appealing to users as specifically and personally as possible. But it is worth noting that we are not talking about Google Play search results, so CSL differs from its clone (or source of inspiration) - CPP on the App Store.
But if we are talking about specific elements that we can create and offer to users, then in Custom Store Listing, these are:
App тame
Short description
Full description
Icon
Screenshots
Video
Graphic elements
This is truly an alternative app page; we can customize almost all page elements for our target users. The name of the developer, the rules and privacy policy, and the application category will remain unchanged for everyone.
Therefore, all the rules and approaches of ASO optimization for Google Play will apply to Custom Store Listing. We will work with semantics, collect a pool of relevant search queries, and use them in metadata. We want to remind you that collecting the semantic core and forming text fields is easier and more efficient using ASOMobile mobile analytics tools.
How to create a Custom Store Listing?
It's not for nothing that Consol Google Play placed the creation of unique pages in the Grow tab - Presence on the store. This alone tells us the main idea and purpose of using Custom Store Listing.
So, we create our CSL by making a name for it - this is our internal information; it does not carry any meaning for the store. The first step is to decide on targeting, which, as we have already written, can be aimed at a country, region, or user status. Another option is a Google Ads campaign (available for all developers) or a URL.
Next, we load the metadata of our alternative page - all text and visual elements. Since we can create up to 50 unique pages, managing so many options can seem complicated, so dividing into groups by season, geography, or other criteria will make our lives much more manageable.
AI and Custom Store Listing
Now, we can rely on the help of artificial intelligence when working with CSL. Google AI is an experimental feature in the Play Console that creates personalized store listings based on queries we enter. There is no limit to the number of custom store listings we can start using the AI feature other than the default 50 pages.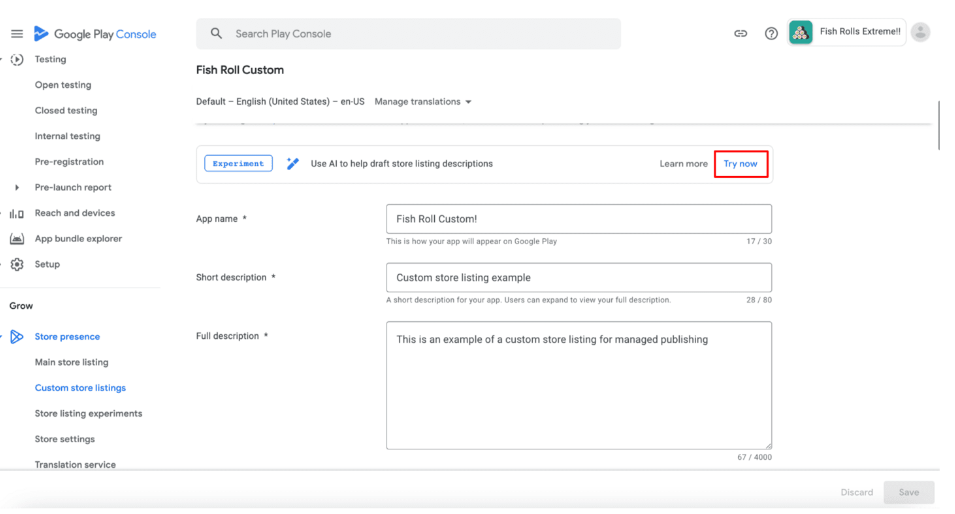 This tool is currently only available in English, but even this can provide significant support, especially when the plan for custom pages is extensive and time is limited.
When creating an experiment, we can specify the topic, mood (or style of addressing users, usually called the tone of voice in marketing), and target audience. The theme can be seasonal or other - for example, Christmas, New Year, Thanksgiving, etc. We can reach out to our users formally or informally, as a colleague or friend with words of encouragement - all of this comes from the audience and the nature of our application.
In the target audience, we select the user status as new, inactive, or existing. Now, we'll allow the AI to show itself - we'll create a special page, then make minor edits and add a custom page to the console.
How do you maximize the impact of a custom store listing?
We need as many as 50 pages to improve user experience, and let's make it as efficient as possible.
Identify the target audience segment, interacting with which will produce maximum results.
Each custom page should have a clear purpose, message, or seasonal updates.
Have a clear understanding of how users get to the app page (search and CSL will not be as effective as, for example, advertising and the unique URL of our page).
We use AI capabilities to ensure that our creatives are sufficiently diverse and do not bore users.
The main goals that we can achieve by creating a CSL for our application:
Highlight certain features of our application that are important to a specific target audience.
Consider the target audience's characteristics and choose a more personalized approach to our users.
Create app pages that will consider users' cultural and linguistic characteristics.
Experiment with filling out the app page to determine what best influences conversion.
Create unique URLs for each page, which makes our promotion strategy using various methods (advertising, mailings, e-mail) more targeted and effective.
Integrate CSL and Google Ads to improve advertising efficiency.
Promotion and conversion on Google Play are hot topics, and now, with the advent of 50 app page options, we can focus our efforts on more specific users. The Android application market is famous for its high competition and considerable number of applications; let's not miss our chance to find our users.
Optimize and achieve your goals💙