Your app traffic sources
Why is it worth paying attention to your app traffic sources? This will help you distribute your attention to the further development and promotion of the application more correctly.
Getting started or, if you are lucky enough, installing your app at the discovery stage is an important task to help increase awareness and discoverability of the app. In other words, how do you ensure that users can find your app among millions of apps?
Here are the main ways potential users find apps:
App store search
"Word of mouth"
General web browsing
App store visit
App Store Top Charts
In-App Advertising/Cross-Promotion
Social media
If you know for sure that your app's primary source of installs is Facebook ads, great, but then it is worth considering if you are missing out on something, like search traffic or other organic (non-paid) traffic. Let's understand the main sources of application traffic.
At the end of the article, you can find a 40% discount coupon for the first month of using ASOMobile - a tool for creating ASO and researching competitors in the mobile app market.
Organic and Paid App Traffic
Organic traffic is the traffic that comes to your app page from search results, recommendations, editorials, and top charts. In addition, App Store users have access to a separate Trending Searches screen - the top queries that are gaining popularity. You can find more details about organic traffic in our article - How to increase organic traffic of a mobile app?
Organic traffic is born when a user finds and downloads your app without any help. The user is as unbiased as possible, he did not see any ads or clicked on a referral link from web resources or another mobile application.
Non-organic traffic is paid traffic that comes from investing in marketing campaigns, traffic from your own channels, mobile web traffic, or others.
Search
According to the App Store, 70% of app store visitors use search to find the app they need, and 65% of installs come from search. Traffic that comes from search is also called organic traffic.
This could be a brand search or a general keyword search. Also, remember that Apple includes downloads from ASA (Apple Search Ads) campaigns in search traffic.
Featuring, Favorites, Recommendations, Tops
In this case, the recommendations of the app store itself become the source of traffic, in particular, the App Store offers the following collections:
When you launch the App Store, users are taken to the Today page, and, as a result, featuring will bring the maximum number of organic installs for your application.
Google Play pleases its users with the following collections:
Recommended - generated automatically based on user preferences.
Best - Collections of top-rated apps by category.
For children - programs approved by teachers.
Paid - the highest-rated applications that can be downloaded only after purchase.
Categories - rating by category.
Editors' Choice - games and applications manually selected by the Play Market editors.
New and Updated - Updated or uploaded to Google Play less than 30 days ago.
In all these cases, the downloads happen while browsing the store. In particular, this may be due to the visibility obtained in the top charts of the store, the recommendation of similar applications, or the featuring of your application.
Referral and web links
A web referral on the App Store is a traffic source that includes all visitors who go to the app from an external source (mobile web), most often from the browser and/or social networks like Facebook, Instagram, etc.
This is very similar to contextual advertising Google Ads, where you can place banners, ads, and other promotional materials that contain a link to go. In addition to additional traffic volume, it is also a great user analytics tool. Web links are very similar in meaning and content to referral ones, but traffic is generated as a result of links from web resources: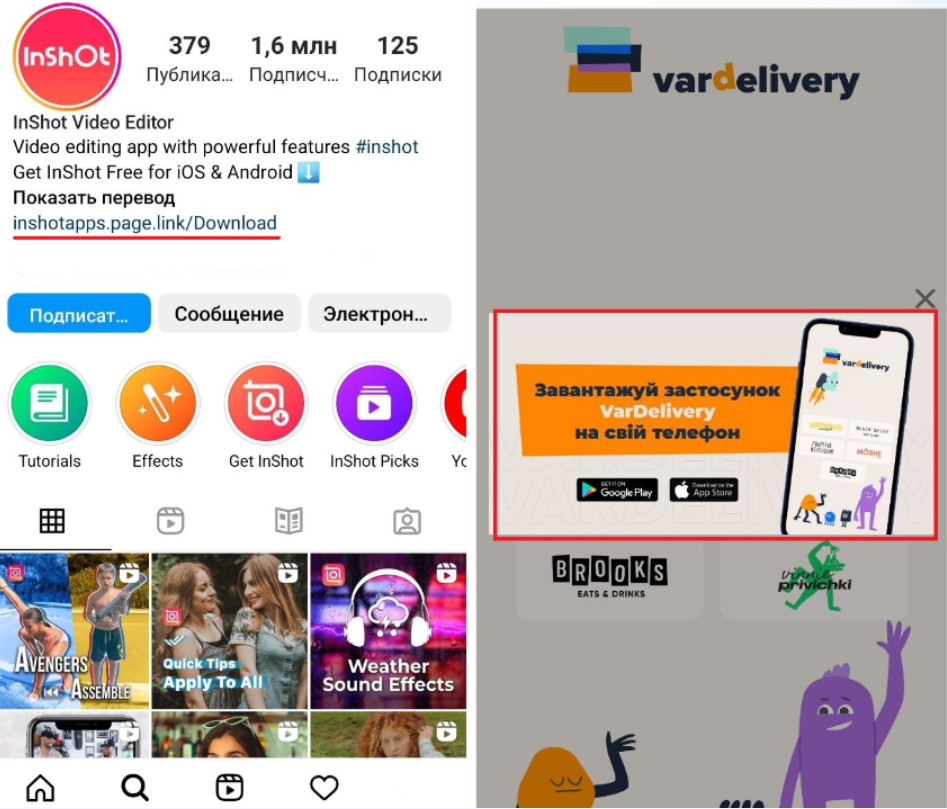 This also includes social traffic, the source of which is social networks such as Facebook, Instagram, Linkedin, Youtube, and Pinterest. Some tips for driving traffic from social media:
Run sponsored campaigns;
Be active in networks by responding to reactions or comments;
Hire digital influencers to share and tag your posts.
All of the above can be defined as a transition from the web to the application. It is interesting because it allows the user to get acquainted with the benefits of the proposed product in advance (for example, if the installation link is inside an article about this application or an overview of an entire category of applications). The users have already formed expectations, as a result of which, if they are satisfied with the UX of the application, they will move into the category of regular users.
Structure and distribution of app traffic sources
According to Sensor Tower research, the traffic structure of mobile games and applications is as follows: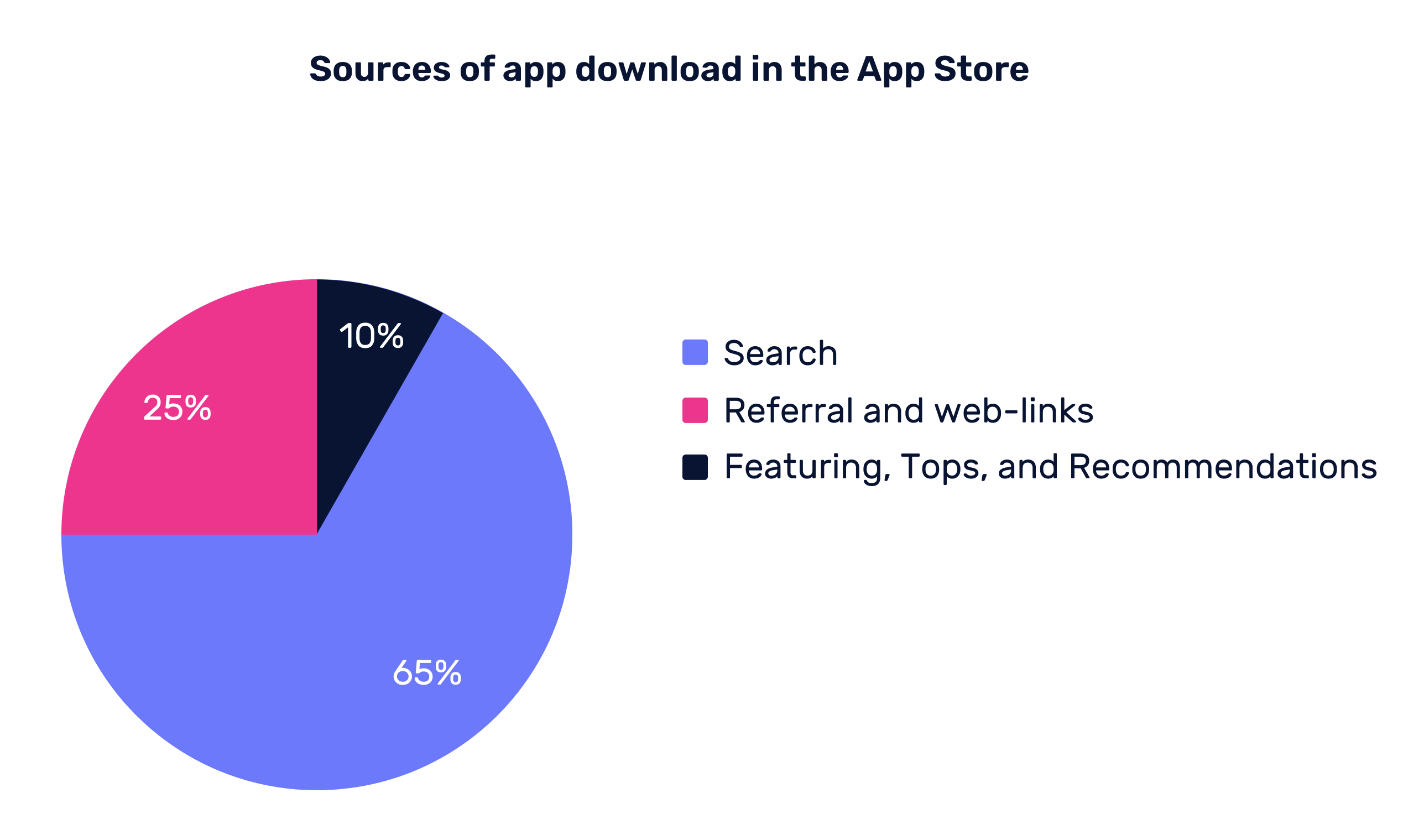 As for the origin of downloads for the two types of applications - mobile applications and mobile games, they differ greatly.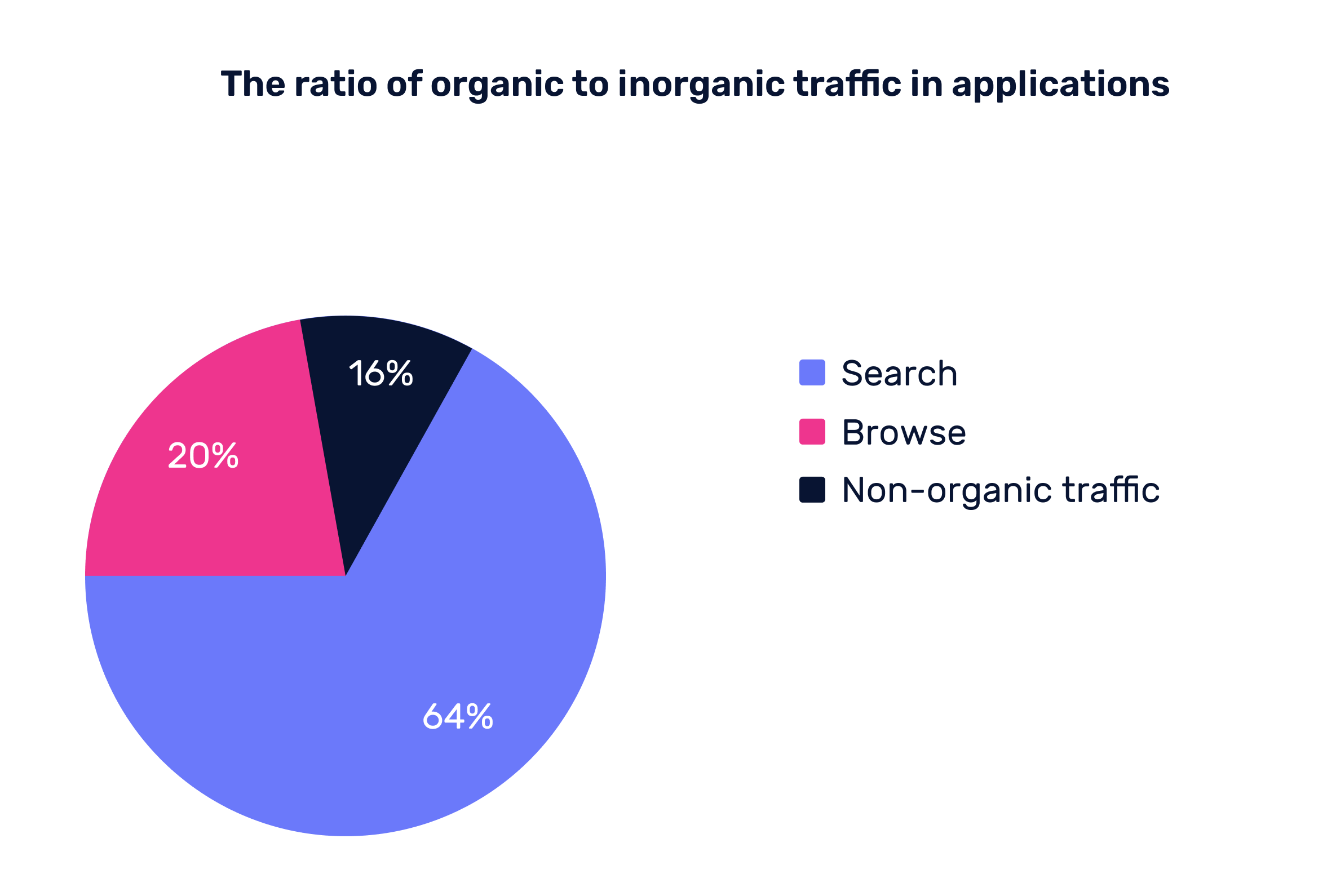 For apps, 84% of traffic comes from organic installs and just 16% from paid traffic. Looking at these statistics, we can definitely say that all the efforts (ASO, featuring, etc.) are worth it. But there is one more thing! It is the application category you are in. These indicators are the average for all categories and this should definitely be taken into account. A great example would be categories where the share of organic traffic (search+browse) is over 90%!
Categories - Animals&Nature, Catalogs, Celebrations. Comics&Cartoon, News, Stickers, Weather, etc.
And the situation is quite the opposite when the share of organic traffic is not so large (less than 50%). We are talking about such categories of applications as:
Boards, Entertainment, Family, Lifestyle, Navigation, etc.
Data source - Data.ai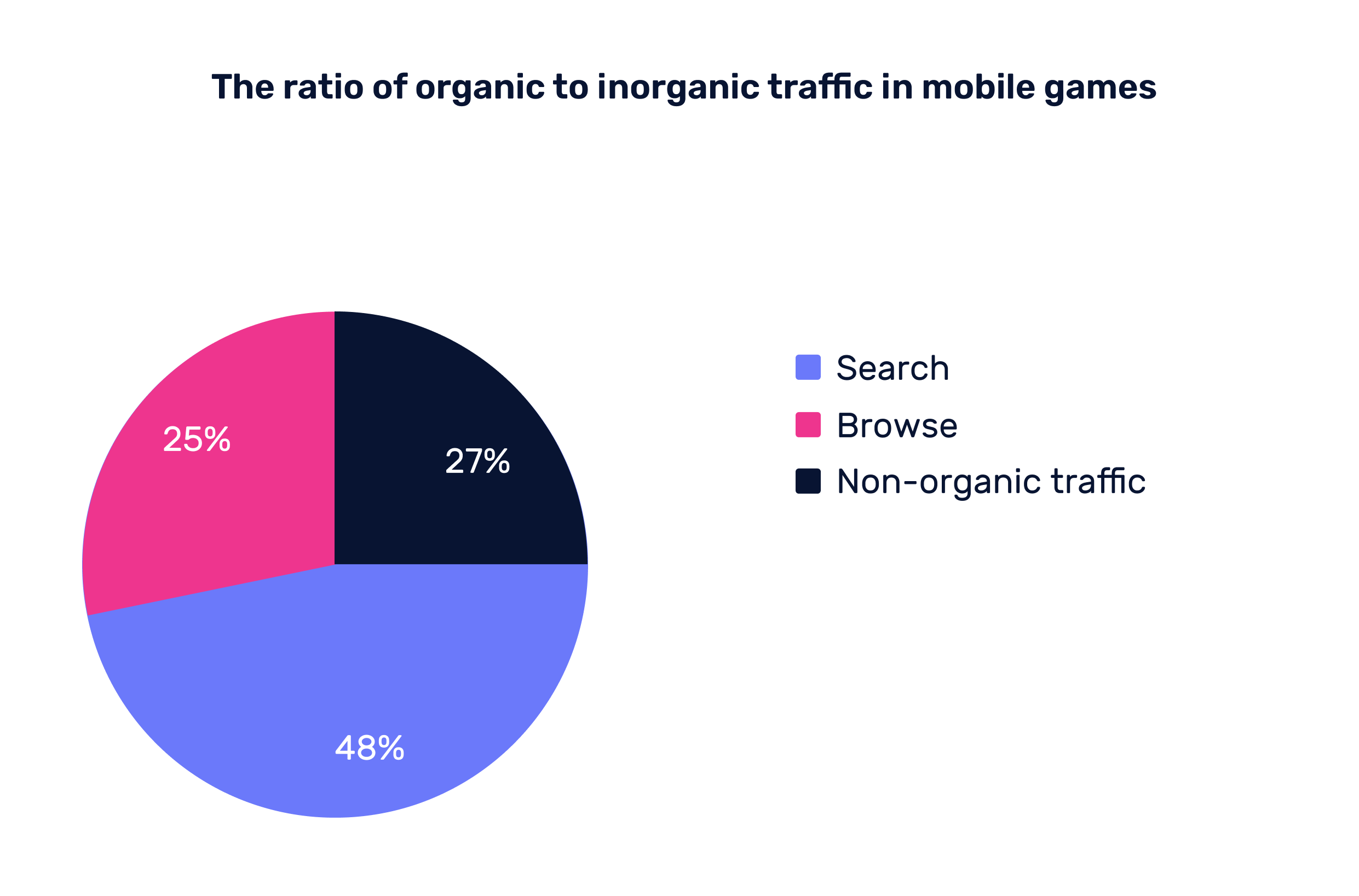 Mobile games were more balanced sources of downloads. According to the data - search and browse show that the total percentage of organic game app downloads is 75% of the total.
The following categories of mobile games are the most significant in organic traffic:
Arcade, Casual, Educational, Racing, Sports, Trivia.
Non-organic traffic will be the main source of installs for:
Cards and Casino.
Why is it important to know the structure of traffic sources?
The distribution of efforts to promote applications in modern realities should be as optimized as possible, focused on results, and most importantly, should pay for itself. To do this, we suggest that you keep your finger on the pulse and constantly check the roadmap for promoting your application:
understand how a sales funnel is formed in the case of an application or a mobile game
constantly work with visibility (ASO) and installs (conversion)
analyze install sources
keep in touch with users (work with feedback)
evaluate the effectiveness of all the above
go back to the first point and repeat it all over again.
😎 Use the "ASOTIPS40" coupon to get a 40% off on your first purchase at ASOMobile (the promo code is valid for any plan and period)
Optimize and achieve your goals💙