How to promote mobile apps in 2023. Success strategies
App promotion is a process that requires the widest possible coverage of methods and tactics, combining them with each other and constantly adjusting to consider rapidly changing conditions. Let's see what approaches can and should be applied in 2023 to grow and promote your mobile application.
Recent marketing trends tell us about the growth in the number of mobile device users. Statista has published predictive user data, and we see an upward trend in the number of users.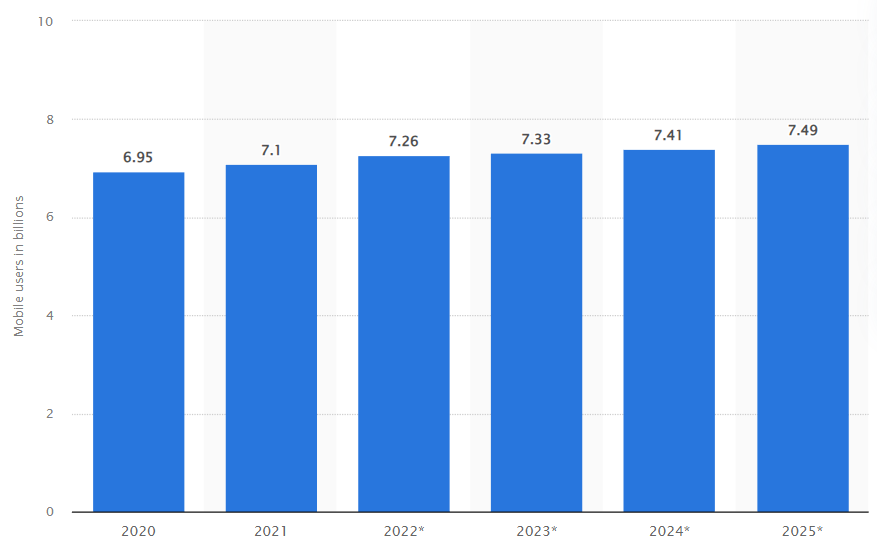 Our latest reviews of the mobile app market showed a decrease in the growth of app downloads, which, against the backdrop of an increase in the number of users, shows us an interesting dynamic - users no longer want to install a lot; they want to install with high quality.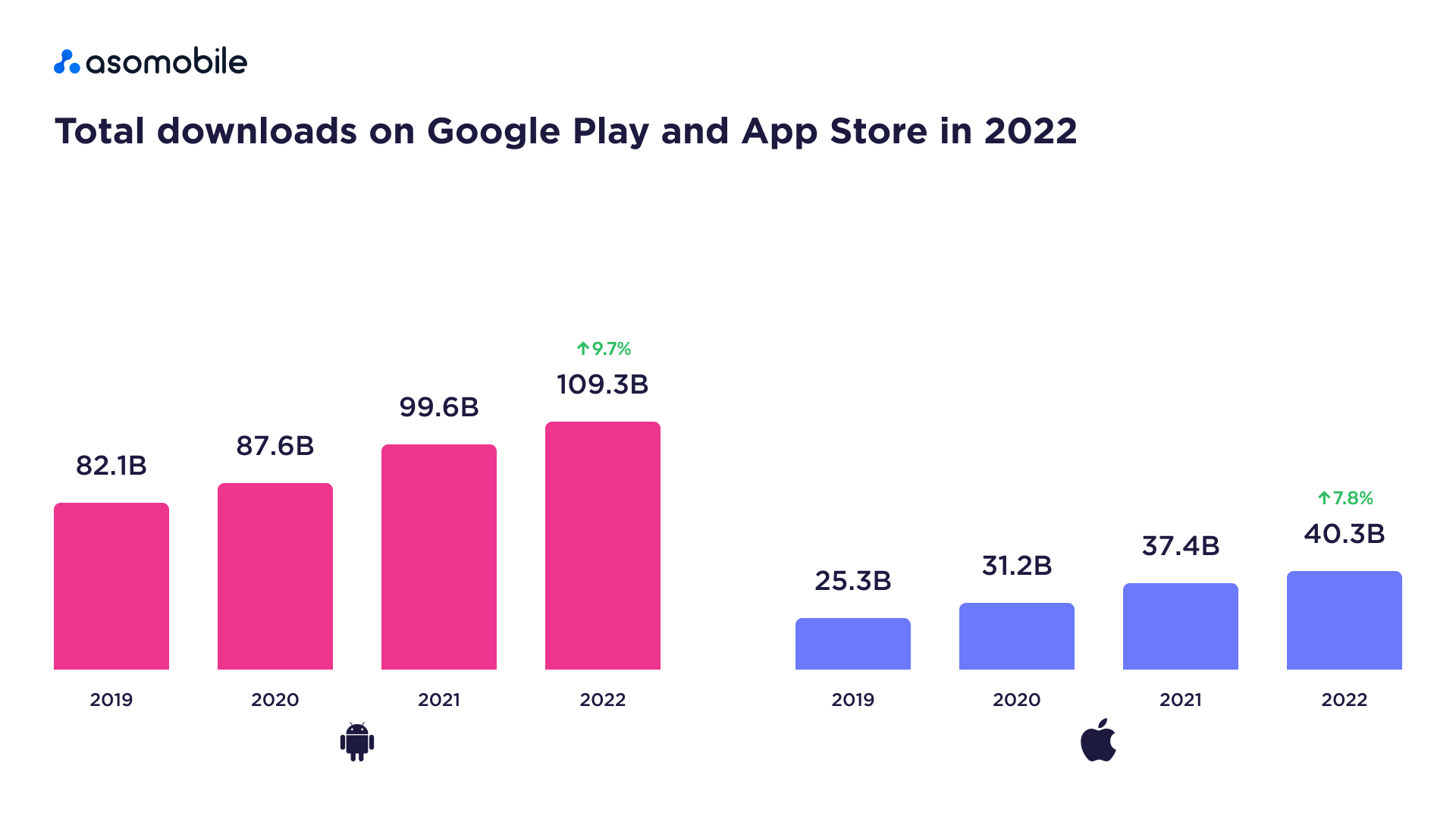 Top Mobile App Marketing Trends in 2023
In the aforementioned conditions and dynamics of the mobile application market, marketing is forced to change in order to meet the challenges and solve the difficulties of today. It has long been clear that in the growing level of competition and user requests, just a high-quality mobile application will not be enough. Let's see how we can help it get its target users and take its rightful place on the market.
User behavior
At the beginning of the article, we also discussed the dynamics of the growth in the number of users and their increased requirements as evidence of forming a more mature mobile application market and the transition from consumption quantity to quality. Analyzing the growth opportunities of our application, we always operate with the concept of users - they are the main consumers of our product or service. We always pay all our attention to attracting new users and then retention. But success will be based precisely on the correct interpretation and prediction of user behavior.
Let's remember the main milestones in user behavior that have been formed under the influence of circumstances since 2020:
The pandemic is a massive transition to online, from shopping to dates and doctor's appointments. A real boom in mobile applications when every business or entrepreneur realized that if you want to keep users, you need to offer a mobile version and better applications. The rapid growth of platforms for online learning, videoconferencing, and video streaming. Apps for mental health and anti-stress - are experiencing their heyday.
Postcovid recovery. Restoring the popularity of the niche for travel and ticketing services. Falling popularity of applications for online communication and cinemas. Everything that the user wanted to return to their offline life received the level of installations before the pandemic.
Interesting geographical changes, namely the growth of time spent in applications and the growing popularity of the mobile market.
How can we take this into account in terms of promoting our app? If we cannot be useful to the user due to changes in their needs or because of changed external conditions, it is worth trying to change ourselves. An excellent example is apps that supplement their functionality depending on users' needs. Apps to reduce stress during the pandemic have moved into the section of increasing focus and improving performance and motivation. So this can be a great solution for you, too; we not only monitor the trends that shape the external environment of our application but also respond with internal changes, if possible. This will help your app stay with its users, as well as find new ones to meet new needs.
UA promotion strategy in 2023
Paid user acquisition changes with the market simultaneously; not taking this into account means losing in advance. Increasing competition, restrictions from app stores, and changes in user behavior are driving more complex UA processes. Therefore, we urge you to soberly evaluate your previous experience of paid attraction and track its effectiveness - is your budget bringing the same result as at the beginning of the promotion, or do you need more and more funds to support your current performance?
If you were able to answer this question for yourself and you didn't like the answer, it's time to think about changes. Evaluate the target audience and communication channels with it, remember how the promotion channels changed, and how quickly it happened - how we added TikTok, influencers, Instagram, etc., to Google Ads and Facebook.
Constantly analyze goals-costs-results, and as soon as something does not suit you in this chain, change and combine your UA strategy.
Your UA plan check-up:
Is the app ready for an increase in the number of users? When you launch a paid attraction, there will be jumps of new users - check the technical capabilities before launching the campaign.
Is your team or you personally ready to work with feedback? New users mean increased attention to working with reviews and ratings. After all, attraction is not everything; we have attracted users, and now we need to keep them!
A retrospective of your promotion channels and then choosing the best combination of them.
Creation, analysis, and modification of the advertising campaign itself - what creatives are used, what tone of appeal to users, and their correspondence to the UA channel.
Conducting an advertising campaign, budget allocation, and key performance metrics. In addition to the installation cost and targeted actions, we check the relative conversion rates. We conduct a cohort analysis, check how organic traffic behaves, and whether there is an increase.
Analysis of results. The main attention should be paid to a clear distinction - how users are attracted (UA channels), what users are attracted to (target UA audience), how users are attracted (creatives, content, video, call-to-action), how much it costs, and what result it brings. Distinguishing all this data and understanding what led to what is the main goal of the analysis of the results.
Considering mobile app user acquisition as a standalone strategy is not enough. We must also use a systematic strategy that will allow us to carry out a SWOT analysis of our UA correctly.
It all comes down to calculated planning, monitoring, testing, optimizing, and then repeating the whole cycle. Moreover, as we have already mentioned, each phase depends on the previous one, with the hindsight stage always serving as the starting point.
This may seem complicated at first, but it really isn't. You just need to follow the process and pay attention to details, clearly see causal relationships, and respond to the dynamics of indicators.
ASO optimization as promotion strategy in 2023
Store page optimization has been and will be one of the pillars of your app's success. We considered the trends of changes that await the mobile app market in our article. What awaits ASO processes?
a more thorough approach to working with keywords. The saturation of the market and increasing competition makes working with semantics vital. It is becoming increasingly difficult to strike a balance between the popularity of key queries and a low competitive environment.
the need to track changes in user behavior (we suggested the reasons for the changes above) and the emergence of new keywords in your niche remains unchanged. Find relevant and new keywords, be the first to be indexed by them and get your share of users.
consequently, the advantage of using a variety of mobile analytics tools remains important. With this level of competition and market saturation, your visibility across various keywords will allow you to expand your reach.
trends dictate not only keywords but also the visual component. Color schemes, icons and screenshots design, presence of videos are all components of your install conversion rate.
tougher policies of app stores and more and more understandable rules of the game make your ASO more and more necessary and effective for further promotion.
App quality
Already been mentioned, but we can not get around this information here. Just look at the infographic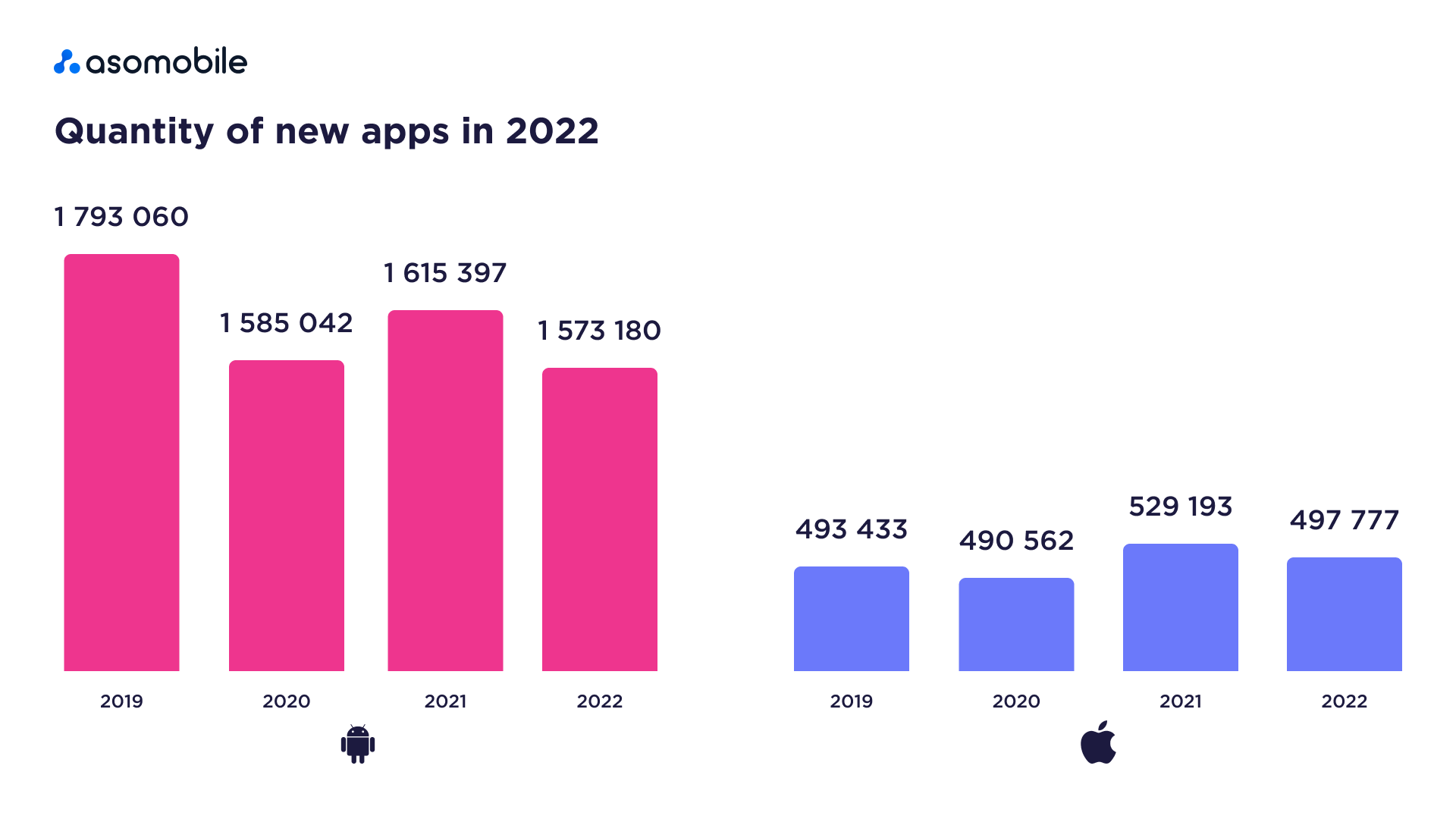 And now close your eyes and imagine - ASO optimization is on the level, UA is thought out and implemented ... There are no results. More precisely, there is a huge indicator of negative user experience, the number of errors, crashes, bugs, and everything that simply leveled your efforts and budgets. Some statistics in our article about Android Vital. Therefore, we will simply write - a high-quality app that's what remains on the market and fights for users in the end.
Feedback from users
In pursuit of the last point, ratings and reviews - affect indexing (Google Play), and affect users' decisions to install. Is your rating 3 or less? Loss of more than 50% of users who visited your application page. Increased app rating from 3x to 4x - wow, and your conversion shows a multiple increase. It all lies in user preferences, where almost all users will see at least one review (and usually, this is a featured review, and it will be extremely bad if it turns out to be negative).
App Store Rules
App Store, since the end of 2022, has changed the pricing policy for hosting applications. It will be available for apps that offer auto-renewing subscriptions in the US and all other apps and in-app purchases in spring 2023.
Stores are also constantly tightening the requirements for access to the collection of information about users. They update the console and make app page traffic analytics more detailed.
Let's summarize - how to promote mobile apps in 2023
Everything seems to be the same but new. For the mobile app market, this phrase fits as well as possible.
We continue to implement long-term practices of text and visual optimization as the basis of everything.
We keep the bar of application quality at the level; working with feedback is almost the most important source of communication with users. We've even sketched out a few instructions about this.
We continue to use platforms for mobile analytics actively - optimization, analysis, retrospective, and market review. All this will be available to you as the main competitive advantage.
The connection between UA and ASO is as close as ever. Think holistically because everything that happens with your app is a combination of UA, ASO, and UX.
Make sure your performance appraisal system is working properly. And you clearly track the impact of each change.
Don't put your eggs in one basket - cover multiple channels for UA, be it advertising, social media, and influencers.
Trim your sails to the wind of change and change with it. And we will help you at all stages.
Good luck with your promotion💙