Alternative stores and app market in China
To continue our article on Alternative App Stores, we offer you a brief overview of the mobile app market in China.
The Chinese market continues to fuel the curiosity of app developers with its vastness, but it is alarming because of its differences. About both, we will try to tell in more detail.
At the end of the article, you can find a 40% discount coupon for the first month of using ASOMobile - a tool for creating ASO and researching competitors in the mobile app market.
Some statistics (according to eMarketer):
1 billion Internet users - this is exactly the forecast for the Chinese market for the next few years.
China has more smartphone users than the US and India combined
E-commerce retail sales in China are 3 times higher than in the US.
The Chinese market belongs to Android devices.
Statcounter shows that the vast majority of mobile devices in the Chinese market are devices with Android OS. Now imagine, the share of devices is approximately 79.08%, and if you count in the number of users, this is just a dizzying figure. This once again confirms the huge capacity of the Chinese market in terms of the creators of mobile games and apps.
We think you have already appreciated the attractiveness of this market - the developer of mobile apps, having mastered this market, can receive more profit than in all other countries of the world. It is from China that the AppStore receives about half of all the money spent by users.
We cannot fail to note the biggest difference between the Chinese market and other countries - a complete ban on Google and all its services, including the app store (partial and then complete blocking of the resource occurred in 2009-2010). But the final point was 2019 when the supply of software and components for Huawei smartphones ceased. This led to the disappearance of the Android OS on the aforementioned devices.
The good news is that in China, the iOS store in most cases works the same as outside of China. The bad news, as we already mentioned, is that working with Android is different in every way.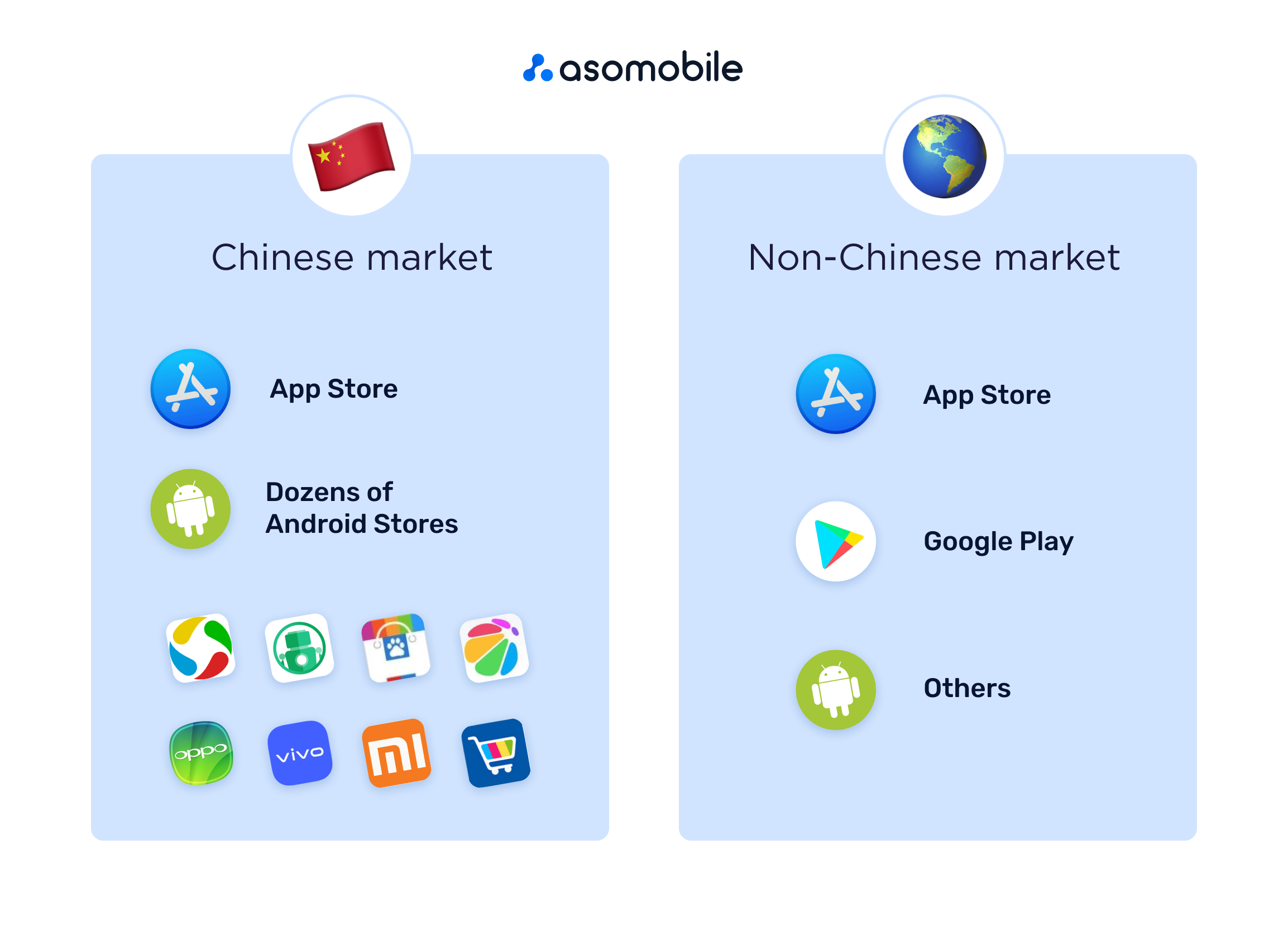 As you can see from the infographic, the app market in China is more fragmented and scattered. What is the rest of the world is represented by three segments - the App Store, Google Play, and Other Alternatives, in China is a whole pool of various app stores.
Therefore, the launch of an app on the Chinese market will be associated with the following pitfalls:
the internal component of the application - adaptation to local requirements for applications, cultural characteristics of users, consumer preferences, and a serious legislative base of requirements.
publication and promotion of the application in a variety of app stores.
If we dwell on the first one, then this will concern the issues of understanding the market and its marketing component and following the laws.
But with the second point, we can help, namely, to offer you a list of the best alternative stores for Android on the Chinese app market.
Alternative app stores in China
China boasts a large number of app stores as alternatives to Google Play. There are currently over 400 Android app stores, and only 10 of them hold 90% of the market.
Data for October 2021 - Statista
We should not forget WeChat, the country's popular instant messaging app with over 1 billion users. The application has grown into a large platform that allows you to publish other applications and mini-programs, very similar to Google Play.
We will try to cover the most popular app stores based on their market share.
Huawei AppGallery
Over the past two years, Huawei AppGallery has surpassed the Oppo Software Store to become the largest app store for Android devices in China, controlling nearly 38 percent of the app market. Huawei AppGallery is the official app store for Huawei devices. It has a fairly familiar division into Apps and Games, and there is also access to cloud storage.
The main focus of Huawei AppGallery is on the Chinese market, which is why most of the applications offered are localized for the Chinese.
Advantages:
Huawei is China's largest smartphone maker
Popular among middle and high-end mobile phone users.
A large number of users
Attention to the security of user data
Problems:
Difficulty meeting compliance requirements
Game registration number (GRN / ISBN) required
OPPO App Store
OPPO App Market is an app store with a market share of 22% that allows users to download a variety of Android apps and games for free. OPPO App Market includes new and popular apps covering categories such as music, health, social media, office, books, photography, etc.
The Oppo App Store is perfectly integrated with OPPO mobile phones and contains an extensive catalog of apps and video games that users can easily download on Android phones. Detailed information for developers here.
Advantages:
Preinstalled on OPPO devices
Developer Friendly
A diverse selection of categories
Advanced recommendation algorithm
Gen Z reach
Problems:
Oversaturated in many categories
Aimed at users with a low level of service
My App
The site occupies about 20% of the Android market in China, which makes the store quite popular among both developers and users and one of the most popular among alternative stores in the country. The author of the app store is Tencent, which is a plus for developers: certification is possible, which can be a problem in the West.
Advantages:
High user penetration
Strict rules against fake apps
Android packages are removed after installation
Problems:
Strict compliance requirements for apps and games
Vivo App Store
The Vivo app store contains over 10 million free apps. Smartphones are popular among low-income youth.
Advantages:
Relies on Vivo devices
Gen Z reach
Problems:
Oversaturated in many categories
Aimed at users with a low level of service
MIUI App Store
Xiaomi produces over 17% of Chinese smartphones. Users actively use devices, and the app store has an excellent reputation among the core audience of the brand. Xiaomi mobile phones come with native Android firmware (MIUI) based on the Google Android operating system.
Advantages:
Relies on Xiaomi devices
The base on loyal consumers
Problems:
Aimed at intermediate and low-level users
360 Mobile Assistant by Qihoo 360
It used to be the second most popular app store on the Chinese market. The creator of Qihoo 360 is an internet security company that provides a popular web browser in China.
Advantages:
Developed by Qihoo 360, known for its ISPs and mobile security products.
Developer Friendly
Problems:
Baidu
Baidu is the main search engine in China and by the way, the second largest search engine in the world right after Google. By analogy with Google, Baidu offers not only an application store but also various tools for their development. Baidu is also available in English in order to attract an English-speaking audience.
Advantages:
Developed and owned by China's largest search engine Baidu.
Problems:
Samsung Galaxy Store
The smartphone manufacturer Samsung could not ignore such a niche as the app store. It is aimed at owners of devices of the same name. Compared to other app stores, Samsung Galaxy Apps has a relatively small number of apps, but that can be a positive thing for apps to stand out. Plus, it comes pre-installed on all devices, making it easy to use. Even if you have the Google Play Market on your phone, the device will offer updates to current applications (such as Themes, Gallery, Photo Editor) from the Samsung Galaxy Store.
Other app stores
360 Market is represented by over 270 million mobile users, 600 APK apps, and over 30 billion downloads. In addition, 360 Market has its own developer program that offers its developers anti-piracy protection.
91 market. According to the latest statistics, 91 Market has over 50 million app downloads, indicating a strong user community. The Chinese app store hosts apps for both iOS and Android.
Of course, this is not the whole list, but by launching your application on 10 sites, you can get more than 90% of the Android device market. But remember, releasing an app in China means you're doing business with the government. You must meet the requirements of the company, content, and specific applications before launching it in this market successfully.
The Chinese Android app market can offer you both opportunities to succeed and enough challenges that are not insurmountable, so try it!

Find out more with ASOMobile💙