Optimization of in-app purchases 2023
The monetization of mobile apps has always been and will be a hot topic for discussion - and today, we propose to discuss in-app purchases and the features of their optimization in 2023.
In the data.ai reports, we came across interesting statistics that in the first quarter of 2023, users increased their spending on apps, the lion's share of which falls into the category of in-app purchases. TikTok, Duolingo, HBO Max, and other apps lead the way in terms of subscriptions. Mobile games in 2022 showed a reduction in user spending for the first time in recent years, although first-quarter revenue showed that it was too early to worry. Gardenscapes, Royal Match, and FIFA lead in revenue growth.
Let's start looking at the potential growth points for your in-app purchases, taking into account the trends of 2023.
In-app purchases as a source of revenue for a mobile app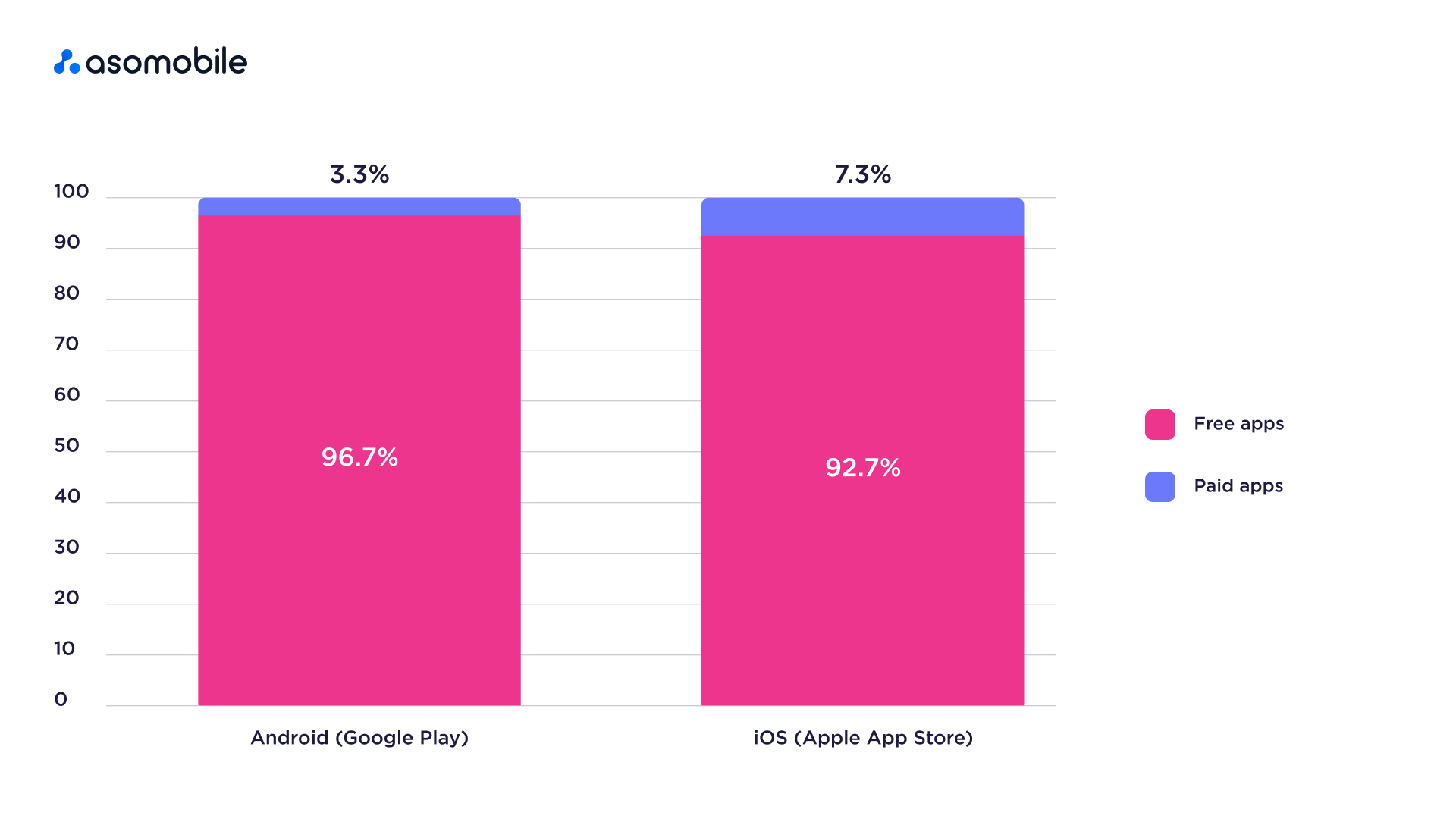 Pay attention to the indicative statistics of the mobile application market, both for the App Store and for Google Play; the percentage of free apps is simply overwhelming, so how can you make money on a mobile application?
Some uplifting numbers:
More than 800 billion dollars. This is how much users spend per year on in-app purchases.
More than 7 million apps are currently on the market.
98% of Google Play revenue. That's how much it takes for free apps.
In-app purchases. The most common mobile app monetization model.
What ways of monetization have been formed by now?
Advertising in the application. Ad integration allows you to generate revenue from ad networks.
Purchasing consumable resources for an application. For example, for educational applications, these may be additional points for the ability to make more mistakes on the test.
Paid subscription plan. Standard subscription plans may include monthly and annual payments, as well as various levels of access to the application functionality.
Download fee. In photo editors, you can find payment for downloading an already-edited photo without watermarks and branding.
In-app purchases for gaming and non-gaming apps.
In-app purchases currently dominate the mobile app market. Consider this: consumers who make in-app purchases generate 20 times the revenue generated by subscription apps and account for about 48% of mobile app revenues.
In-app purchases have long been proven to be a great monetization path that works better and more efficiently. The ratio of revenue from advertising in the application and in-app purchases is also clearly in favor of the latter.
As for games (you can read more about the features of in-app purchases and their types in our article), more than 90% of all revenue comes from in-app purchases. For example, in the Entropia Universe game, players can purchase virtual real estate and other digital objects with real money. The cost of some objects can reach several million US dollars. It is also worth noting that there are various digital asset trading platforms where players can buy and sell in-game items for real money.
Some mobile games may also offer expensive in-game currency or resource packs that can cost hundreds or thousands of dollars. And some cases, with the purchase and sale of in-game inventory, have become a legend:
Diamond Chisel in Curiosity – What's inside the Cube? - cost the owner £47,000.
Let's look at the trends in working with in-app purchases so that they continue to bring us profit (few people will develop a mobile application or game without hope for the latter).
Trends in working with in-app purchases in 2023
In-app purchase, or IAP for short, is a feature that allows developers to sell content or other features in an app to an end user after they have downloaded and installed the app.
Impact of crisis phenomena. We have already described market trends in general and paid much attention to the problem of reducing consumer spending, increasing user expectations from applications and games, and, of course, reasonable savings. How will this affect the IAP?
keep the bar of the usefulness of your application for the user. Even if your subscription for a year was paid for even before the crisis, remember the time for its renewal will come - sooner or later. Keep the level of satisfaction with your product at a high level, and maintain user loyalty.
track new habits and needs. If earlier fitness at home was at the peak of popularity, now you can expand the functionality of your app by offering outdoor fitness or creating training programs for the gym. Keep your nose to the wind and react to the slightest changes, or rather anticipate them. Thus, you increase the value of your application in the eyes of users and update its competitive advantages.
work on your subscription cycle. From potential subscribers (show value and explain why they should pay for it), to those users who unsubscribed (there is a chance to return them with a discount or promotion).
consider extending the trial period to familiarize yourself with the application and increase loyalty. Make decisions based on context. If your application involves the use of once or twice a month. Therefore, the habit of using will be developed no earlier than 2-3 months.
Consider the peculiarities of working with in-app purchases of gaming applications. We have already mentioned that games and in-game purchases are very profitable areas, but here you need not let everything take its course; the influences of 2023, with its specter of a recession, can nullify all past successes. What do you need to pay attention to?
the ability to combine in-game purchases and advertising. Yes, the latter brings less income, but the final result of all our efforts is important to us. Consider introducing advertising and appropriate rewards for viewing it. Adjust ad placements based on user behavior.
a trend towards increased attention to the social factor of mobile games. Recently, this has been gaining more and more popularity, namely in-game chats, social network connections, and spectator modes. All this can be a second wind for the growth of your IAP.
a combination of different in-app shopping strategies. The more flexible your approach to in-game purchases, the more opportunities and users and room to maneuver, and the more likely they will continue to make them. The internal reward system, purchase of consumables or a free part of the game, with a paid continuation - think about how you can combine all these approaches in your product.
In-app purchases and mobile games must be valued appropriately to make them attractive to users. It is important that they are affordable and offer a clear value for money.
In addition, it is essential to optimize the in-app purchase process so that it is convenient and intuitive. This means designing the user interface to make in-app purchase options easy to access and understand and to ensure the payment process is secure and efficient.
In-app purchases and ASO optimization in 2023
In the face of the uncertainty of the future, the most valuable advice will be - always return to the roots. And the growth of your application will be based on ASO optimization, and in-app purchases are no exception.
Starting with iOS 11, the talk about IAP optimization has not stopped because purchases can be displayed in search results in the tabs of games and apps on the App Store. Thus, another user path to the page of your application on the store, "in-app purchase - app page n the store - installation of the application," was formed. Of course, ASO specialists could not miss such an opportunity to increase conversions.
The App Store allows you to promote up to 20 IAPs, with an unlimited number of them within the application. To promote purchases, you need - an advertising image that will be shown in search results or on store tabs. But besides, since we are talking about search results, it is worth mentioning optimization as the basis of everything.
not only the application page is optimized but also promoted purchases, which increases the chance of getting into the search results. In combination with the promotion of 20 in-app purchases, it gives a good chance of success.
Relevant keywords for in-app purchases are the key to achieving your goals, as is the case with the text optimization of the app page.
30 characters of the IAP name and 45 characters of its description, that's all the field for action.
optimization of in-app purchases for search results also includes changes in their visibility for users. What will hide them for those users who already have them? Or purchases will be shown to users who have the application. but there are no perfect IAPs.
The advantage that in-app purchases provide you in terms of textual ASO optimization is that they occupy a place in the search results and, if successful, the search results can contain not only your application but also promoted IAPs. Thereby moving your competitors!
Remember to optimize your promoted purchases with ASOMobile analytics easily:
In-App Keywords will show you all the searches your In-App purchases are indexed for, as well as your competitors' In-App purchases.
In-App Monitor will help with tracking changes in the position of In-App purchases for search queries.
2023 promises us many surprises in the form of a possible recession, changes in user behavior, and budget cuts (both developers and users). How to maintain and, even better, grow in terms of the effectiveness of your application? In-app purchases have been and will continue to be your reliable tool for generating income from the app. A competent combination of them with other methods of monetization will allow you to more smoothly go through the storm and waves of crisis phenomena.
Maximize your potential and reach your objectives💙