ASO for Portuguese-speaking countries: Portugal and Brazil
ASO for Portuguese-speaking countries is another step towards promoting your application worldwide. The logic of the process is usually such that the application is first optimized and localized into English due to its popularity and prevalence worldwide. And then, the problematic adoption of further steps toward internationalization begins. Which part of the market to choose, in which language will we cover more users and more countries? If the answer to all these questions has led us to the Portuguese language, then this article will definitely be helpful to you.
Portuguese language - exciting facts
Portuguese is one of the most widely spoken languages in the world, with over 260 million speakers. It is the official language of Portugal, Brazil, Mozambique, Angola, Guinea-Bissau, East Timor, Equatorial Guinea, Macau, Cape Verde, and Sao Tome and Principe.
In modern philology, three areas of the Portuguese language are distinguished:
We will try to figure out their main differences and how we can take them into account when optimizing ASO apps. But first, let's see what the market for mobile games and apps in these regions can offer us.
The population can quickly assess these markets' potential, giving us more than 290 million potential users. The Apple App Store and Google Play Store are available in almost all listed countries except East Timor and Equatorial Guinea. There is no Google Play Store in Sao Tome and Principe.
Mobile application market in Brazil, Portugal, and Angola.
According to Statista's analytical reports, in the region of interest to us, the mobile application market demonstrates its growth from constant to dynamic, which already makes it attractive for development.
The smartphone penetration rate in Brazil will steadily increase between 2023 and 2028 by 6.7%. According to this forecast, in 2028, the indicator will rise for the fifth year in a row to 86.39 percent. It is noteworthy that in recent years, the level of penetration of smartphones has been constantly increasing.
In terms of app downloads, since 2018, the Brazilian market has been showing steady growth for both the App Store and Google Play.
Mobile gaming revenue in the Brazilian digital media market is forecast to grow steadily between 2023 and 2027 by USD 410.2 million (+29.44%). After the fourth year of growth, revenue is estimated to reach US$1.8 billion and therefore reach a new peak in 2027.
The number of users in the mobile gaming segment of the Brazilian digital media market is projected to increase steadily between 2023 and 2027 by 12 million users (+16.64 percent). The number of users is estimated to be 84.07 million users in 2027.
According to the British Council, only 5% of the Brazilian population can communicate in English, which makes Portuguese optimization even more relevant to our apps.
According to Store Insights from ASOMobile, the Brazilian mobile app market looks like this:
If we look at a more detailed analysis of the Brazilian iOS sector, thanks to the Category Intelligence tool, we see:
Android apps on Google Play show the following dynamics:
I think you have already noticed which operating system is dominant in the Brazilian market.
Downloads and revenue:
iOS apps drive 35% of total installs.
Android apps occupy the remaining 65%.
The average monthly revenue of iOS differs significantly, which, in principle, is due to the behavioral pattern of users. Apple owners are traditionally more wasteful.
App Tops:
The top apps on iOS are social networks and payment tools.
The most popular apps on Google Play are social networks and shopping.
The number of smartphone users in Portugal is projected to increase steadily between 2023 and 2028, with a total of 0.3 million users (+3.9%). According to this forecast, in 2028, the smartphone user base will increase for the fifth year in a row to 7.96 million users. Mobile apps facilitating social interaction and communication have become essential among European users. WhatsApp has been used by over 98 percent of consumers in Portugal.
According to ASOMobile's Store Insights, the Portuguese mobile app market looks like this:
As far as the distribution of users between the two competing platforms, iOS is as follows:
Android shows the following dynamics:
And here we can see the dominance of the last store, but in almost the same proportions.
Downloads and revenue:
Regarding downloads, users of the two stores showed a strong dominance of Google Play in the total number of installs. iOS - 33%, Android - 67%
Pay attention to the income figure. iOS, despite the more modest install rates, demonstrates an excellent monetary indicator.
Top apps:
iOS Tops in Portugal is a video editor, shopping, and maps.
The Android app niche is dominated by shopping and gaming.
Have you noticed that most of the apps and games in the Top charts are localized?
There is not enough data for the Angola mobile application market for analysis, but we will mention a few facts. Smartphone penetration in Angola is predicted to increase steadily between 2023 and 2028 by 7.6 percentage points. It is estimated to reach 48.83 percent and therefore reach a new peak in 2028. Notably, smartphone penetration has steadily increased in recent years. And so it makes this market potentially interesting for ASO optimization.
Text ASO Application Optimization
In this part of our study, we will pay more attention not to the main steps in text optimization, such as collecting and analyzing semantics (you can always read about it here), but to the difference in the countries of interest to us, the specifics of each of them and the language features that you ASO services will not prompt.
When optimizing the app page, compiling metadata, and collecting the semantic core, it is not difficult to fall into the trap of one language, which means you can make one ASO for two. And we will try to find out with you why it is not necessary to do this, and the hypothetical savings will not work:
1. User Behavior and Preferences Brazil vs. Portugal.
For clarity, we will compare the Top most popular apps in Brazil and Portugal on Google Play.
We are more interested not in the general, dictated by global trends, but in the different. You can look at five popular apps in three categories and see that what is popular in Brazil may not even be in the Portuguese top 20. This tells us about the environment in which user demand is formed and the preferences of users who, through their behavior, show us the differences between these two countries.
2. Semantic features.
Historically, the spread of the Portuguese language in Brazil has occurred through colonization and conquest. But already a relatively long period of independence and a very large distance of countries from each other contributed to the emergence of differences in the Brazilian version of Portuguese from its historical counterpart. How should this be taken into account when collecting semantics and generating metadata? Two simple examples, when the same semantic core will be compiled taking into account the traffic and popularity of key queries in two countries - we will definitely not get identical results for two countries.
Now let's talk about specific examples. Using words in the metadata will be precisely the same from the side of Google Translate, but not for users. In an appeal to users, we say that our application is the best and excellent, and we want them to like it. For Brazil, using the word legal (cool) will hit the spot - in Brazilian speech, this word occurs as often as prepositions. But for Portugal, it is alien, of course, it will be understood and understood correctly, but this vocabulary is not typical for this country. If we want to offer our app or game on the Portuguese market, then we will accurately describe its word - fixe or giro, which is very clear and close to our future users from Portugal.
There can be so many such examples that it may seem to us that users speak entirely different languages.
Why is it worth paying attention to this? But it's all about the speed of the users' decision to download, something that will be more understandable, close, and perceived as "one's own" wins the attention of our users. Here are a couple more examples that contribute to our deep understanding that localization is not a translation but an adaptation.
For applications related to public transport or tickets, there will be a significant difference in the very definition of a bus, which in the Portuguese version will sound like an autocarro, and in the Brazilian version - ônibus. If we understand the value of keywords in visible metadata fields, we can certainly appreciate the consequences of careless compilation of them.
Even the mobile phone apps will have different names for Portugal and Brazil, as the mobile phone in Portugal is telemóvel and in Brazil celular.
We already wrote in the article about the features of the localization of pages about the importance of appealing to users. There is a big difference between these countries. We can tell our users you (formal) or you (informal) depending on the nature of the app, age category, positioning, and many other factors. Now imagine that ignorance of the country's peculiarities will change these approaches. We will start to say you (formally) to our users, although we have always positioned ourselves as a friend and assistant of the user. Negligence will screw things up. So for Brazil, we leave the form you, because, for most of its states, it will have a more general form, by analogy with you (English), but in Portugal, we follow from the principle that there is you in a formal and an informal meaning, choosing the necessary and suitable option for us.
3. Slang and colloquial speech.
In continuation of the paragraph about semantics, it is worth mentioning slang. Here, a deep understanding of the audience is indispensable. An example is several similar keywords within the semantic core - which one to choose because both have high traffic indicators, and we are unfamiliar with the use specifics. When optimizing an app for communication, you may come across an analogy for the word chat, which in the Portuguese version of both options will sound like bate-papo. And here, it will already be essential to understand what we will place in more indexed metadata fields (in the title, for example). Here you should be guided by the fact that in Brazil, the popularity of the English language is low, in contrast to Portugal. Our advice is to look at the main successful competitors, sometimes, this can help determine the use of keywords, considering the characteristics of colloquial speech.
4. Special characters.
Portuguese is a language with many memorable characters that can have different or opposite meanings if used incorrectly. Pay attention to the unique spelling of letters, accents, hooks, and squiggles - this is not stuck on the screen but is part of the alphabet.
The special characters in Portuguese are ç, ã, é, ô.
If we ignore one of them suddenly, nothing good will come of it in the end. You don't need to go far, for example - the word louca and louça differ slightly, but the first means crazy, and the second is a shell. Ignoring an even less noticeable character, like an accent, can make the results even more unpredictable. See an example from a children's textbook for learning Portuguese.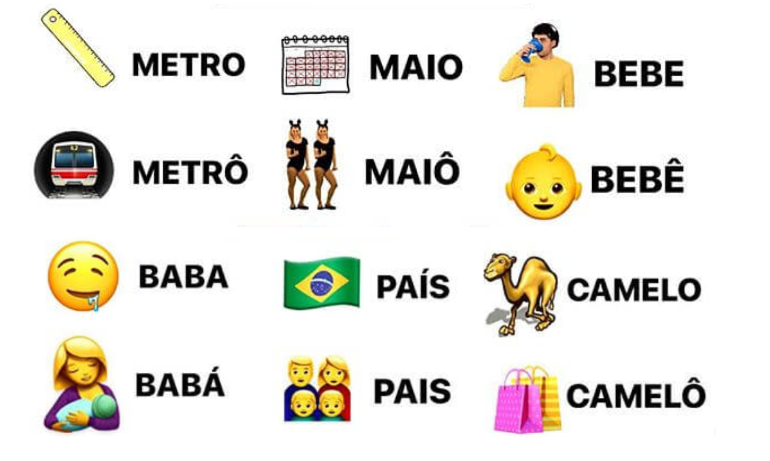 5. Other linguistic stuff.
What else can let us down on our way to Portuguese localization?
We have reviewed the most critical details that should make our app page customization more native to the user. It remains only to mention the visual part of the optimization.
Visual App Optimization
Approaches to the design of visual elements can be identical for the two countries or differ pretty significantly. It all depends on the app type and the users it is designed for. Focus inscriptions and appeals to users are best created considering all our previous tips. But decisions about the design of screenshots should always be made solely on the basis of the results of a/b tests. From the general practice, it is only worth mentioning that Portugal usually falls under the European design style (most often, the design will repeat the neighboring countries, such as Spain or France, except for the focal inscriptions, of course), but Brazil will have more in common with the South American style of the application page design.
Examples of different approaches to screenshots can be seen in significant applications such as the video platform Amazon and the super popular shopping app Temu.
Amazon Prime Video
Temu
Localization for Portuguese-speaking countries
Ultimately, we were convinced of the importance of localizing semantics and metadata within the country, not the language. We ensured that an incorrect translation would nullify all our efforts, and the lack of an analysis of the language environment of future users is definitely not our choice. But the Portuguese-speaking market is so vast and rapidly developing that it is impossible to miss such an opportunity for our application. That is why the short step-by-step of our further actions:
We focus on Brazil, with its vast user potential.
We analyze the collected semantics for Portugal, considering traffic indicators, keyword popularity, etc.
We compile metadata for two countries separately; they may have standard features or be completely different.
We are developing and testing the visual part of our app page's design.
Boa Sorte, which means - good luck!
Optimize for each geo with ASOMobile💙