Mobile application market research tools
Mobile application market research tools as part of ASOMobile mobile analytics.
💡 New ideas, products, and services appear every day, but many fail because the market entry process has not been properly researched. Marketing research helps ensure that a product launch touches the "right buttons" of the consumer and ensures that the product idea itself meets the (often unspoken) customer desires.
At the end of the article, you can find a 40% discount coupon for the first month of using ASOMobile - a tool for creating ASO and researching competitors in the mobile app market.
Conduct marketing research before starting a new product! 🔍 This research will form the basis for all other phases of your product launch plan, including your marketing strategy.
Working with developers of mobile applications, we often encounter a situation of "blind love" for our project. This is especially true for indie developers. "This is a unique application, this is a new niche in the market, no one else has such a story ..." - many guys who are just starting their business are sure. And the opposite situation: experienced game companies know for sure that building a product without market research is a bad idea. After all, you can create the 51 clones of Brawl Stars, but is it really possible to make money on such an application? You will learn about this only after conducting at least minimal market research.
There are the main points to focus on when doing basic marketing research 📝:
Determination of market capacity and dynamics;
Analysis of the current market situation, identification of strong players, assessment of the relevance of your idea;
Studying external factors and global trends that may affect your product.
ASOMobile analytics tools will be useful for 🔍 researching the mobile application market and choosing a niche for creating applications. We are talking about steps like:
Store comparison
Category analysis
TOP charts
Similar applications
App downloads and revenue
In the analytics of ASOMobile, you can find all the data you need.
Market research of mobile applications on the ASOMobile analytical platform.
App downloads and revenue
Research on downloads and revenue of the selected mobile application. The data is calculated using machine learning. Add any application you are interested ✅ in ASOMobile analytics and use the tools in the Market tab, define the required analytics period and countries for analysis.
Download is a tool with a help of which you can observe the dynamics of downloads for any application. With a help of the Revenue tool, you can observe the dynamics of revenue 🔥 for any application.

Store comparison
The Store Insights tool will help you understand 📊 general market trends, and find the most demanded topics and the most popular applications in them.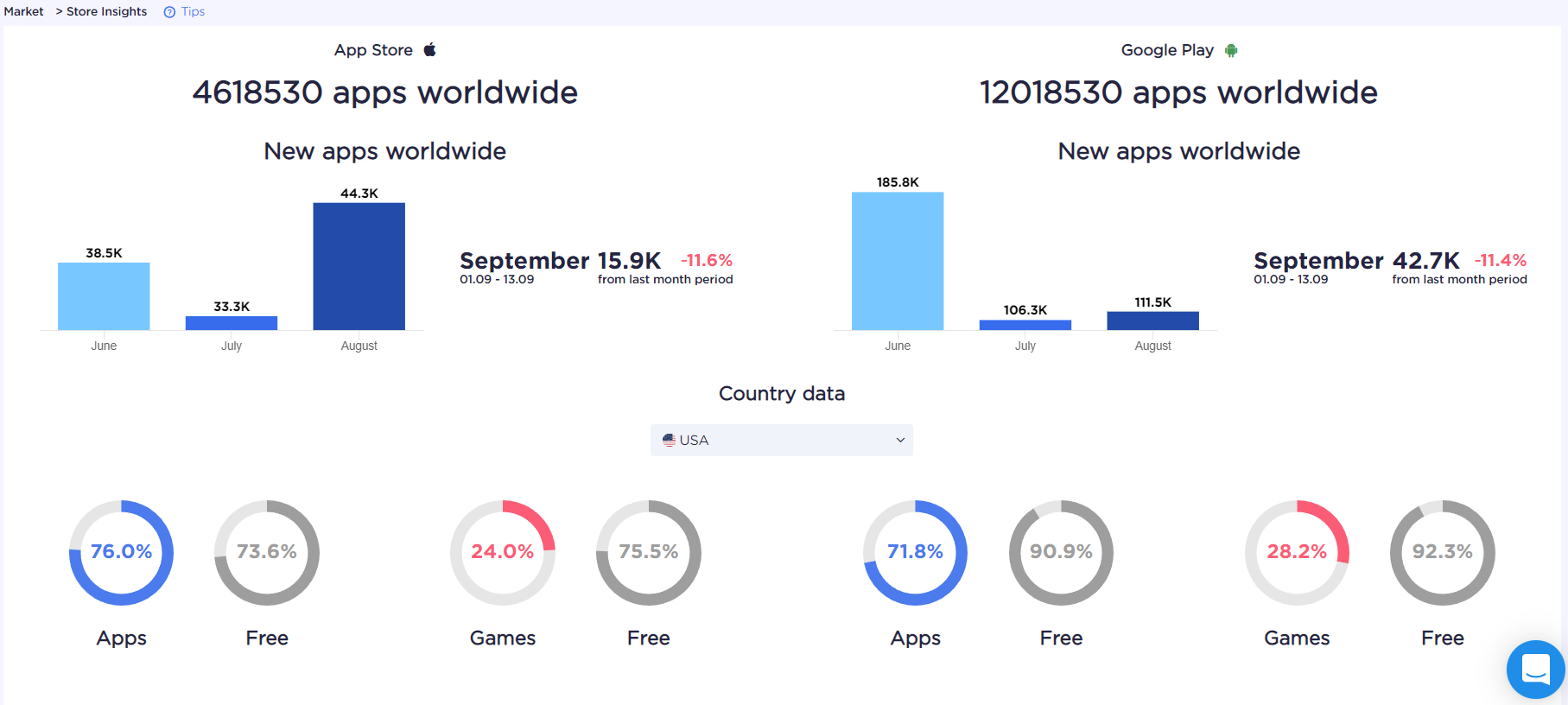 Along with the market as a whole, individual categories are also growing, and leadership trends 🔝 are constantly changing. Keep your finger on the pulse, do not ignore this data.

To analyze the current market situation, identify strong players, and assess the relevance of your idea, use the Category Analysis, TOP charts, Similar Applications, and Store Benchmarks sections.
Store Benchmarks.
You can analyze the average scores of apps on Google Play and App Store by the ratio of views and clicks to installs 👀.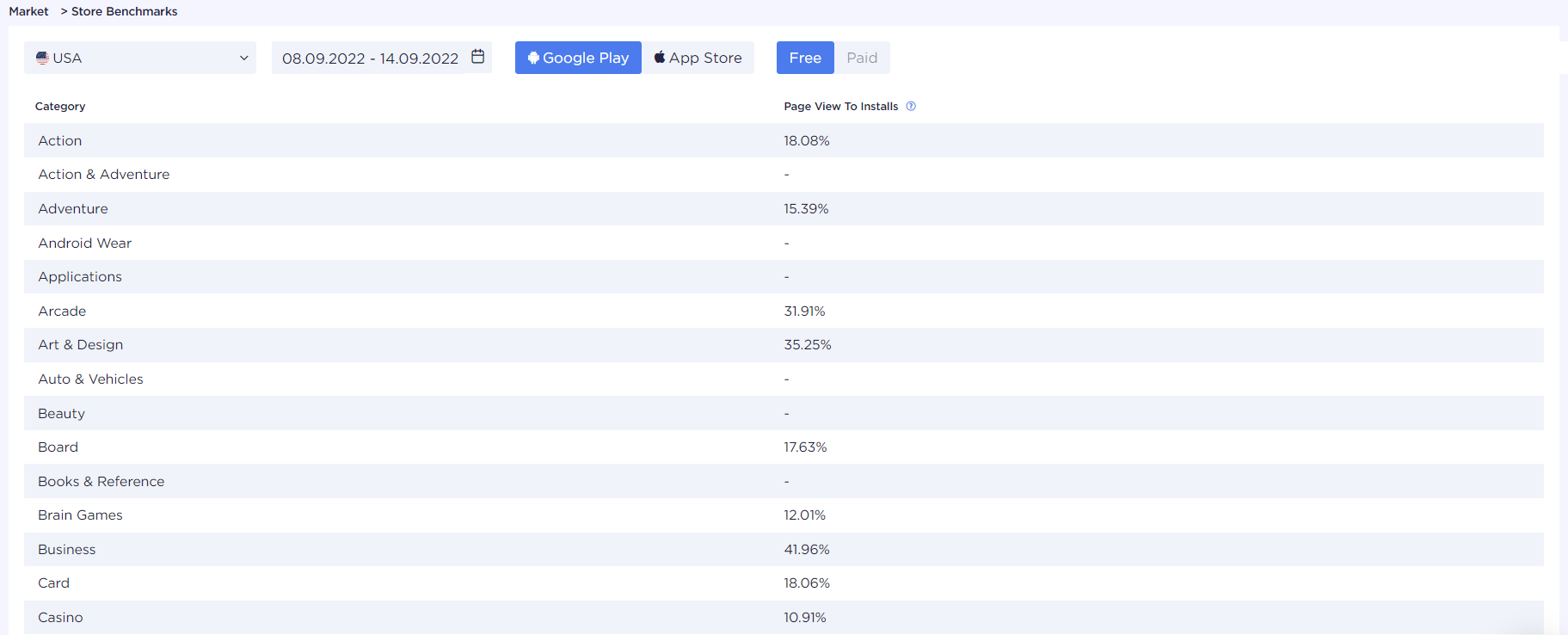 Category analysis
A more detailed analysis 📊 of any selected category can see in the Category Intelligence tool.

Analysis of downloads and revenue will allow you to assess the market size. Knowing the planned type of monetization and statistical data on the cost and number of user purchases, you can predict the revenue of a future project. When creating applications for the international market, it is useful to know in which categories and countries users are used to paying and in which they are not.

TOP Charts
A convenient tool for tracking top positions on the Google Play and AppStore application markets (TOP 20 - TOP 250). 🔝 TOP charts are available for any category of stores (general TOP, games, arcades, etc.), as well as for such types of applications as free, paid, and cash. Choose a category, date, and get complete information about the top positions.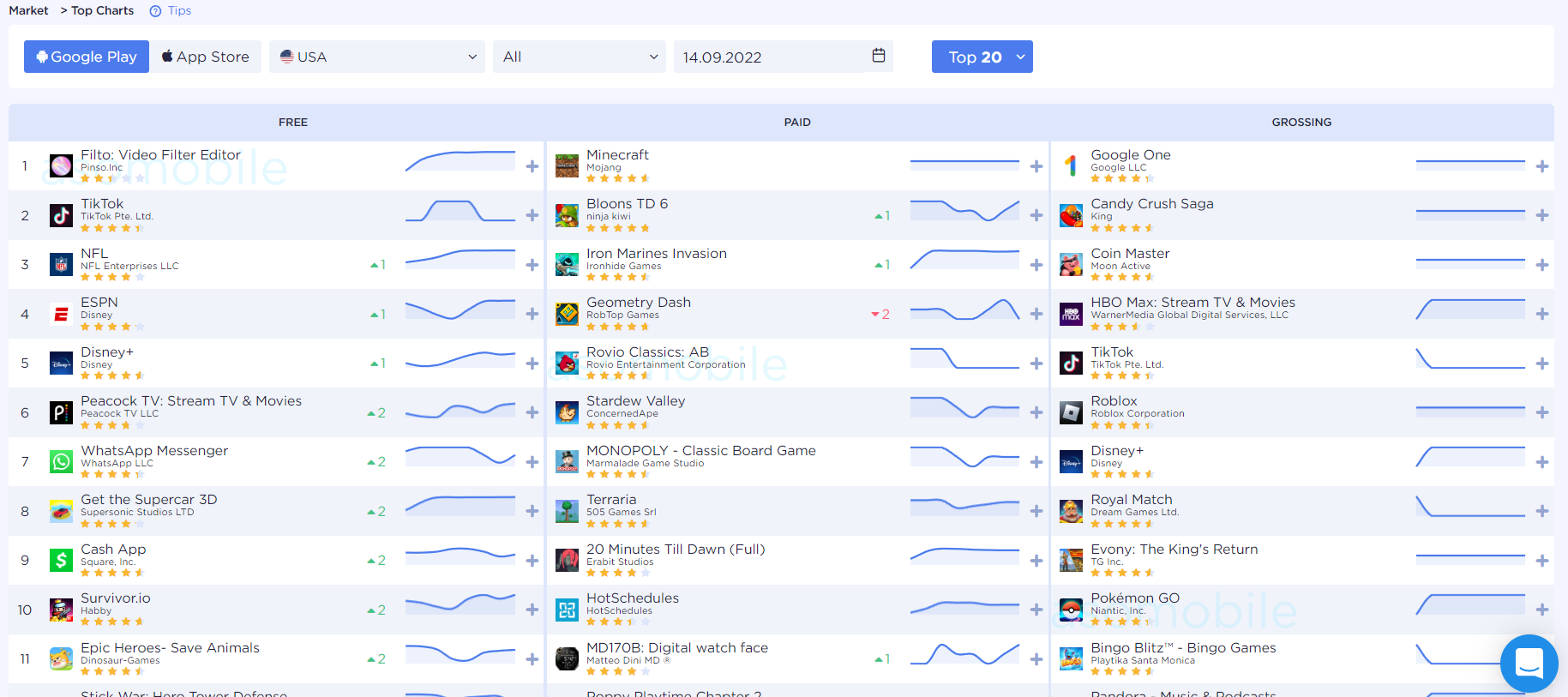 And of course, you will be able to analyze the competitive situation in the market and identify strong players, and your direct competitors. Do not deny the importance of using someone else's experience, not in the context of plagiarism, or just copying. We are talking about the possibilities to avoid common mistakes, define your user niche correctly, or the direction of your application development.
Similar apps
This is a list of applications 🧾 that are similar in topic. Selections are generated based on internal algorithms for app markets. Selections are found on the app store page (at the bottom of the page).
In the analytics of ASOMobile, add the required application, define the period and country for analysis and check the selections of which applications and in which positions any app is offered.

Estimate downloads and revenue for applications of interest, and determine your own strategy for achieving financial success in your chosen niche.
To stay competitive, companies often depend on new product development. While this process can be complex and often time taking, new products and services allow them to grow and expand their market presence. To ensure that the time and money invested in developing a new product does not go to waste, it is important that companies make informed decisions based on real market opportunities and capacity. For this purpose, a toolkit for researching the mobile applications market has been proposed.
You can learn more about ASO optimization of mobile applications in our blog.
Use the "ASOTIPS40" coupon to get a 40% Off on your first purchase at ASOMobile (the promo code is valid for any plan and any period).
Get more traffic with ASOMobile 💙