ASO application optimization: step-by-step instructions
ASO stages of mobile application optimization. How to improve app visibility in search.
ASO application optimization: step-by-step instructions. ASO (App Store Optimization) is a set of measures to improve the visibility of your application. This is one of the main tools for promoting mobile applications on the App Store and Google Play.
In this article, we will walk you step by step through the entire ASO creation process. You will be able to improve the visibility of your application in search, which will lead to more organic traffic and lower costs of acquiring new users.
ASO optimization of an application consists of two parts: textual and visual.
At the end of the article, you can find a 40% discount coupon for the first month of using ASOMobile - a tool for creating ASO and researching competitors in the mobile app market.
Text optimization
Working with keywords is the main stage of application text optimization. Let's talk about what data to look out for when choosing search queries, where to find it, and how to understand if your app page is optimized correctly.
The main stages of working with keywords: are how to optimize an application using common sense, logic, and ASO monitoring tools.
Keyword optimization in a text ASO is essentially a cycle of actions:
Research. Making a list of all possible keywords and combinations associated with the application.
Prioritization. Analyze and prioritize keywords according to their relevance and traffic volume.
Optimization of the application on the selected keywords.
With the help of professional ASO tools, you can speed up the process of optimizing applications tenfold, as well as analyze data that cannot be obtained manually. Most of the tools in this article are free.
Step 1. Research
Thorough research is an important element of ASO optimization. This is the first step to take before launching the application, and the first action to take when your application downloads do not reach the expected amount.
First, try to think of all the possible keywords that might be relevant to your mobile app or game.
Answer these questions: what tasks your application performs, what problems it solves, and what category it belongs to? This may give you a few ideas for basic search queries.
You can add all keywords to Keyword Monitor, this is the fastest and most convenient way to collect the semantic core and evaluate search queries. Detailed instructions are here.
The free Text Analyzer tool will help you with this. Here you can analyze any text: descriptions of similar applications, articles on your topic, or reviews of competitors. The tool will find for you all search queries with traffic in any text. Detailed instructions.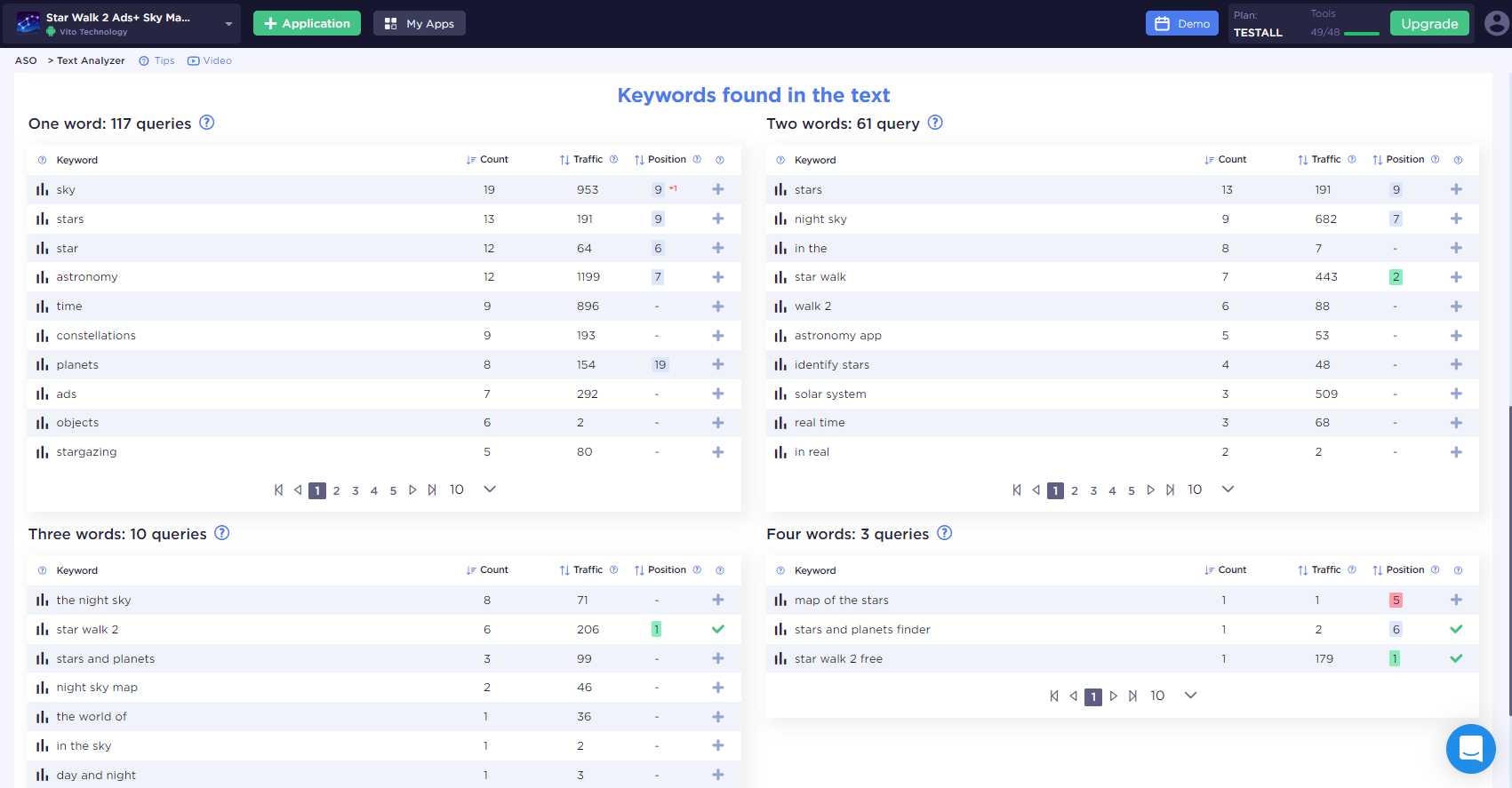 Keyword Finder is the tool that will select hundreds of the most relevant and popular keywords for your app. Keyword Finder analyzes your app's metadata, competitors' keywords, suggestions, and similar searches to give you a database of relevant keywords.
All keywords: the most relevant and popular queries for your app. Here you will see at once all the keywords that the Keyword Finder has found.
Here you can see a selection of search queries according to various criteria for a quick search for keywords, depending on your goals.
Popular: the most popular keywords for your app.
Relevant: the most relevant keywords for your app.
Long-tail: low-frequency keywords, by which it is easy to move to the TOP (search queries in this tab consist of at least 4 words).
Low competitive: keywords with low competition.
For boosting: the best search engines to promote to the TOP.
Trending: trending search queries that go to "Trending" in the App Store (only for iOS apps).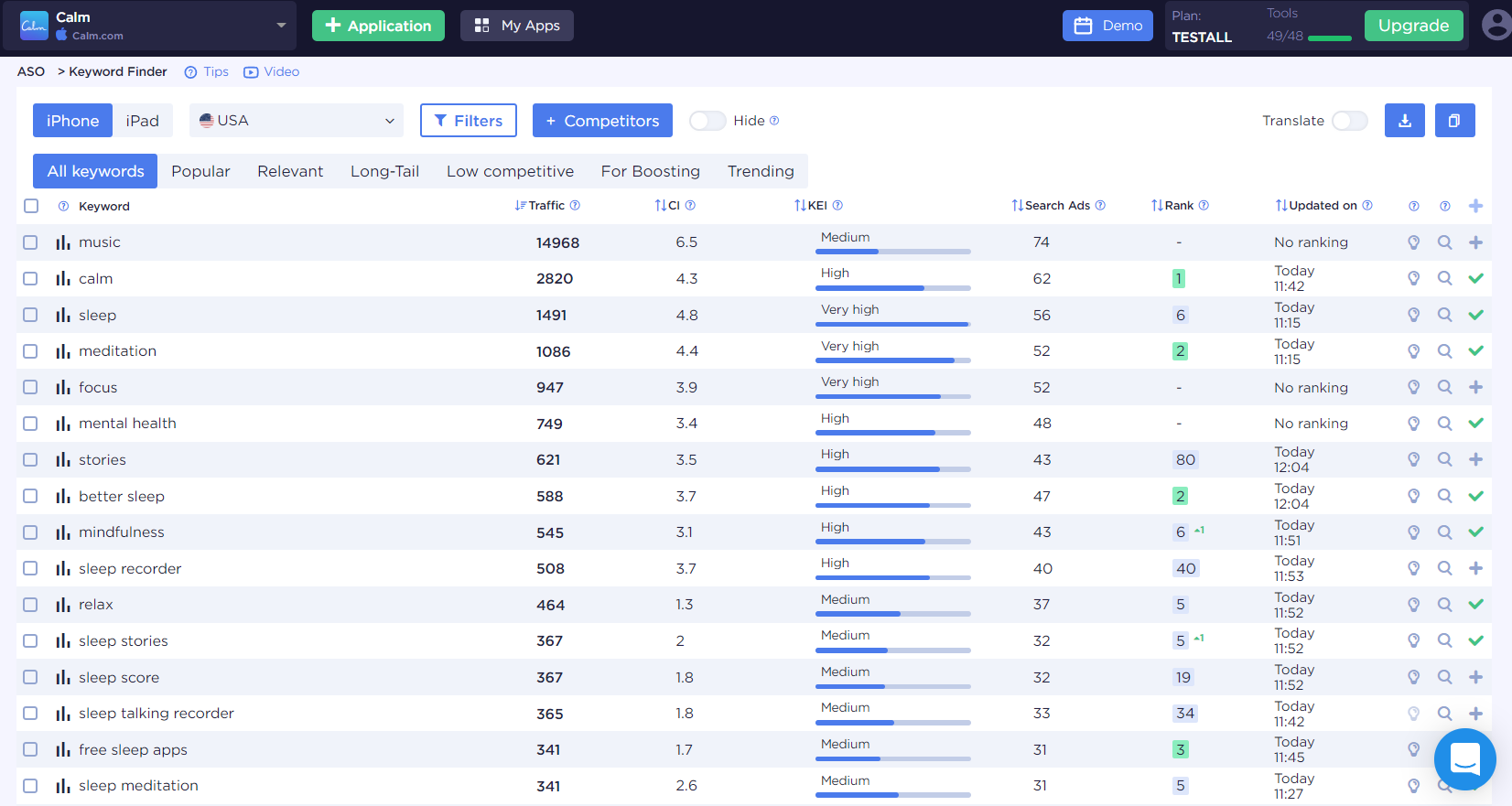 Check your app indexing in App Keywords. This data will help you measure the effectiveness and improve the text part of your ASO. In the table, you can see the queries by which you are indexed on Google Play or the App Store. They are the queries that the market considers relevant for your application, this is the main indicator by which you can assess the quality of your ASO. You can read how to use App Keywords here.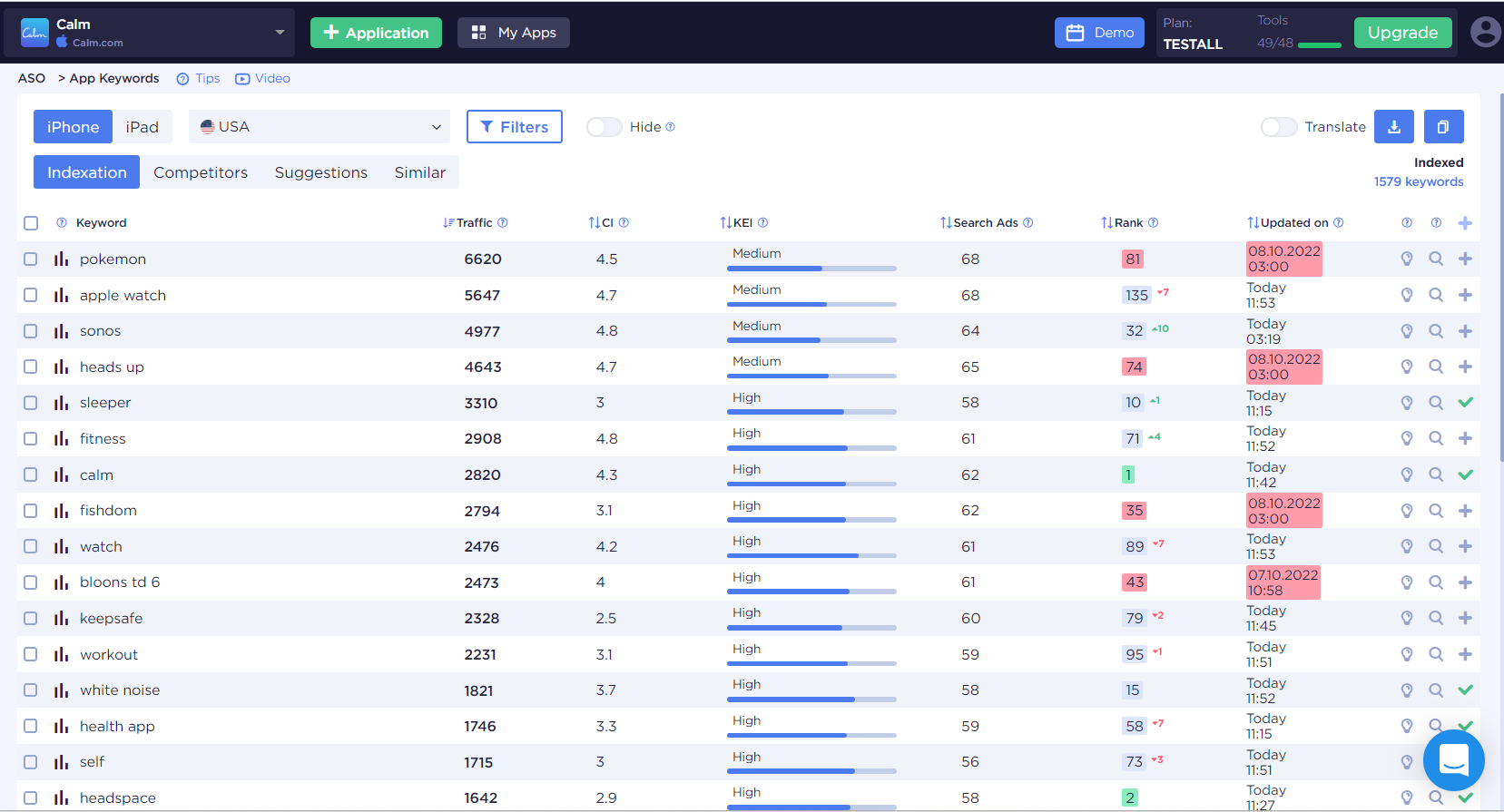 The ideal inspiration when looking for keywords is your direct competitors. To get a list of search queries by which similar apps are indexed, use the "Competitors" tab in App Keywords, after adding the relevant apps to the list of competitors. Sorting "Competitor Indexing" will help you find the most relevant queries, this is especially convenient when doing ASO in an unfamiliar language.
One more resource for keywords could be a new ASO tool - Organic Downloads. With the help of the Organic Downloads tool, you can find out which keywords your app or your competitors' apps are getting installations from (select the most successful apps in your niche). This will help you form a strategy for promoting your application.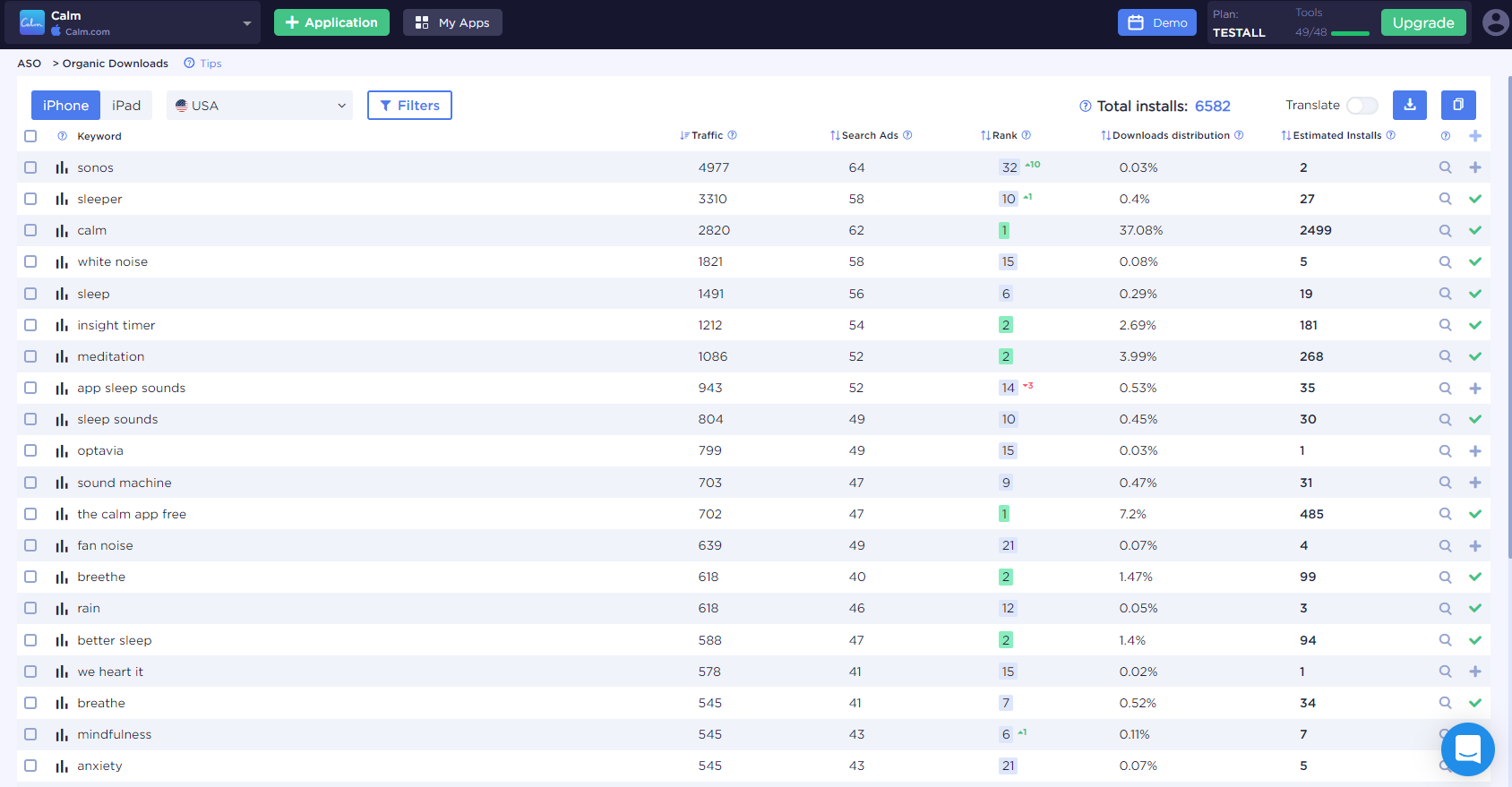 Add all the keywords that you deem appropriate for your application to analyze and prioritize in the next steps.
So, you have formed a long list of keywords and combinations (at least 60-80 possible queries) related to your application or game. Then you can expand your keyword list using auto-suggestions by marketplaces and related queries.
Keyword Suggest is a free tool for finding auto-suggestions for markets. Auto-suggestions are one of the most trusted sources for search queries. Users are more likely to click on the suggestion made by the store. Detailed instructions.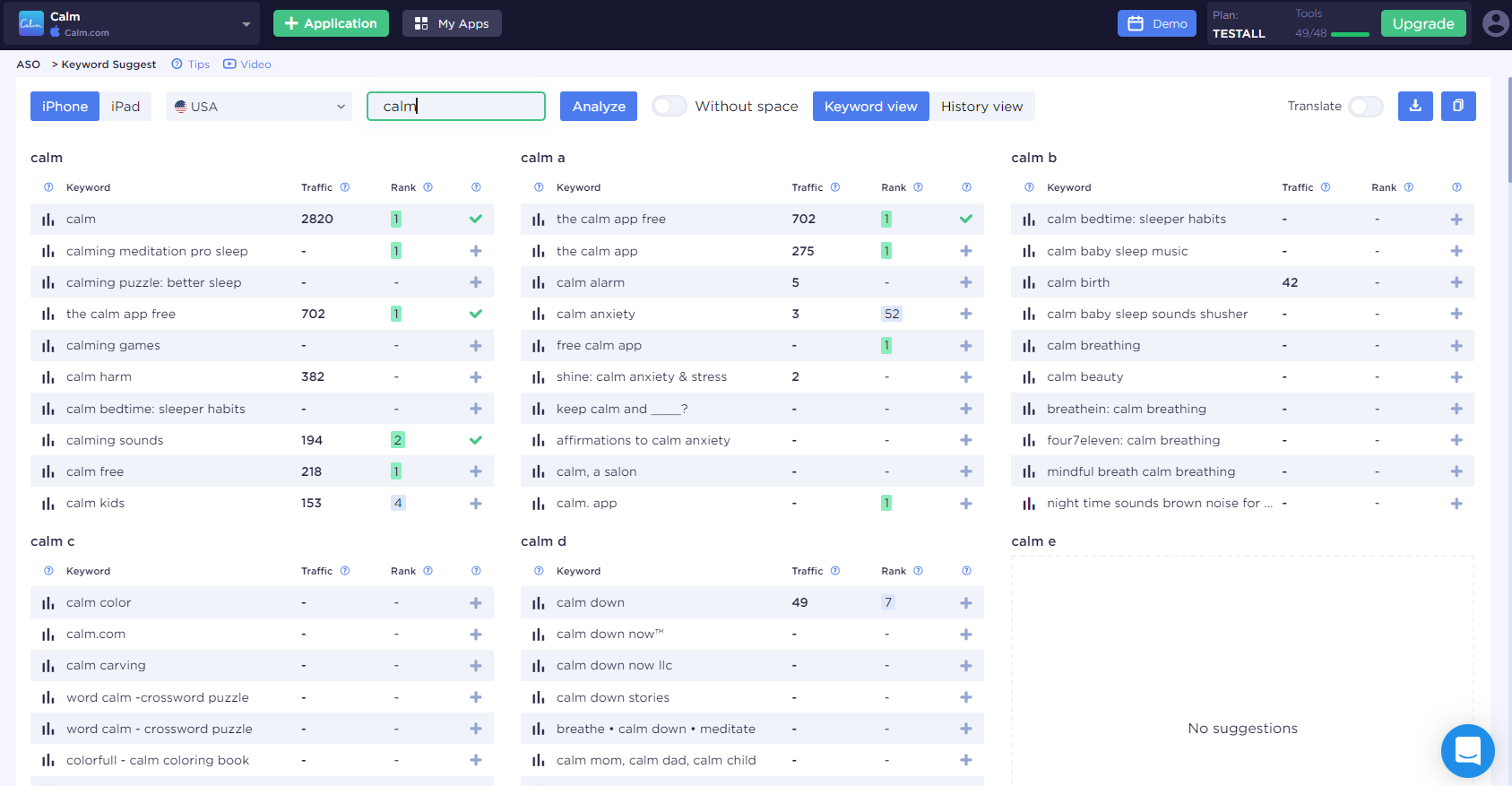 Keyword Select is a tool for selecting similar search queries that match the topic and meaning with the traffic forecast, complexity, and efficiency of the query. Enter a relevant keyword and get a huge list of relevant search queries.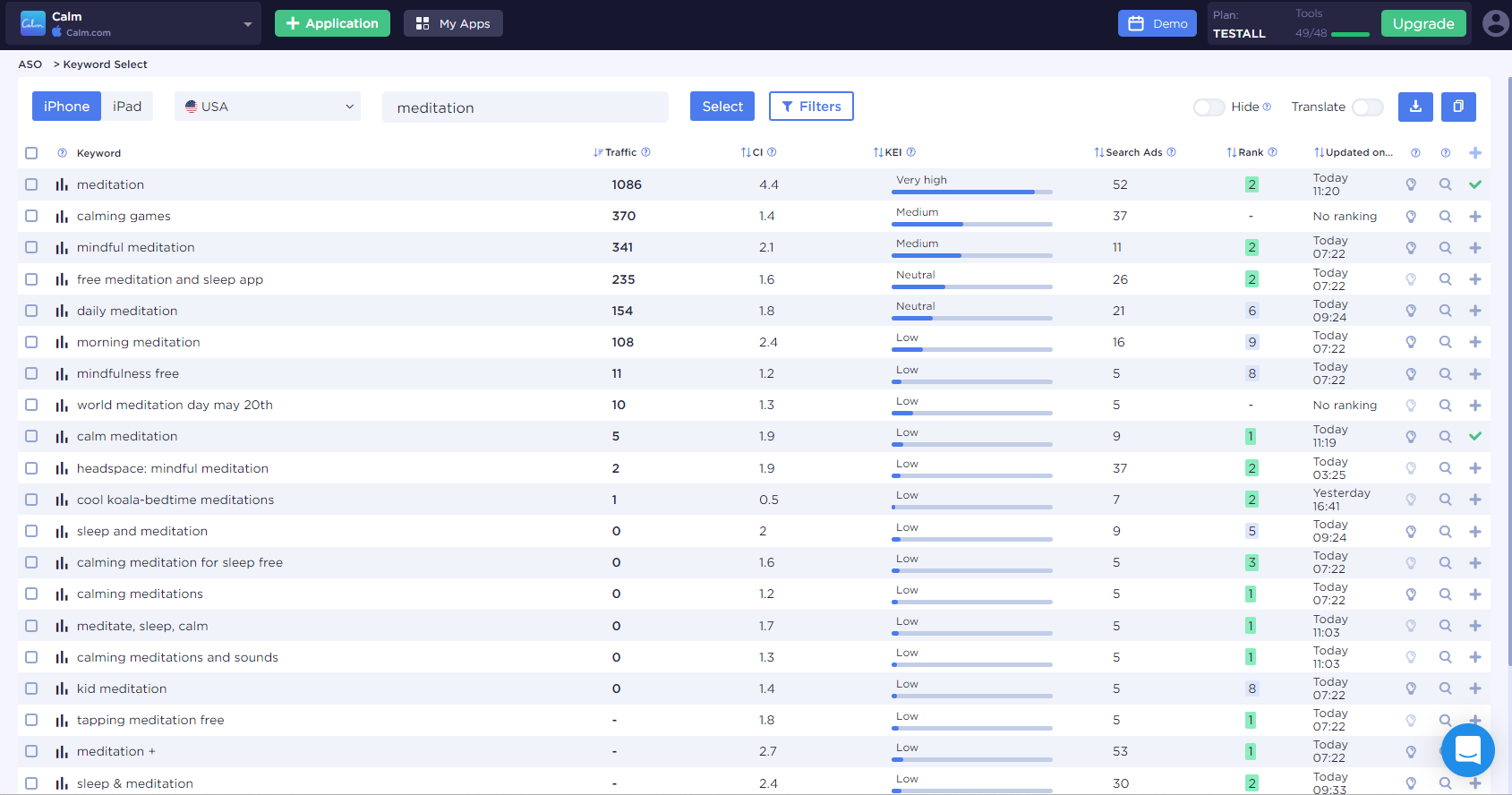 You can also find suitable related queries in the "Suggestions" and "Similar" tabs in App Keywords.
An additional tool for finding keywords can be the free Keyword Combinator tool, with a help of which you can get all possible queries from combinations of your main keywords.
It is also important to keep track of the most popular keywords of each country to stay on top of all trends. Top Keywords is a simple and convenient free tool for daily monitoring of popular search queries.
Step 2. Select and prioritize for optimization
Now that you have the semantic core for your mobile app, you need to analyze and prioritize search queries to make the most of your keywords in the metadata.
To see if a search term is worth using, check its traffic, complexity, and efficiency. All this data can be viewed in Keyword Monitor.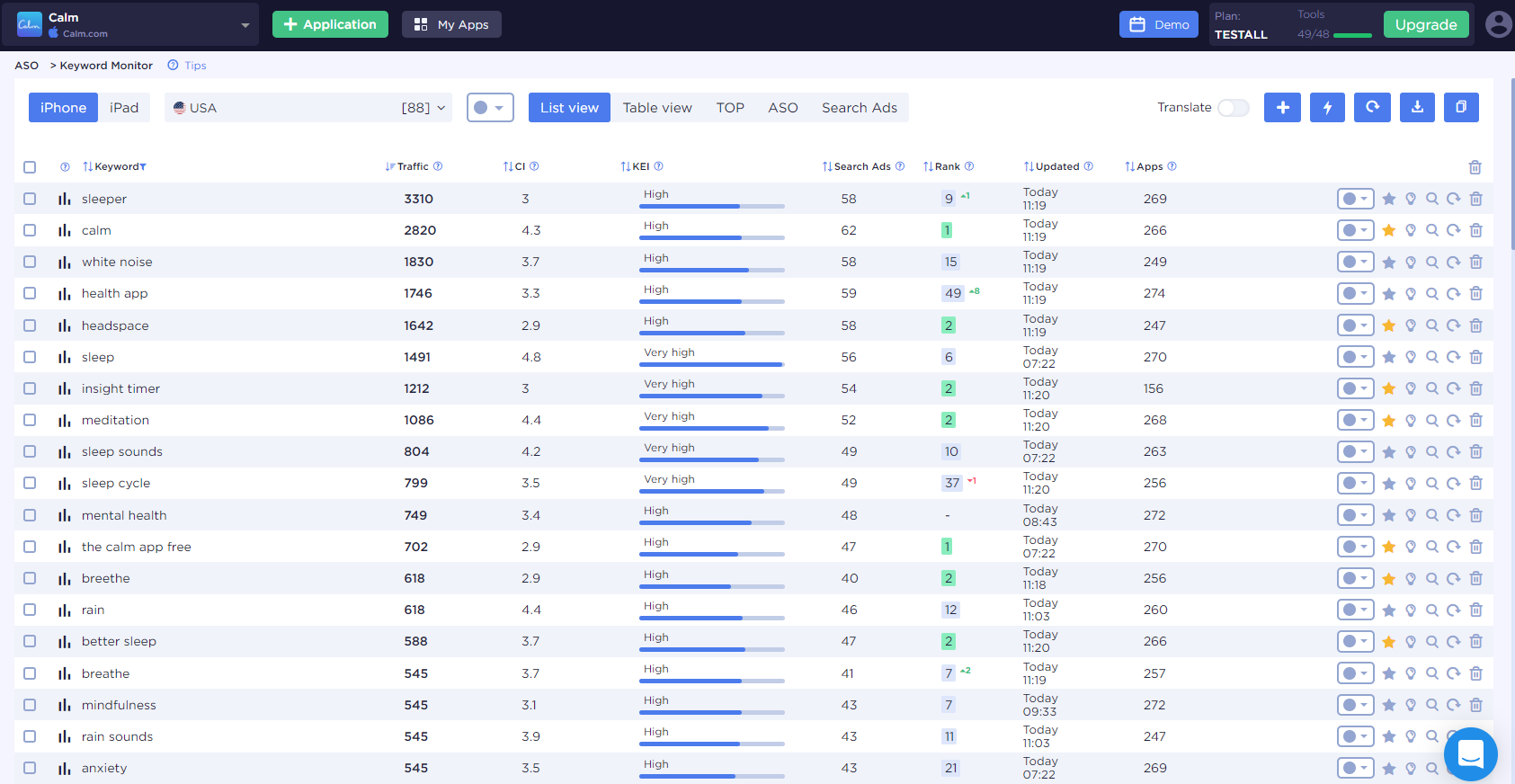 * Traffic is the number of users who enter this search query into the market search line (per day). This is your potential traffic, provided that the application is in the top positions for this search query.
* Complexity is the competitiveness index of the search query. You will be able to estimate how high the competition among applications for this search query is. This metric will allow you to understand how many resources you will need to succeed with this query. Difficulty scale from 0 to 10, where 0 is the least competitive query, and 10 is the most competitive.
* Efficiency is the index of Efficiency for a search query. This index will help you choose keys for work, by which you will be able to receive the most traffic with the least competition among applications.
Detailed instructions for Keyword Monitor can find it here.
Also, you can check any search query in the free tool Keyword Check. Here you can find all the information you need to evaluate your key request. Detailed instructions.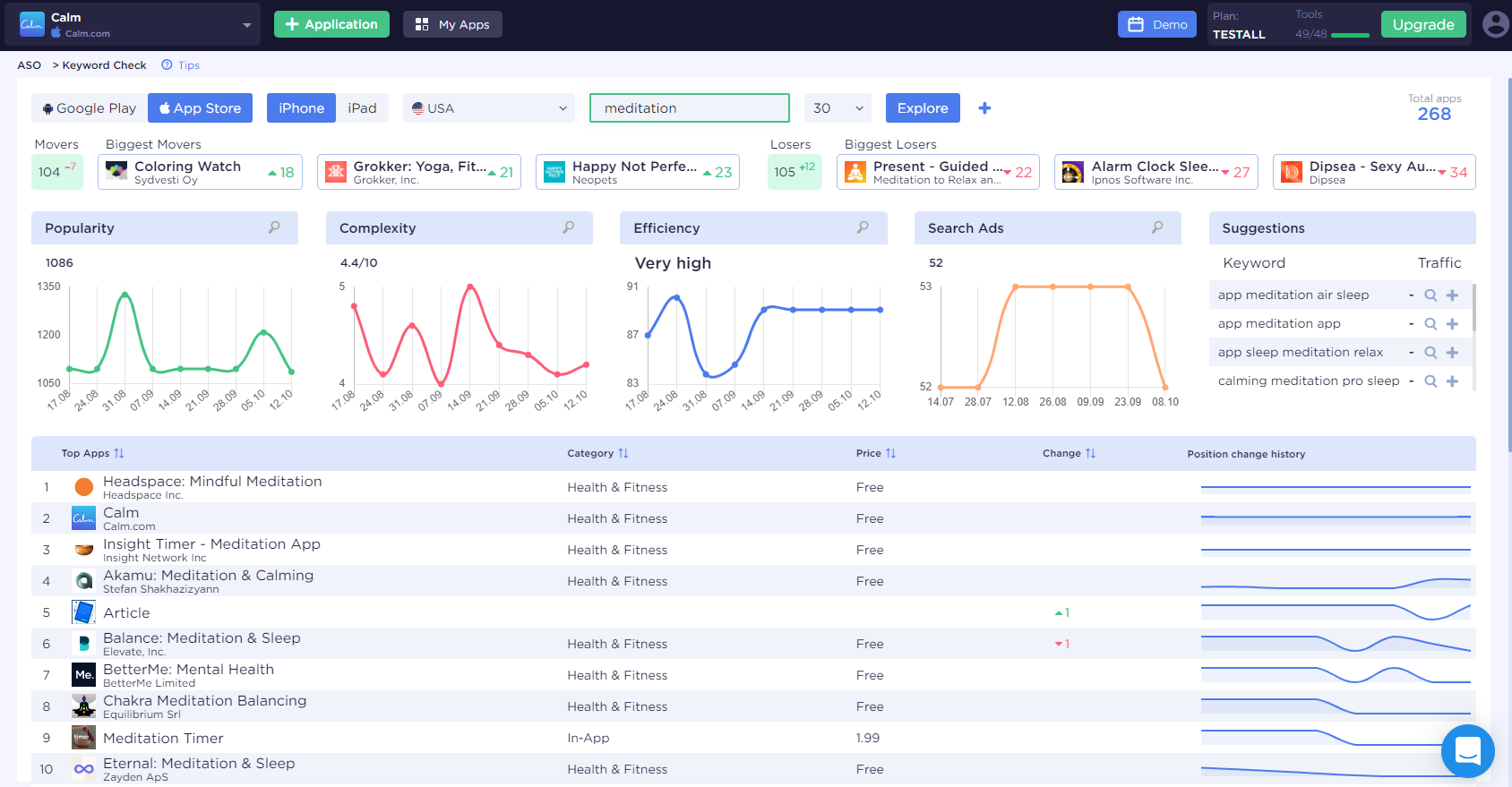 For the next step, choose the most relevant and effective keywords.
Step 3. Optimization of the application for the selected keywords.
Let's take a look at the stage of implementing keywords for the two main markets - Google Play and App Store.
App Store
Please note that on the App Store you do not need to duplicate keywords. If you have already used a search query, for example, in the title, you should not enter it in keywords. Try to use as many different queries as possible.
Title. Keywords from the title carry a lot of ranking weight. Add the most relevant and effective keywords. Use as many characters as possible.
Subtitle. Subtitles affect rankings and conversions. Use relevant keywords. Add a call to action to increase conversions.
Keywords. Use a variety of keywords. Do not duplicate words from the title and subtitle. Write your search queries in separate words (for example, not "games for children", but "games,for,children"). Do not put spaces after commas.
Localize your app. In the App Store, localization can help you not only adapt your app to the local market but also increase the number of characters for keywords. You can learn more about this here.
Google Play
On Google Play, you need to use search queries multiple times in the metadata for the market to know that they are relevant to your application.
Name. Keywords from the title carry a lot of ranking weight. Add the most relevant and effective keywords.
The short description affects rankings and conversions. Use relevant keywords. Add a call to action to boost conversions.
Full description. The optimal description is about 2000-2500 characters. Use mid-frequency and low-frequency search queries in direct entering. Avoid keyword stuffing (keyword stuffing is the overuse of keywords). The text must be readable.
ASO Creator will help you to simplify the process as much as possible. It is a handy tool that allows you to optimize your application page tens of times faster. Here you can immediately check whether you have used all the search queries in your metadata, as well as avoid common mistakes when composing them. Read more here.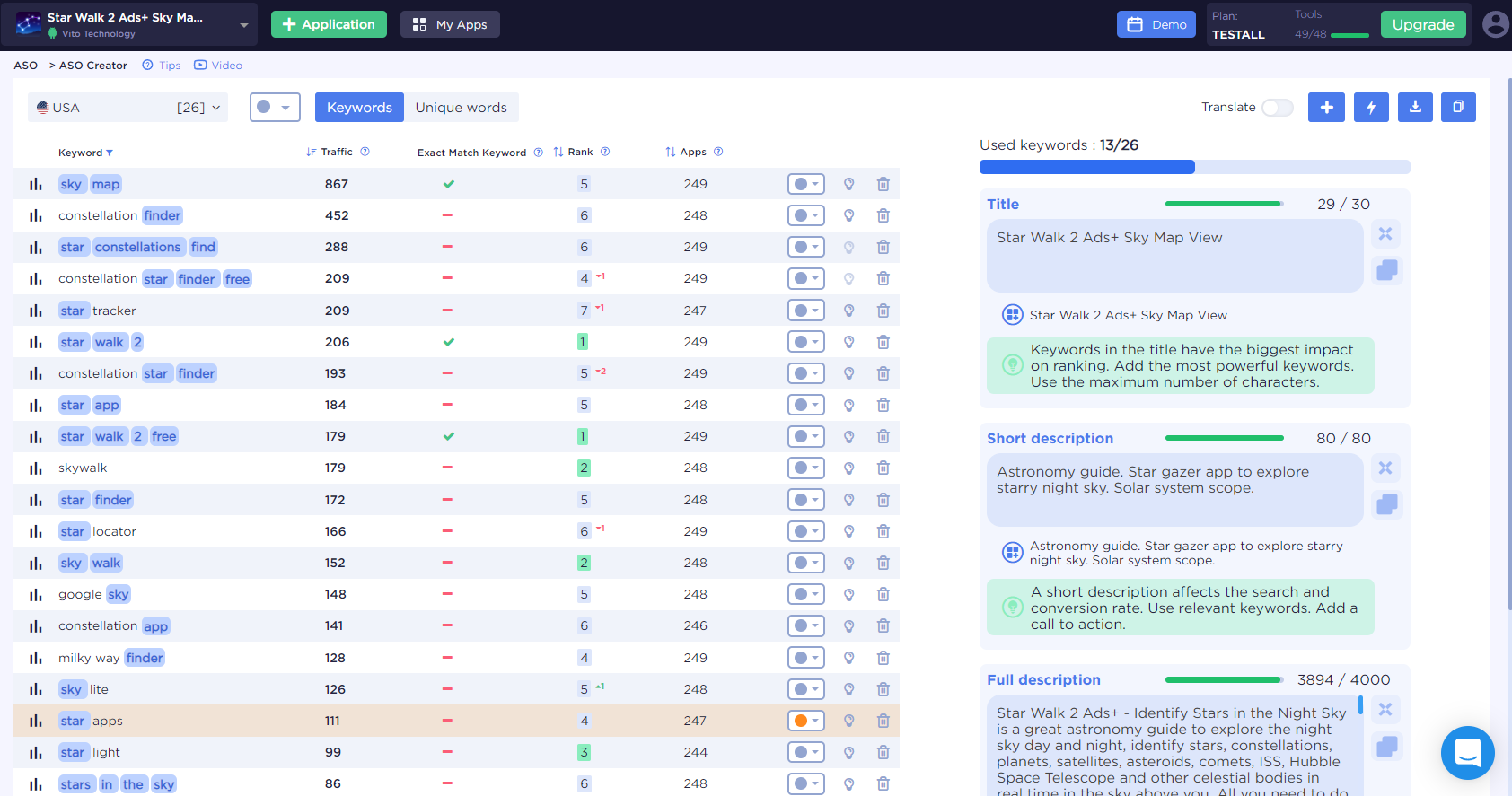 Locales (only for iOS apps)
Fill in not one localization, but 2 or 3 at once.
You can switch between locales above the fields for filling in metadata.
Indeed, several localizations are often indexed in the App Store in one country. You can see the table of countries and localizations in the App Store localization tool (in the ASO section).
Keyword generation (only for iOS apps)
To create a list of keywords on the App Store automatically - click the "Generate Keywords" button.
Avoid common mistakes:
Using very general and volume keywords. Better to be in the top positions for medium-frequency search queries than to be in the Top 100-150 for high-traffic keywords. Users will not be able to discover your application if it is not in the top positions.
Not enough combinations. Over 75% of your app page views come from long (low-frequency) keywords, so instead of fighting for rank for high-traffic keywords, increase the number of low-frequency search queries.
Too few keywords. On average, the best apps rank for a variety of keywords. Use as many keywords in your metadata as possible to get indexed and improve visibility.
Visual optimization
Screenshots and icons are the next important part of ASO optimization, as visuals are hugely important for increasing conversions.
Icon. Bright and memorable, meaningful, and connected with the content of your product. Stand out from the competitors, and do not forget about marketing tricks: optimize your icon for the holidays, version updates, or just for the geographic locale.
An example of how important it is to make high-quality visual optimization. Conversion for this application increased by 60% after updating the icon.
Screenshots. When it comes to screenshots, user experience is key. Start by researching branch trends, especially paying attention to the top competitors.
For example, the experience of visual optimization in 2020 shows that using gradient backgrounds and 3D graphics is an effective tactic for increasing user response, while Calls to action and short labels that focus on the advantages of your application can increase conversions by up to 40%.
Also, avoid individual screenshots that lack a consistent visual experience. Encourage further exploration by splitting images between screenshots to create scroll bait.
Moreover, it is not recommended to take similar screenshots, as they tire the user, which leads to the fact that he loses interest in your product.
Here you can see an example of optimizing screenshots for the "Breaking News" application. The conversion from views to installs increased by 36%.
In order to quickly study the visual optimization of all competitors at once, as well as compare the visual elements of your application with the top players on the market, use the Visual Comparison tool.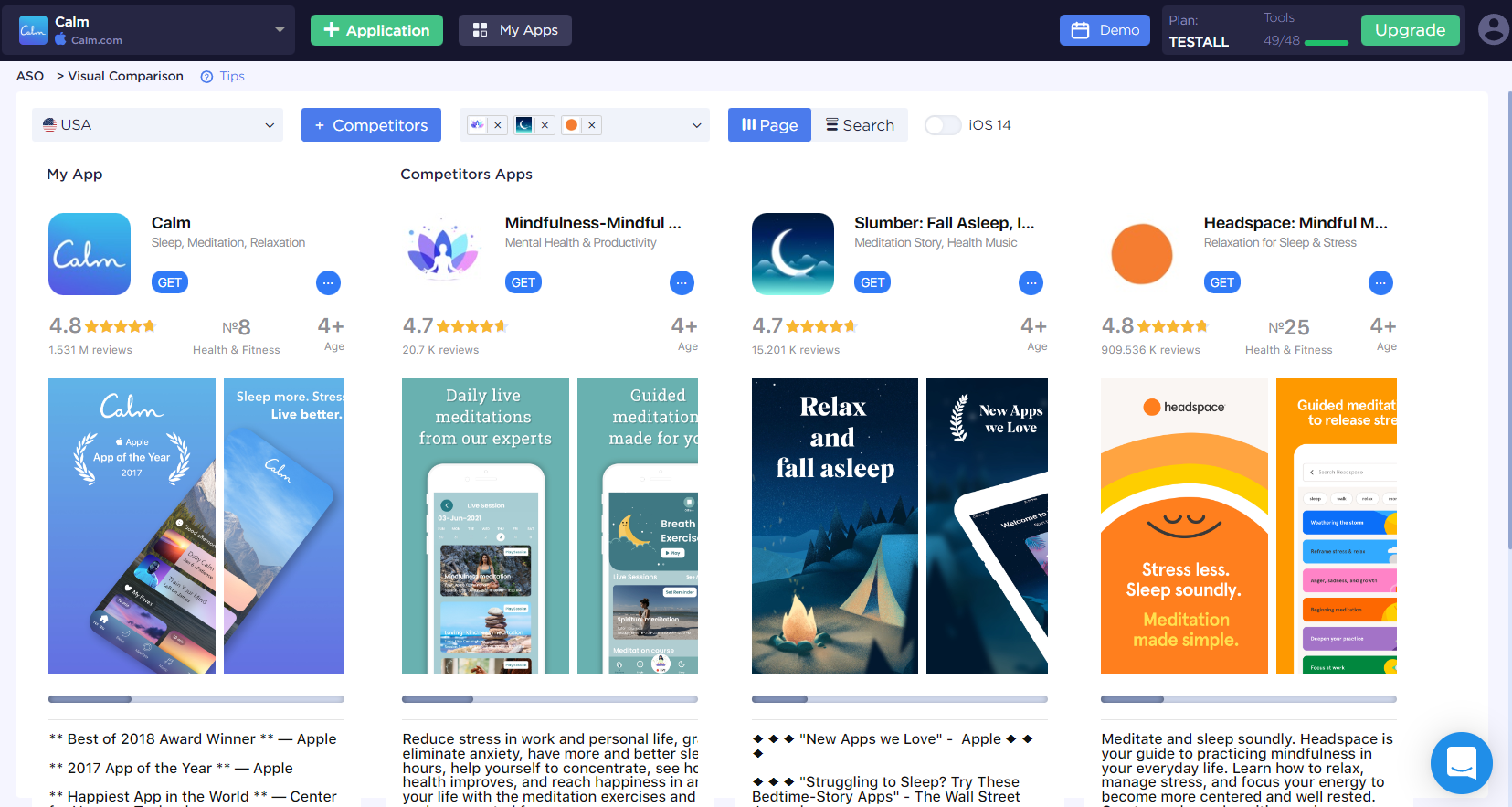 Evaluate the effectiveness of your ASO
ASOMobile has already represented a new tool - ASO Dashboard. It will help you evaluate the effectiveness of your ASO optimization, analyze competitors' data, find the best keywords for promotion and form a successful ASO strategy.
Top tables will help you find out the Search Visibility Score, monitor the number of Indexed Keywords, and track the improved and decreased positions so that you can respond to changes quickly.
The "Search Visibility" graph, will allow you to evaluate the success of the ASO iterations and the cost of promoting the app. The higher the score, the more prominent your app is in search results.
The "Keyword Distribution" chart will help you quickly analyze the location of keywords in the TOP 50.
"Downloads by keywords": here you can see which keywords the app receives downloads for.
Find out what keywords your competitors are getting downloads for to use in your strategy.
Use the "ASOTIPS40" coupon to get a 40% Off on your first purchase at ASOMobile (the promo code is valid for any plan and any period)
Optimize your app quickly and easily with ASOMobile 💙